With the latest short data in for Sirius XM (NASDAQ:SIRI), it appears that nearly 30 million shares were covered since the last reporting period for a rough average price near $3.50 per share. All in all that totals over $100 million worth of shares that were repurchased and returned to their lenders.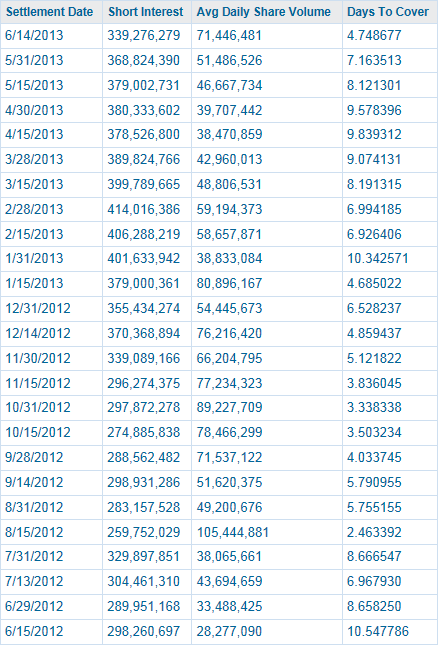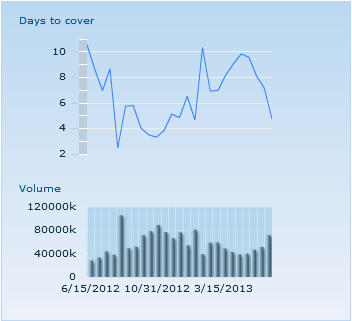 As you can see, not only did the recent fit of covering at multi year highs result in a large drop in short interest, the increasing volume over the last month or more has worked in conjunction to bring down the days to cover.
Days to cover currently sits at 4.74, the lowest it has been since the beginning of the year.
Long investors, who often times seem hostile towards the big bad shorts, may be rejoicing just a little bit in knowing that these short positions covered at recent highs before the Fed's "jawboning" (as CNBC seems to like to call it) caused a sharp drop in share price. Arguably, shorts have been covering at a loss since Liberty Media (LMCA) jumped in the saddle in July of 2012 and went on a buying spree pushing share prices to new heights.

Being short has generally meant being wrong, and I don't expect that to stop for the foreseeable future. With Sirius XM's $2 billion buyback in full swing, it would seem that shorting shares is simply "feeding the beast." The long side is, and has been, the right place to be. Despite some recent volatility in the market Sirius XM has been on a consistent trajectory to the upside, and while share prices have not skyrocketed due to the buyback, that's just fine by me.
Why? Because as I have stated, lower share prices benefit the buyback to a greater extent. The lower the share price, the more shares the company can buy back, and the greater the reward down the line.
So why are these shorts covering? Only they know for sure, but the impression I get is that it is perhaps a bit of exhaustion. Every dog chasing its tail will eventually become tired or bored or both, and give up. Perhaps that's what has happened here. The other idea is that we are nearing the 1 year anniversary when Liberty Media's shares are mostly long term holdings, and Liberty may decide to sell back in tandem as well as direct Sirius XM to ramp up its buyback overall. If 500 million shares are sold back in one fell swoop for a fixed price, it will skew numbers positively and in a rapid fashion, changing the valuation of the company due to the decreased number of shares. That's a big risk for the shorts, even if it only moves the stock by about 10%.
It will certainly be interesting to see the next data point in two weeks and check up on whether or not shorts jumped at the chance to cover here as the share price drifts in the low $3s. My guess is that they just might, and I would suggest that they do.
Disclosure: I am long SIRI. I wrote this article myself, and it expresses my own opinions. I am not receiving compensation for it (other than from Seeking Alpha). I have no business relationship with any company whose stock is mentioned in this article.
Additional disclosure: I am long SIRI calls from $2 to $3.5 for January 2014, and short SIRI $4 Jan 2014 calls.