Sohu.com's (NASDAQ:SOHU) second quarter revenue beat the consensus estimate by 3.3%, while the EPS beat by $0.07. This was the result of strength in its online games, advertising revenue and portal business.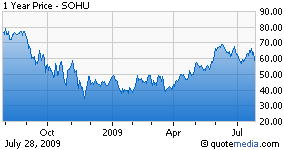 Revenue for the quarter was $127.1 million, up 24.6% from $102.0 million in the year-ago period. This was above the high end of the company's guidance of $121.0- $125.0 million and above our estimate of $124.0 million. Revenue was driven by a 39% increase in online game revenue to $66.6 million and 4.6% increase in brand advertising revenue to $43.6 million. Online game revenue exceeded the high end of the company's guidance by $1.6 million, while brand advertising revenue was in line with guidance.

The increase in online gaming revenue was due to the higher active paying accounts (APA) and user base expansion, which reflects the growing popularity of Changyou's online games. Despite a difficult economic environment, brand advertising continues to gain market share from other offline media and the overall effectiveness of advertisers' marketing campaigns on Sohu's platform. Aggregate registered accounts increased 53%, while APA increased 32% year-over-year. Average revenue per user (ARPU) also increased 6% year-over-year.

Operating expenses in the quarter increased 23.0%, primarily due to higher sales and marketing expenses and continued investment in product development, marketing expenses for branding initiatives and an increase in salaries and bonuses.

After deducting the share of net income pertaining to the non-controlling interest in Changyou, the company posted GAAP net income of $30.9 million or $0.79 per share versus $35.2 million or $0.90 per share last year, beating our expectation by 7 cents. EPS exceeded the high-end of the company's guidance of $0.80-$0.85. Excluding stock-based compensation, non-GAAP EPS was $0.90 per share versus $1.07 per share last year and exceeded our estimate of $0.88.

Sohu's third-quarter revenue guidance was well ahead of Wall Street's estimates by 2.5%. Sohu expects total revenue in the range of $133.5 million to $137.5 million, with advertising revenues within the $49.5-$51.5 million range. Brand advertising revenue is expected to be between $48.0 million to $50.0 million and online game revenues to be in the range of $67.0 million to $69.0 million. Non-GAAP EPS is expected in the $0.92 to $0.97 range.

Despite such strong results and guidance, the shares fell 7% to close at $59.07, as the company pushed out the launch of three new games: "Duke of Mount Deer" (which was pushed out from the fourth quarter of 2009 to the third quarter of 2010), "Immortal Faith" (pushed back from the second quarter of 2009 to the first quarter of 2010) and "Legend of the Ancient World" (to be launched in the second quarter of 2010). The company delayed the launch due to growing competition from Shanda Interactive Entertainment Ltd. (NASDAQ:SNDA), Sina.com (NASDAQ:SINA) and NetEase.com (NASDAQ:NTES) in the Chinese gaming and Internet market.

Despite near-term bumps, we expect the company to meet its expectation in the coming quarter. We are encouraged by the company's growing cash balance as well as its debt-free balance sheet, and believe that the current stock price does not fully reflect the company's intrinsic value. We maintain our Buy rating on the stock.