In the middle of a tough operating environment, Fomento Economico Mexicano, S.A. de C.V., also known as FEMSA (NYSE:FMX) delivered 18.8% year over year growth in revenues, 16.1% operating income, and15.0% in EBITDA driven mainly by its double-digit performance at Coca-Cola FEMSA (NYSE:KOF) and FEMSA Comercio. However, net income increased just 0.3% to MXN$2,505 million (US$187.6 million) from MXN$2,496 million in the year-ago quarter.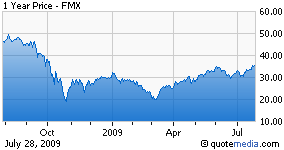 KOF's total revenue, which accounted for 74% of the FMX's revenue, increased 30.4% to MXN$24,184 million (US$1,811.5 million) versus MXN$18,544 million in the year ago quarter, due to positive exchange rate translation effect and the consolidation of REMIL in Brazil and Brisa in Colombia, which contributed approximately 30% and 20% of incremental revenues in the quarter. Operating income grew 16.0% to MXN$3,677 million (US$275.4 million) from MXN$3,169 million in the second quarter of 2008, mainly driven by double-digit operating income growth in the Latincentro and Mercosur divisions. Thus, consolidated majority net income in the quarter reached MXN$2,161 million (US$161.9 million), up 17.2% from MXN$1,844 million in the second quarter of 2008.

FEMSA Comercio's total revenue increased 13.3% and reached MXN$13,554 million (US$1,015.3 million) in the second quarter of 2009 compared to same period in 2008. The increase was mainly driven by the opening of 269 net new stores in the quarter. Thus, operating income grew 40.9% to MXN$1,088 million (US$81.5 million) from MXN$772 million in the second quarter of 2008. EBITDA increased 36.4% to MXN$1,420 million (US$106.4 million) from MXN$1,041 million in the year ago quarter.

During the quarter Mexican domestic beer sales volume decreased 5.9% from the same quarter of 2008; Brazilian beer sales volume decreased 8.4%, while export beer sales volume increased 2.4%. Total revenue from FEMSA Cerveza increased 6.7% year over year to MXN$11,880 million (US$889.9 million).

The company recorded a cash balance of MXN$17,702 million (US$1,338 million), an increase of MXN$8,243 million (US$ 623.1 million) compared to the same period in 2008, reflecting the cash earmarked to pay down some of FEMSA's local-currency bonds and KOF's Yankee bond and other debt, which became due in early July. Net debt decreased by MXN$1,328 billion year over year and MXN$8,371 million sequentially for a net debt balance of MXN$30,987 million (US$ 2,342.2 million) at the end of second quarter 2008.

The company has been able to post positive operating numbers within a very competitive market. Moreover, we believe Latin American remains one of the most attractive areas for the beverage industry in the medium-term, due to the positive demographics. Thus, we reiterate our Buy recommendation on FMX.