By Tom Vulcan
It's the world's fourth-most consumed metal by weight, and the twelfth-most abundant in the Earth's crust. All steels contain it. And the U.S. is 100% reliant on imports of it.
But who has ever heard of manganese?
What Is Manganese?
Manganese is a brittle, hard gray-white metal that looks much like iron, and is present in practically everything made of steel. It's also used in a slew of other applications, including dry cell batteries (about 20 billion per year), aluminum cans (about 100 billion per year), electronic circuits as well as fungicides and pesticides. And although manganese may be fatal to bugs and fungus, it's vital to our good health as humans: The recommended daily intake of manganese is 2-5 mg per day.
Manganese has been in use since the Stone Age, when it was used as a pigment in cave paintings. But it was not until 1771 that it was recognized as an element by Swedish chemist Carl Wilhelm Scheele, the same scientist who first identified molybdenum. (See Molybdenum: Mighty Tough.)
By the middle of the nineteenth century, major advances in the use of manganese had occurred. In 1856, Robert Mushet patented its use in ridding steel of excess sulfur and oxygen. Then, in 1866, Sir William Siemens obtained a patent to use ferromanganese to control the levels of sulfur and phosphorus in steel. That same year, French electrical engineer Georges Leclanché patented his dry cell battery - now known as Leclanché cells - which used manganese dioxide as a depolarizer.
Uses Of Manganese
Metallurgical
Both historically and currently, the greatest use of manganese - about 90% - is for production of steel and cast iron, for which no suitable substitute for the metal has yet been found. (The remaining 10% is used in making batteries, chemicals and aluminum cans.)
According to the International Manganese Institute (IMnI), of the manganese used in steelmaking, 70% is used as an alloying element, while the remaining 30% is employed for "its properties as a sulphide former and deoxidant."
Although detailed and up-to-date figures are available neither for worldwide manganese consumption by end use nor world steel market consumption, 2006 USGS figures for the U.S. probably remain indicative as to the breadth and depth of its use.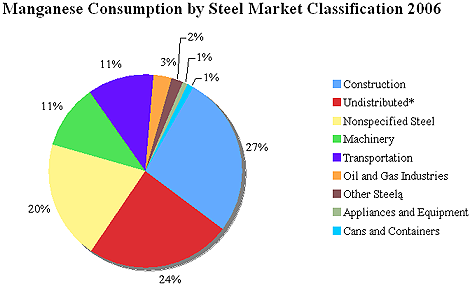 Notes: Based on an estimated apparent consumption of 1.05 million tonnes contained manganese
* Assumed to have been consumed in the manufacture of steel mill products
† Includes steel for converting and processing nonclassified shipments and some steel shipped by steel service centers and distributors
‡ Includes forgings not elsewhere classified, industrial fasteners and ordnance and other military products
Source: USGS
Across all grades, estimates for the average manganese content of steel range from some 0.7% (USGS), to "...around 10kg Mn alloys per mt of steel produced" (IMnI's figure for 2008). In general, however, developing economies use more manganese in their steel than developed ones.
The manganese content of the major different types of steel are:
Alloy Steels: 0.05-2.1% (full alloy steels, high-strength low-alloy steels (HSLA) and tool steels - other than carbon and stainless steel)
Carbon Steels: 0.05-1.65%
Hadfield Steels: 10-14%
Stainless Steels: 0-19%
In steelmaking, manganese is usually added in the form of a ferroalloy. This includes three grades of ferromanganese (FeMn) - one standard (high-carbon - HC) grade containing 65-79% Mn and 7% carbon, and two refined grades with medium-carbon (MC) and low-carbon (LC) - and silicomanganese (SiMn), which contains 60-77% Mn and around 2% carbon. Cost, the type of steel being made and the process being used usually determine which ferroalloy is used.
The U.S. military is a particularly notable consumer of manganese: In its weapons systems and munitions, the Department of Defense uses approximately 25,041.8 short tons of manganese ore chemical/metal grade, 7,897.0 short tons of ferro-manganese (either carbon or silicon) and 1,368.8 short tons of electrolytic manganese metal (EMM) each year.
In addition to its use as an alloy in steel and cast iron, manganese is also employed as an alloy (in very much lesser amounts) with aluminum, copper, nickel, titanium and zinc. It's also used in miniscule amounts for electronic applications, with, amongst other metals, bismuth, gold and silver.
Nonmetallurgical
After steel, the battery sector is currently the second-largest consumer of manganese today. In addition, manganese is used nonmetallurgically in:
Animal feed and fertilizers
Colorants for various cosmetics, plastics and artists' glazes
Pigments for bricks, frits, glass, paints, tiles and textiles
Water treatment chemicals
In the words of the USGS: "There are no substitutes for manganese in its major applications - the manufacture of steel, steel alloys, non-steel alloys, batteries, and fertilizers and animal feed."
Whence And In What Form Manganese?
The predominant manganese ore is pyrolusite (Mn02), which is found in large quantities but distributed irregularly around the globe. Although the USGS projects, based on "estimates of demonstrated resources," that as much as 460 million tonnes of reserves exist worldwide, some 67% are accounted for by just three countries (in order of magnitude): Ukraine, South Africa and India. However, of the world's identified resources, South Africa accounts for around 80% and the Ukraine 20%.
After it has been mined, nearly all manganese ore undergoes some degree of beneficiation, both to increase its manganese content and rid it of unwanted impurities. While usually priced on the basis of a 48% manganese content, the actual content of the most commonly traded and used ores range from 38% to 55%.
In 2008, the IMnI estimated manganese ore production at some 13.85 million tonnes, although for the same period, the current, rounded-up USGS estimate is some 14 million tonnes. Although for most countries production figures are generally easy to come by, those for China and India remain particularly hard to confirm.
In 2008, the world's largest producers were South Africa, China, Australia and Gabon, respectively, accounting for 68.6% of the world's manganese ore.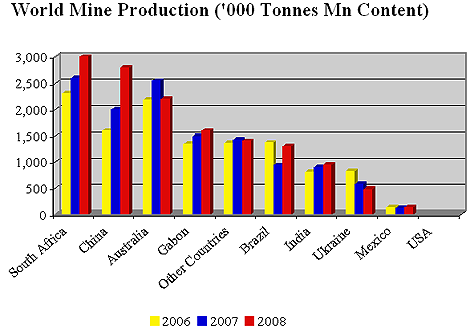 Notes: All figures for China, Ukraine, India and Gabon (except 2007) were estimated
Source: USGS
There are, however, major differences between countries in the grades of the ore mined, with China and the CIS increasingly mining lower-grade ores than in most other countries. As the following charts from the IMnI demonstrate, in 2008, China was the world's largest producer of low-grade manganese ore.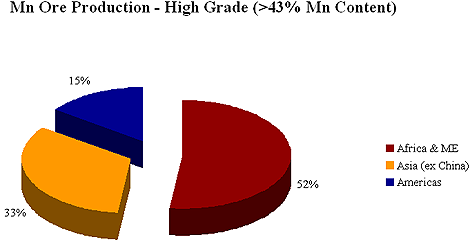 Source: IMnI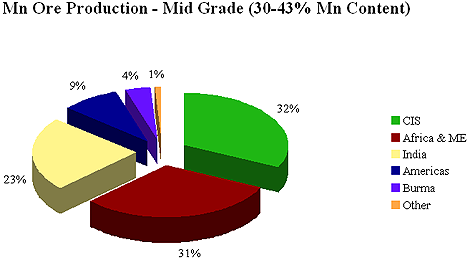 Source: IMnI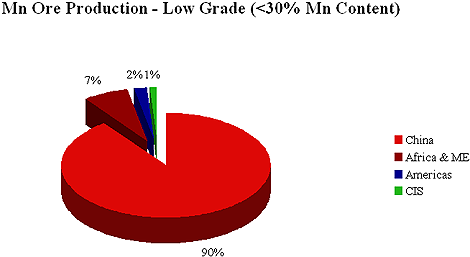 Source: IMnI
Global manganese alloy production in 2008 amounted to 13.62 million tonnes, an increase during the year of 2.4% year-on-year. SiMn accounted for well over half of alloy production, followed by high-carbon FeMn, and refined FeMn (which accounted for around 8% of total production).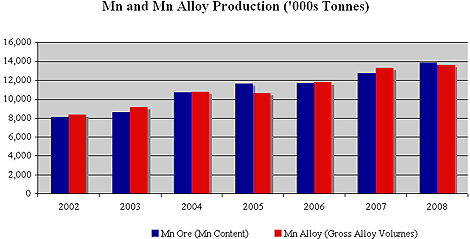 Source: IMnI
In the first quarter of 2009, however, manganese ore production slipped some 29% (year-on-year), while the quarter's figure for manganese alloy production indicates a decrease of 34%.
Of pure manganese metal, China is the largest single producer and dominates the market. In 2008, the country produced some 1.13 million tons, of which only 0.24 million tons were exported. (Even back in 2007, China's capacity to produce electrolytic manganese metal was 35 times greater than that of South Africa, the world's second-largest producer of the metal.)
Manganese Miners
Except in Brazil, China and India, the pattern is for all manganese to be mined by a small number of very large companies - essentially monopolies or duopolies - in a small number of mines in the countries in which they operate.
Major Manganese Ore Producers
| | |
| --- | --- |
| Country | Producer |
| Australia | |
| | |
| Brazil | Companhia Vale do Rio Doce (Vale) |
| China | Guangdong Luoding Xinrong Mengkuang |
| | |
| | |
| | |
| | |
| Gabon | |
| India | |
| Mexico | |
| South Africa | |
| | |
| Ukraine | Marganetsky GOK |
| | Ordzhonikidzovsky GOK |
Source: USGS
Whereas, historically, ferroalloy (for example, both manganese and chrome) production was predominantly situated in either the steel-producing countries or those that actually consumed the alloys, it has, more recently, migrated to those countries that produce the ores themselves.
This has certainly been the case in China. However, the country is now not only a big producer both of FeMn and SiMn from its own ore resources (and, last year, consumed 65% of domestic manganese ore doing so), but is also a major producer of the alloys from imported ore.
In 2008, China was the world's largest manganese ore importer, and such imports accounted for 40% by volume of global trade in the ore. Last year, 30% (2007: 46%) of these imports came from Australia and 26% (2007: 20%) came from Gabon. Imports from Southeast Asia increased to 12% of the total from 4% the previous year.
Some Major Manganese Ferro-Alloy Producers
| | | | | | | |
| --- | --- | --- | --- | --- | --- | --- |
| Country | Producer | | FeMn | | FeMn | SiMn |
| | | HC | MC | LC | | |
| Brazil | | ✓ | ✓ | | | ✓ |
| China | Eramet | ✓ | | | | ✓ |
| | Erdos EJM Manganese Alloy Co | | | | | ✓ |
| | Henan Anyang Xinxin Ferroalloys | | | | | ✓ |
| | Hunan Ferroalloy Group Company Limited | | | | ✓ | ✓ |
| | Jinzhou Nichiden Ferroalloy Company | | | | | ✓ |
| | OM Holdings Qinzhou Plant | | | | | ✓ |
| | Shanghai Shenjia Ferroalloys Co Ltd | ✓ | ✓ | ✓ | | ✓ |
| | Xiangtan Manganese Mine | | | | ✓ | |
| | Zunyi Ferroalloy (Group) Co Ltd | ✓ | ✓ | ✓ | | ✓ |
| Japan | Mizushima Ferroalloy Co Ltd | ✓ | ✓ | ✓ | | ✓ |
| | Nippon Denko | ✓ | ✓ | ✓ | | ✓ |
| South Africa | Assmang | ✓ | ✓ | ✓ | | ✓ |
| | Semancor Manganese | ✓ | ✓ | ✓ | | ✓ |
| | Transalloys | | ✓ | | | ✓ |
| Ukraine | JSC Nikopol Ferroalloys Plant | | | | ✓ | ✓ |
| | Zaporozhye Ferroalloy Works | | | | ✓ | ✓ |
Source: USGS
Prospects For Manganese
Manganese's use in steel production is a double-edged sword, as the metal's fortunes are intimately tied to those of the steel industry. Whenever there's a severe downturn in steelmaking, manganese also usually faces such a downturn.
While world steel production fell nearly 2% in 2008, the figures for this year are even more dismal. The latest numbers from the World Steel Association for this past May indicate that global crude steel production had dropped 21% year-over-year, and in the first five months of 2009, total world crude steel production is down some 22.4% against the same period last year.
The effects on the prices of both ferromanganese alloys, EMM and manganese ore, are illustrated in the charts below:
Manganese Alloy Prices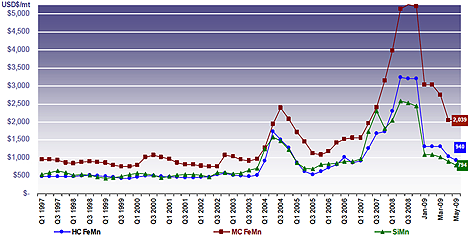 Note: U.S. free-market duty paid FOB Pittsburgh
Source: Mark Camaj, IMnI (from Metal Bulletin)
Manganese Commodity Prices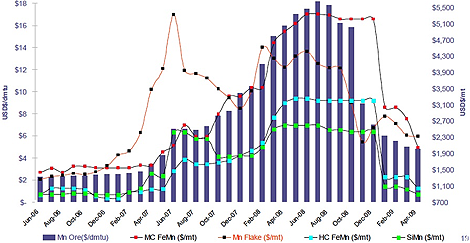 Note: Alloys - U.S. free-market duty paid FOB Pittsburgh; EMM - free market warehouse. CRU: Mn Ore China spot import
Source: Mark Camaj, IMnI (from Metal Bulletin)
That said, it appears that ore producers and smelters, together with alloy smelters and steel mills, have reacted promptly and in a considered fashion to the current difficulties in the market, cutting production and reducing inventories.
How long the current crisis will last is anybody's guess, but manganese's future does not look all that dismal. In particular, if China and India continue to develop as they have over the past several years, the outlook could actually be quite bright.
Especially considering that even though manganese is absolutely vital to the U.S. both for civilian and defense applications, the country is totally reliant on imports to meet its needs. The only manganese mined in the U.S. is some incredibly low-grade ore from a few South Carolina mines, which is used to color bricks. And the U.S. produces no synthetic manganese dioxide or manganese metal, meaning it must import nearly 75% of all the manganese ferroalloys it consumes.
Despite this, the U.S. has no manganese metal in its National Defense Stockpile. It has, as described on the Defense National Stockpile Center's Web site, "Sold Out." There is still some ferromanganese left for sale and, indeed, some 500 short tons of the stuff were sold in June this year.
According to the USGS, between 2004-2007, 61% of U.S. imports of manganese came from Gabon; for ferro-manganese, South Africa supplied 53% and China 18% over the same period. In addition, according to Asian Metal Ltd in China: "China is the dominant supplier of manganese metals in the world." It may, therefore, not be surprising that Congress has recently been taking an interest in manganese and its strategic importance for the U.S.
Opportunities In Manganese?
There are currently few, if any, pure plays around in manganese. The metal is just one interest among many for several miners, including France's Eramet Group (Bloomberg Ticker - ERA:FP), Brazil's Vale (Bloomberg Ticker - VALE5:BZ), and BHP Billiton (Bloomberg Ticker - BHP:AU) and Anglo American (Bloomberg Ticker - AAL:LN), (who jointly own both Samancor Manganese and GEMCO).
Other manganese producers have recently gone private, including Australian manganese producer Consolidated Minerals and South Africa's Assmang.
Perhaps Mexico's Compañia Minera Autlán S.A.B. de C.V. (Bloomberg Ticker - AUTLANB:MM), is as close to a pure manganese play as any, but its shares only started re-trading as recently as 2004.
Still, since exposure to manganese in any public company (except for Autlán) also comes with an exposure to a plethora of other minerals and metals, straightforward opportunities in manganese are not abundant.
For those willing to look very long term, however, there just might be a couple of issues worth considering.
First, there are vast reserves of manganese, in the form of polymetallic nodules at the bottom of the deep blue seas. Nobody's yet been able to work out how to get at these both cheaply and in an environmentally responsible fashion. But if anybody does, there could be good business in it.
Second, because the U.S. relies entirely on imports to fulfill its manganese needs, anybody prepared to hazard the game of geopolitics could do worse than betting on which countries and suppliers will win the competition to secure further supplies of the metal, especially between the U.S. and BRIC countries. While both Brazil and South Africa, with their extensive reserves, may be seen as favorites, each currently faces considerable infrastructure issues. Therefore, some observers are taking a closer look at the likes of Australia and Gabon. (But one must remember, too, that a number of these other major producing countries will increasingly find domestic needs making the first call on their manganese resources, with less available for export.)
Finally, should anybody come up with an efficient, economically viable way to recycle the manganese from steel and other materials, I have no doubts that the long-term prospects could be most exciting.
Resources
U.S. Geological Survey [USGS]
International Manganese Institute [IMnI]