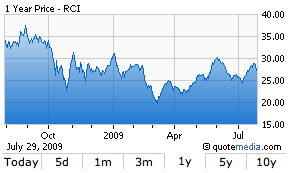 Rogers Communications Inc. (NYSE:RCI) has been downgraded to Sector Perform at RBC Capital Markets due to anticipated headwinds over the next 12 months.
Analyst Jonathan Allen also cut his price target from C$39 per share to C$34 citing eroding wireless voice ARPU (average revenue per used) and pressure on cable subscriber growth. He also pointed to expectations that Bell and Telus (NYSE:TU) will launch their HSPA networks in the coming months (likely with the iPhone) – "eliminating RCI's handset advantage and potentially repricing the Blackberry market" and other new wireless entrants.
He said in a note to clients:
In our view, RCI's lower growth profile no longer justifies as much of a valuation premium and we have chosen levels that reflect only a modest premium to its lower-growth telco peers.
While the analyst noted that many of these risks may already be priced into RCI shares, he believes the perception of intensifying wireless competition is only going to get worse over the next year.
Longer-term, however, Mr. Allen said RCI shares should have upside from superior growth versus its peers and the company's ability to return cash through share buybacks in the 8% to 10% range annually and its room for dividend increases.
Acknowledging that its operating results will be less predictable in the near term due to the poor economic environment, UBS analyst Phillip Huang suggested investors look past the short-term volatility.
He cut his price target from C$37 per share to C$34 but maintained a Buy rating on Rogers. Mr. Huang told clients that the big picture does not change: Rogers will generate significant free cash flow and return increasing amount of capital to shareholders in the next several years.