A Need for Better Performance
Few things can sour a relationship faster than watching wellsite operations that cost tens, or even hundreds, of thousands of dollars a day grind to a halt due to poorly performing rigs and/or rig-related equipment. As a result, both oilfield operators and suppliers pay considerable attention to the assortment of equipment comprising the rigs that they contract or own.
Unfortunately, results from EnergyPoint Research's independent customer satisfaction surveys in recent years suggest satisfaction with such equipment varies greatly. Moreover, the evidence indicates many rig and equipment manufacturers have considerable room for improvement, particularly when it comes to post-sale support, product availability and delivery, and pricing. In fact, unless significant improvements are made among integrated equipment providers, we expect capital and customers to facilitate more customer-minded new entries into the space.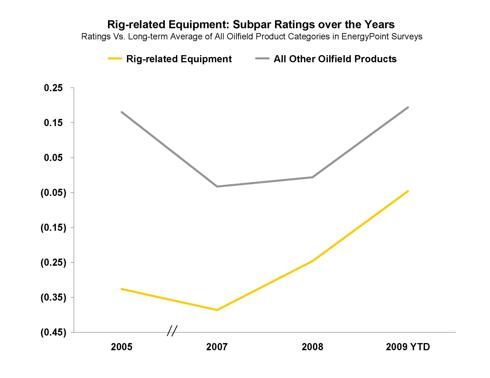 Category Killer or Industry Albatross?
In the minds of many industry observers and participants, the conversation regarding rigs and rig-related products often begins and ends with National Oilwell Varco (NYSE:NOV). To be sure, no other supplier can claim the depth and breadth of products and organizational scope offered by the company. That said, data from EnergyPoint's customer satisfaction surveys suggests the conversation concerning NOV is all too often a gripe session rather than friendly banter. Since 2005, when EnergyPoint first started collecting data on NOV legacy companies National Oilwell and Varco Int'l, the company has consistently registered ratings in the bottom quartile in terms of both respondents' overall satisfaction and willingness to recommend. NOV has suffered from particularly low ratings in the nettlesome areas of product delivery and post-sale support (click here for our latest note on NOV).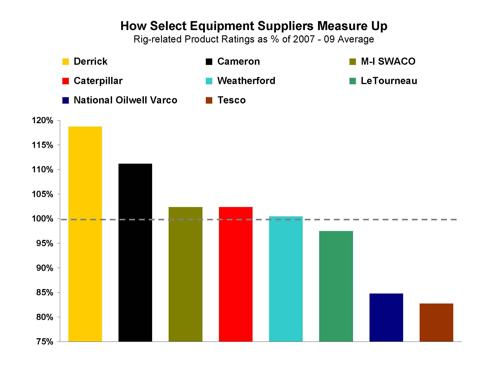 While competitors such as Rowan Companies' (NYSE:RDC) LeTourneau Technologies, Forum Oilfield Technologies and Global Energy Services (previously IDM Equipment) have all taken notice of customers' dissatisfaction with NOV, none appear yet to have made substantial inroads as the logical alternative. Of the three, our surveys suggest LeTourneau is likely best positioned to do so. Respondents rate LeTourneau's products particularly high for their ease of installation, operation and maintenance. The company has also garnered considerable plaudits for its accountability after the sale (click here for our latest note on LeTourneau).
Doing Fewer Things Well
As has been the case in other EnergyPoint surveys, suppliers focused more narrowly on specific product categories tend to receive higher satisfaction marks from respondents than integrated suppliers. For example, Derrick Equipment, maker of shale shakers and other drilling fluids management equipment and systems, continues to post impressive scores. Cameron Int'l (NYSE:CAM), M-I SWACO and Caterpillar (NYSE:CAT) also enjoy above-average ratings. One exception is Tesco (NASDAQ:TESO), which registers relatively low marks with respondents. Click the following for our latest notes on: Cameron, M-I SWACO and Tesco.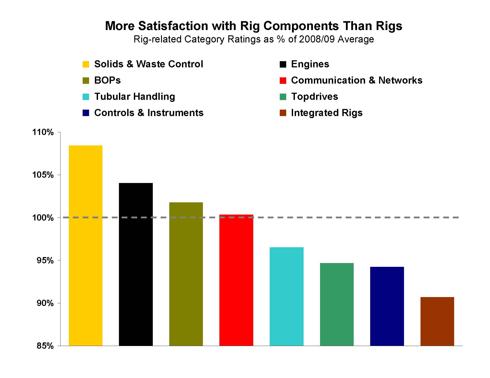 Indeed, until the industry's integrated equipment suppliers address problems many customers associate with both their organizations and their products, these and other specialized equipment providers will likely continue to enjoy their fair share of both customer preference and orders.
About the Data
This report is derived from over 5,200 customer evaluations of suppliers of oilfield products and materials, including more than 1,000 evaluations in the category of rigs and rig-related equipment, via EnergyPoint's 2005 – 09 independent surveys.
Disclosure: No positions