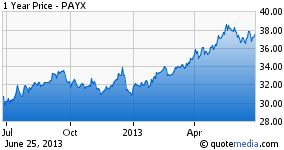 Paychex (NASDAQ:PAYX) reports earnings on Wednesday, June 26th, which will be an excellent insight on the strength of the economy. Paychex's earnings will be a great gauge on whether or not small businesses are hiring, which is the true catalyst of economic growth. Typically, job growth starts with small businesses, so if PAYX reports strong earnings, job growth should continue.
One of Paychex's best strengths is its dividend. Currently Paychex's yield is about 3.5% based on a price of around $37 a share. Year to date the stock is up about 20%. As mentioned previously, the primary driver of the stock is employment growth, but other opportunities still exist. Paychex also offers Human Resources services for companies that are interested in outsourcing those functions. Paychex is also hoping to expand into a more technologically advanced payroll company, leading the way with newer payroll technologies. Paychex has been making acquisitions as well, which should prove beneficial for investors over time.
Analysts are currently predicting $1.60 per share earnings for 2013. The company has been performing well, seeing increasing revenues for the previous eight quarters, and net income rising year over year at an average rate of around 7%.
In terms of valuation, Paychex trades at a P/E of about 22 and a PEG of over 2. This values the company fully, and could mean that a selloff is due. Although Paychex's history has shown that the company has continually met or beat analysts' expectations, the stock has already appreciated significantly.
Signs that hiring may be increasing typically can be predicted, but are difficult to be consistent with accuracy. The obvious choice for signs of increasing employment is the unemployment rate and non-farm payroll reports. A second catalyst for employment may be political certainty. Businesses have blamed political and Government uncertainty on top of increasing regulations as major reasons why hiring has suffered. Once businesses adapt and adjust to the new healthcare reform, stricter regulations, and current market conditions, hiring may be due to increase.
Paychex's largest competitor is Automatic Data Processing (NASDAQ:ADP). A new competitor has also emerged, in the likes of Intuit (NASDAQ:INTU). Paychex does diversify its services as a hedge against competitors, and should see growth in its human resources and retirement planning departments.
Conclusion
Paychex has had a large run this year, making the stock currently fully valued. Although the stock may have a favorable 3-5 year return, rushing into an investment right now seems foolish. It is difficult to predict whether or not Paychex will report strong earnings on Wednesday, so buying the stock solely on trading the earnings report may be risky. However, unemployment rates have dropped in 25 states last month, which may be a sign that a good report is to come.
Disclosure: I have no positions in any stocks mentioned, and no plans to initiate any positions within the next 72 hours. I wrote this article myself, and it expresses my own opinions. I am not receiving compensation for it (other than from Seeking Alpha). I have no business relationship with any company whose stock is mentioned in this article.