It's been nearly a year since Marissa Mayer took the helm at Yahoo! (NASDAQ:YHOO). In that year, the stock gained 60 percent as of Tuesday's closing price of $24.95. This price, as the chart below indicates, is down sharply from a 52-week high of $27.68 in May.
)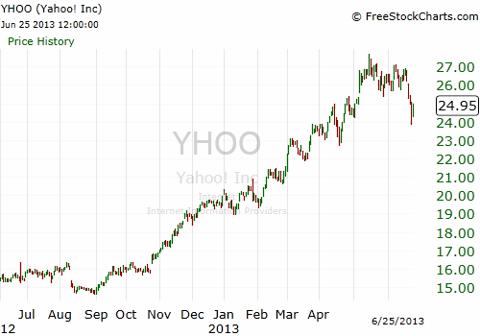 Click to enlarge
(Click to enlarge)
During her time at the helm, Ms. Mayer has made headlines by implementing some personnel changes - banning work-from-home and changing the company's maternity leave program. But, perhaps most important for investors, Mayer has been making Yahoo hers. She started by redesigning the site's home page, but has continued with a redesign of Flickr - the photo-sharing application - and the company's mobile email.
Today, at the annual investor conference, Mayer revealed that these redesigns were making real progress recruiting mobile users. The number of daily active users on Flickr has jumped 50 percent since the redesign, while the use of mobile email is up 70 percent.
Mayer has also purchased 11 companies during her tenure - the most notable being the $1.1 billion acquisition of Tumblr last month. While it is too soon to tell how this acquisition will play out, the company expects that Tumblr will add 1 billion monthly visitors to Yahoo's properties.
Overview of Valuation
Revenue for last quarter fell 6.6 percent year-over-year, though operating expenses fell by $100 million, helping EPS to gain from 23 cents per share to 35 cents, ex-items. The company trades at 7.3 times trailing earnings and 16.2 times forward earnings. The forward P/E is exactly the same as Google's (NASDAQ:GOOG), while it trails Facebook's (NASDAQ:FB) forward P/E of 31 - though that says more about FB than YHOO.
Yahoo and Google's PEG ratio - a measure made popular by Peter Lynch - are also comparable at 1.33 and 1.27, respectively. Though, Yahoo is relatively cheaper compared to book value, trading at 1.85 times as opposed to 3.81 for Google.
Alibaba and Yahoo! Japan
Melissa Mayer has made a lot of headlines the past year, and, I think, gone a long way to demonstrate Yahoo is on a path to sustainability. However, the rise in the stock over the past year is more a result of the performance of its Asian properties than more faith in the core business.
Despite Ms. Mayer's focus, Yahoo's real value continues to be in Alibaba and Yahoo! Japan (OTCPK:YAHOY). A $60 billion valuation for the Chinese e-commerce and search company, Alibaba - which may be the low end of a late-2013 IPO - puts Yahoo's 24 percent stake at around $14.4 billion. That equates to nearly half of the company's current market cap.
When Alibaba IPOs, it will have the right to purchase back half of Yahoo's stake, in addition to $835 million in preferred shares the company owns. At a $60 billion valuation, that would give Yahoo over $8 billion in cash. At a $100 billion valuation - the top end of the range - Yahoo would reap nearly $13 billion.
Yahoo also owns 35 percent in Yahoo Japan - a company that is also seeing tremendous growth. Yahoo Japan is also doing quite well, experiencing a 13 percent year-over-year increase in profits at Yahoo's last filing. That puts Yahoo's stake in that company at around $6 billion.
While there has been discussion in the broader market about the "Bernanke Put," for Yahoo, there is the Asian Put. With those properties becoming increasingly valuable (anywhere from $22 to $30 billion), it will be difficult to see the stock price move below $20 per share.
The current share price does not leave much by way of value for Yahoo's core business, particularly when backing out the $2.78 per share in cash the company holds.
Conclusion
The recent pullback in Yahoo's stock should only serve as an entry point to enter or add to existing trades. Though the share price is up substantially since Marissa Mayer became CEO, when you back out the value for Alibaba and Yahoo Japan, the value of Yahoo's core assets have not risen that much.
However, Ms. Mayer has, in my opinion, done well to add value and even demonstrate movement in the difficult to measure mobile category. With that game up for grabs, it could serve as Yahoo's foray back from obscurity.
With Alibaba and Yahoo Japan's "put" on the stock, I believe that the price could move above $30 or $35 by the end of 2013. If Yahoo can continue to build on mobile growth in Flickr and its email property, then the outlook for the company becomes much more appealing - potentially leading the stock to double in the next couple years.
Disclosure: I have no positions in any stocks mentioned, and no plans to initiate any positions within the next 72 hours. I wrote this article myself, and it expresses my own opinions. I am not receiving compensation for it (other than from Seeking Alpha). I have no business relationship with any company whose stock is mentioned in this article.