Some may be troubled by the news today that China is buying America, but we view this as very good news (see New York Times article here). Any time one can put money to good use purchasing assets it benefits their portfolio as well as the country in which they are investing that capital. True it could spell trouble for US Treasuries but it is bullish for US real estate and that is the principle reason that rates are low; to encourage real estate investment.
The money that is freed up from these sales will go to repay debt owed by US investors or be redeployed to other properties with better returns. This is the first step in reinflating a market...that is attracting new capital.
Chart of the Day:
This five year chart pretty much tells an investor everything they need to know about China. A failed recent rally, paired with lower highs and lower lows is hardly a recipe for success. Worse, we could be ahead for some rough times should the chart break below the current levels where the market should have some support. Watch this closely, for a breakdown could rile markets greatly.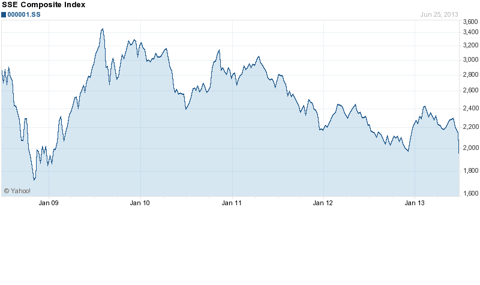 Click to enlarge
Chart courtesy of Yahoo Finance.
We have economic news due out today, and it is as follows:
MBA Mortgage Index (7:00 a.m. ET): N/A
GDP - Third Estimate (8:30 a.m. ET): 2.4%
GDP Deflator - Third Estimate (8:30 a.m. ET): 1.1%
Crude Inventories (10:30 a.m. ET): N/A
Asian markets finished mixed today:
All Ordinaries -- up 1.60%
Shanghai Composite -- down 0.41%
Nikkei 225 -- down 1.04%
NZSE 50 -- up 1.77%
Seoul Composite -- up 0.16%
In Europe, markets are higher this morning:
CAC 40 -- up 1.80%
DAX -- up 1.52%
FTSE 100 -- up 1.03%
OSE -- up 1.13%
Homebuilders
The homebuilders continue to show strength as housing numbers remain strong and by some estimates and measurements are actually gaining strength. It is the busiest time of year for the industry and strong numbers now are hardly surprising when looking at a month over month comparison, but what is impressive is the growth year over year. Much is being made on the breakdown of these numbers between single-family and multi-family units, but at the end of the day housing is housing and since we are still in the early innings of the housing recover we refuse to discriminate.
Pultegroup (NYSE:PHM) has been a strong name as of late and yesterday the company held on to a good bit of their gains rather than giving them up as was the case for a number of peers. Readers know we like strength when looking at where to make buys and we are bullish of all things housing right now, although we did have friends exit positions in Whirlpool at $130/share on valuation concerns and to get better yield elsewhere. We are looking to see more of a rebound in the industry and Pultegroup looks like one of the names that will lead the rebound.
Retail
Retail has been a tricky industry to figure out as of late, especially the drugstore business. Walgreen's (WAG) has been having missteps over the past year or so and this has given life back to the other players who in the past were thought to have less experienced management teams and inferior real estate and business models. That has all changed though and now it is Walgreen's giving investors fits. Our belief is that this name is still one that readers should put in their retirement accounts and just forget about as the company has displayed solid growth over the years and pays a respectable dividend.
Yes WAG has been a strong performer over the past year, but we do not have a whole lot of recent support around current levels. Looking back further there is some support here, but the $42/share level may provide a better buying opportunity.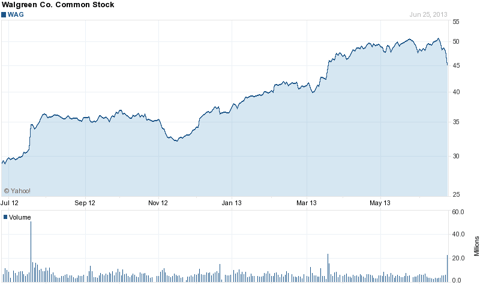 Click to enlarge
Chart courtesy of Yahoo Finance.
The truly troublesome news out of the sector yesterday dealt with Barnes & Noble (NYSE:BKS) which saw its bookstore business come under fire from online and digital retailers and now faces the realization that its efforts to sell e-readers at cost in order to send customers to others' digital stores and platforms is not as lucrative as they once believed it would be. Obviously the company figured that the Nook's readers would use Barnes & Noble's online store but this has not proven to be the case. The company is reigning in their efforts in the e-reader sector and will no longer make their own color devices but rather license third party devices. Oddly enough, the company will continue to manufacture and design the black and white version so it is not a full retreat from the business. This is one name we would stay away from still. Their cash cow business is under attack from the likes of Amazon and Wal-Mart and they simply cannot compete against Amazon or Apple in the tablet market which is the future of the industry. The future is bleak here and the fact that shares fell over 17% yesterday to close at $15.61/share demonstrates that investors are fully aware of the issues moving forward.
Transportation
One of the sectors we watch for general market direction, the transports, has actually held in strongly as of late and we noticed that YRC Worldwide (NASDAQ:YRCW) was hitting new 52-week highs yesterday before it backed off. The high of the day was $26.50/share but shares finished the day $25.70 after rising $3.42, or 15.35% on volume of 1.03 million shares. It was impressive and simply displays how strong the transportation industry is at this time. Both truckers and the freight trains are doing well and although the trains have been stealing business from the trucking fleets we have seen a rise in both overall shipping needs and smaller shipments. It is a story of a rising tide and all boats rising with that tide. It shall be interesting to see if the transports lead the way higher on the next leg up.
Yes the company had one big jump this year, but it has continued its march higher and the strength here is no mirage. Transports are showing strength across the board - with the exception being those with a focus on boats.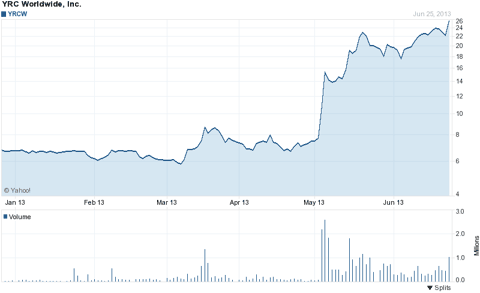 Click to enlarge
Chart courtesy of Yahoo Finance.
Consumer Goods
For investors in Monster Beverage (NASDAQ:MNST), the maker of Monster Energy drinks, the news that a second wrongful death case has been filed against the company (see CNBC story here) is certainly unwelcome news. Every time that the negative newsflow seems to taper off and die down, the stock gets a jolt of fresh anxiety due to new court cases, politicians looking to get involved and potential FDA regulation. If the company is able to defend itself against the first wave of these wrongful death cases then there should be a calming of the seas so to speak and our guess is that industry heavyweights such as Coca-Cola and Pepsico will assist them as a loss by Monster could open the door for suits against the more tame soft drinks.
Disclosure: I have no positions in any stocks mentioned, and no plans to initiate any positions within the next 72 hours. I wrote this article myself, and it expresses my own opinions. I am not receiving compensation for it (other than from Seeking Alpha). I have no business relationship with any company whose stock is mentioned in this article.