A big market sell-off is finally here and yet many are afraid to buy even though so many investors have been hoping for a pullback. It's easy to want to buy a pullback when you see stocks racing higher week after week, but it's tough when it comes to pulling the trigger after the market has tumbled nearly every day for the past week. However, buying when there is "blood in the streets" can pay off big for investors who have cash to put to work and the courage to buy when others are selling.
The concern over tapering by the Federal Reserve seems overblown and I believe bond yields will ease and help to calm the markets soon. The other recent issue has been China, but this is nothing new and it seems that growth will continue albeit at a possibly slower pace. When the markets realize that the world has not changed that much in the past week and that Bernanke won't taper as soon as some fear, we could see a big rebound and that is why it makes sense to do some bargain-hunting now. In particular, it makes sense to follow insiders when you see them taking advantage of a market pullback as that can be one big signal that the selling is overdone. It also makes sense to pay attention to what hedge fund billionaires are bullish on and that is why investors should consider buying this stock: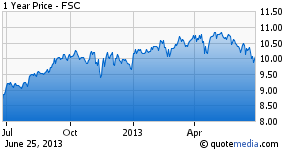 Fifth Street Finance Corp. (NYSE:FSC) is a business development company or "BDC" that invests in many sectors including healthcare, manufacturing, energy, defense, technology, marketing and others. The business model of this company is ideal for income investors since BDC's payout of a high level of earnings to shareholders. By borrowing money at low rates and lending it out at higher rates, BDC's can earn significant profits and reward shareholders in the process. Since Fifth Street has a highly-diversified portfolio, this reduces risks for investors.
A recession is a risk factor for companies in this sector since it could reduce the credit quality in the investment portfolio. However, there is slow growth in the economy and a recession does not look likely now. Of course, another risk factor is a broad-based sell-off in which almost all assets are sold by investors and that is basically what has pulled this stock down to about $10 per share. However, this pullback is a solid buying opportunity and multiple insiders are taking advantage of this by buying shares now:
On June 19, Leonard Tannenbaum (the CEO) bought yet another 20,000 shares of stock in a deal valued at about $200,000. On the same day, Bernard Berman (an officer) also added 1,000 shares. This follows up on other significant recent purchases of stock. For example, on May 28, 2013, Leonard Tannenbaum bought a total of 25,000 shares at about $10.37 each for a total transaction value of roughly $250,000. On May 22, Bernard Berman bought 1,000 shares at $10.47 per share for a total value of $10,470. On May 15, Ivelin Dimitrov (an officer) also bought 1,000 shares at $10.71 for a total of $10,710. On May 14, Richard Dutkiewicz (a director) purchased 4,000 shares at $10.79 each for a total value of $43,160 and there have been other buys earlier this year.
Another bull on Fifth Street shares appears to be billionaire hedge fund manager David Einhorn. According to Forbes Magazine, Einhorn is one of the richest men in the world and he founded Greenlight Capital which has produced strong results. According to recent reports, Einhorn has purchased nearly 2 million shares of Fifth Street Capital, which is yet another reason why investors should consider this stock now. Analysts at JP Morgan are bullish too and recently called the dividend "secure" and set a price target of $11 per share.
Fifth Street pays a dividend every month at a rate of nearly 10 cents per share. With the shares trading at just about $10, this offers investors a yield of roughly 12%. That is tough to beat, and investors who are concerned about the possibility of rising rates should consider the fact that this company has issued fixed rate debt to keep borrowing costs low and it has about 74% of its debt investments in floating rate securities which means profits could actually rise if rates increase. That factor and a recent acquisition of Healthcare Finance Group could boost earnings and this could translate to a dividend increase in the future. Another big positive is that the company just announced it amended its credit facility with Wells Fargo Bank, which will reduce the borrowing rate by .25%. That could also boost profits going forward. With the shares at bargain levels, a yield of nearly 12%, and multiple insiders buying, investors should also consider this stock now.
Here are some key points for FSC:
Current share price: $9.90
The 52 week range is $9.65 to $11.13
Earnings estimates for 2013: $1.11 per share
Earnings estimates for 2014: $1.18 per share
Monthly dividend: 9.6 cents per share, which yields about 12%
Data is sourced from Yahoo Finance. No guarantees or representations are made. Hawkinvest is not a registered investment advisor and does not provide specific investment advice. The information is for informational purposes only. You should always consult a financial advisor.
Disclosure: I am long FSC. I wrote this article myself, and it expresses my own opinions. I am not receiving compensation for it (other than from Seeking Alpha). I have no business relationship with any company whose stock is mentioned in this article.