Over the past few weeks, Caterpillar (NYSE:CAT) has experienced a pullback in share price. Specifically, Caterpillar has declined over 9% since the beginning of the year and further price declines are entirely possible. In this article, I will examine the fundamental history that has precipitated this decline and present the case that prudent investors should consider selling or shorting Caterpillar, Inc.
A History of Returns
In order to objectively analyze a security, individuals should attempt to isolate key drivers of price. It is through the analysis of price catalyst that we can glean great insight into where price could travel in the future. A key driver of share price is return on assets. Return on assets is the net income of a firm divided by average total assets across an operating cycle. The usefulness of return on assets is that it allows us the ability to cut straight to heart of an organization by asking if it is efficient or inefficient in how it uses its assets to grow the firm. Caterpillar is an asset-intensive firm in that the construction equipment it builds and facilities it uses represents over one-third of the assets of the firm. Therefore, when we study Caterpillar's return on assets, we are studying how well it is actually performing as an organization. The chart below shows 5 years of return on assets for CAT.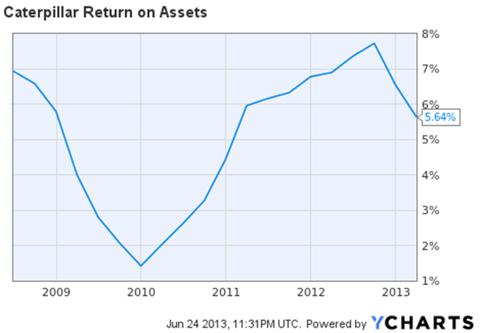 In the chart below, three distinct economic periods can be seen. In the following bullet points and accompanying table, we will explore these time periods and arrive at a trade recommendation.
The first period we will analyze is the second quarter of 2008 until the fourth quarter of 2009. During this time period, the global financial crisis was affecting the entire economy. Caterpillar is a firm that generates its profits from the absolute bedrock of capitalism: construction. As a capitalist economy shrinks, Caterpillar and its peers experience contraction due to decreased demand for its products. This period of decline in return for CAT, as measured by return on assets was accompanied by a decline in shares by around 29%.
The end of the Caterpillar's recession began in the first quarter of 2010 and lasted until the third quarter of 2012. During this time period, CAT experienced resumption in growth. Return on assets increased, which tangibly means that CAT became better at bringing profits to its investors with the assets and facilities it owns. Investors flock to organizations exhibiting growth and performance. CAT is no exception to this rule in that its shares rose an astounding 69% during this time period.
The most recent period in economic history is from the fourth quarter of 2012 until the present. During this period of time, CAT has shed return and its shares have experienced a reversal. Even though CAT was once up over 10% during this time period, its shares have diminished to an increase of 1%.

The table above demonstrates a very simple economic relationship. As a firm increases its performance, as measured by return on assets, investors flock to the security driving up share price. Conversely, as a firm delivers decreasing levels of performance, investors flee the stock, causing price to fall. This logical relationship is the basis for this analysis.
Over the past three quarters, CAT has witnessed its largest decline in returns since the financial crisis. This pullback in firm performance has only recently begun to be matched with a decline in share price. It is my belief that the fact that shares are still positive during a period of economic degradation represents an excellent shorting opportunity. The prudent investor should consider the historic relationship between organizational returns and share price performance and give thought to selling or shorting CAT.
Disclosure: I have no positions in any stocks mentioned, and no plans to initiate any positions within the next 72 hours. I wrote this article myself, and it expresses my own opinions. I am not receiving compensation for it (other than from Seeking Alpha). I have no business relationship with any company whose stock is mentioned in this article.