This week a Seeking Alpha article posited that all asset classes world wide are currently overpriced. "Every Major Asset Class In The World Is Overpriced" is the Seeking Alpha article stating this condition and the Delta Factor data below supports or underscores this position. In addition, current Bullish Percent Indicators (BPI) data also comes to this same conclusion.
Delta Factor Projections: Twenty-seven (27) Exchange Traded Funds (ETFs) were selected for this analysis. All are commission free index securities available to TDAmeritrade clients. The ETFs cover all value and growth asset classes in the U.S. Equities market. Both developed and emerging international markets are included as well as commodities, domestic and international real estate, domestic and international bonds.
Four years of data were used for this study. Similar results show up if one uses three or five years of data. The Delta Factor takes into consideration historical performance as well as future projections. While the historical performance information is fixed, future projections are calculated using reversion-to-the-mean arguments. In addition, the Delta Factor examines how well any ETF is expected to perform based on a benchmark. For example, equity ETFs use a total market index fund as a reference while bond securities are compared against a total bond market index fund.
Scanning down over the table, one sees no Buy projections for any ETF and in most cases the projection is to Sell. In other words, this market is overpriced.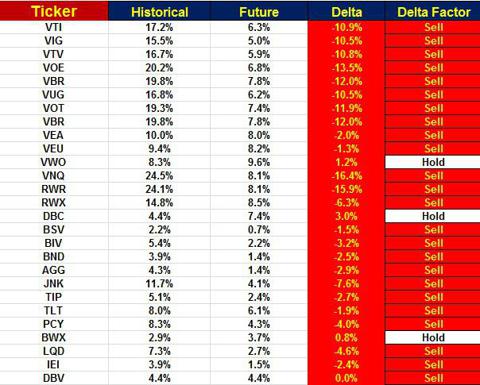 It is useful to check other market inflection points of the past to see what the Delta Factor projections were in those situations. For example, what were the Delta Factor projections in March of 2009?
The Delta Factor projections are not the only signals indicating an overpriced market. Similar conclusions are showing up in the Bullish Percent Indicators analysis. This table published last week shows expanding cracks in this market. Earlier this month this Seeking Alpha article identified the early signs of weakness developing in an overpriced market. Until investors see changes in either BPI or the Delta Factor, it is best to take a measured approach when adding to current positions.
Disclosure: I am long VTI, VEU, VWO, VNQ, RWX, BND. I wrote this article myself, and it expresses my own opinions. I am not receiving compensation for it (other than from Seeking Alpha). I have no business relationship with any company whose stock is mentioned in this article.