Shares of British-based transmission and distribution utility National Grid have been beaten down more than most utilities lately. In fact, National Grid (NYSE:NGG) now yields over 5.6%, much more than any major U.S. utility. In this market, such a yield may seem like a great way to pick up income.
But it actually isn't. In compliance with "green" legislation from both Britain and the EU, new wind farms, both onshore and offshore, are being built all over the island. Unfortunately, Britain's power grid is not designed to transmit power from these new geographies. Output from wind power is also very irregular and requires backup capacity. That backup infrastructure is years away. Meanwhile, coal and nuclear plants are being taken offline in large chunks. Britain's long-term electricity supply will soon be in jeopardy and National Grid's dividend is not worth the risk.
National Grid's segments include U.K. Transmission, U.K. Gas Distribution, U.S. Regulated and Other activities. The company owns the electricity transmission system in England and Wales. It owns distribution networks in upstate New York, Massachusetts, Rhode Island and New Hampshire and serves about 3.5 million people in New England and upstate New York. Although it does not generate power in the U.K., we will see that its business is still at risk.
The German Tragedy
Germany has a few years' head start over Britain in renewable energy. If its experience is any indication, Britain will soon be in big trouble: In just a few short years, the German power grid has gone from "impeccably world class" to the laughing stock of the developed world. And it's not hard to see why: The grid was originally built to move nuclear power from south to north. As the German government began decommissioning nuclear plants, the grid has been unequipped to handle the new source of power from wind farms offshore.
TenneT, the company operating one of Germany's main power grids, said it would be unable to shoulder the financial burden of connecting Germany's wind farms to the electricity grid. Could Britain's National Grid face a similar issue?
Germany's power situation has become a dire mess. Consumers face additional surcharges. Grid companies face liabilities. And worst of all, major utilities such as E.On have gone on record as unwilling to invest in more wind farms until a sufficient grid is set up. No parties have gone without impact: generation companies, transmission companies, consumers and the government have all taken losses. Germany was hasty to shut down coal and nuclear plants and build wind farms, yet too slow to retool its grid. Now everyone is suffering.
Britain Is Next
Britain seems to be headed for the same catastrophe, with many wind farms already in operation but no real grid to move it. A recent study commissioned by the government indicated minimum power availability from onshore wind farms as low as 1% of potential output [pdf]. Basically, this means Britain would have to set up an equally large shadow infrastructure of gas plants for times when the wind isn't blowing. This is, of course, very costly and wasteful, and gas fired plants are not designed to be used irregularly.
Alternatively, Britain could connect its grid to Scandinavian countries and buy hydroelectric power, at a high price, when wind output is insufficient. But that won't be possible until 2020 at the earliest, if ever. An expensive and uncertain project to connect a submarine power cable between Britain and Norway, called NorthLink, is a joint venture between a Norwegian firm and National Grid to build the world's largest submarine power cable. It is eerily similar to TenneT's situation in Germany because its timing is uncertain and it is being built after many wind farms have already been completed.
Meanwhile, Britain, like Germany, is destroying its coal and nuclear power generation. As a result, Ofgem, Britain's national power regulator, offered a very stern, dire warning. It put the risk of "controlled disconnections" at 50% by 2015 in the case of high winter power demand. In addition, John Robertson, an MP on the energy committee, had this to say:
We have been warning of this problem since 2002 and now it is too late," he said. "All the coal stations will have gone by 2015 and because we've dragged our feet for so long on nuclear, there won't be anything to replace them.
Much like in Germany, a fallout of this magnitude will surely impact all parties, including transmission companies such as National Grid.
Valuation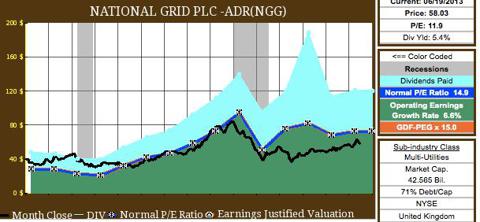 Click to enlarge
National Grid's P/E ratio has been well below its historical P/E ratio and "Fair Value" since 2008 on prolonged British economic stagnation. Although one may be tempted to see this as a fundamental opportunity, I don't believe that it is. The stock has obviously priced in Britain's economic difficulty. Discounted prices since 2008 reveal that. But I don't believe that the market priced in the systemic risk and upcoming power bottlenecks that Britain faces: A single percentage point spread in dividend yield between American utilities such as Southern (NYSE:SO) and ConEd (NYSE:ED) seems hardly enough given the additional risk.
Conclusion
As an investor, we must avoid this potential free fire zone if we can. While National Grid may be a very well-run company selling at a reasonable price here, this is not a risk you want to take. Forgo the 5.6% yield and look to other utilities if you must. Preferably ones operating in places less likely to "go green." Pure play American utilities are the place to start. Avoid Britain until the regulatory and power situation is more clear.
Dividend yield was calculated considering the "final dividend" of $2.00 and assumes the "interim dividend" later this year will be identical to last year's interim dividend of $1.15.
Disclosure: I have no positions in any stocks mentioned, and no plans to initiate any positions within the next 72 hours. I wrote this article myself, and it expresses my own opinions. I am not receiving compensation for it (other than from Seeking Alpha). I have no business relationship with any company whose stock is mentioned in this article.