Since my "BDC Rankings For Q1" article five weeks ago, BDCs have been under selling pressure especially after the Fed's comments regarding its plan to begin paring back its bond-buying program later this year, pushing the yield on the 10-year Treasury note to the highest level in almost two years. Overall, the 25 BDCs I follow (The Good, The Bad, And The Maybe) have fallen an average of 7%, so I have adjusted the valuation category accordingly.
Analysts have revised projections for EPS, price target, and overall recommendations so the profit and analysts categories have been updated. In my latest series "BDC Risk Profiles" I had a chance to do an in-depth analysis on the 'relative risk rankings' of each BDC measuring portfolio credit quality, investment asset classes, diversification, non-accrual rates, portfolio yield, fixed/variable rate loans, leverage, interest rate sensitivity, volatility ratios, market capitalization, insider and institutional ownership and trends, and have revised the risk category. The payout category was adjusted to reflect the most current yield based on stock price and dividend changes as well as earnings expectations.
These are the five general criteria I use to evaluate BDCs:
Profitability (EPS to cover dividends, NAV and EPS growth)
Risk (rate sensitivity, diversification, portfolio quality, volatility)
Payout (sustainable, consistent, growing)
Analyst Opinions
Valuation (NAV, P/E, PEG)
The tables below do not actually contain whole numbers and the totals might be different (by 1) due to rounding: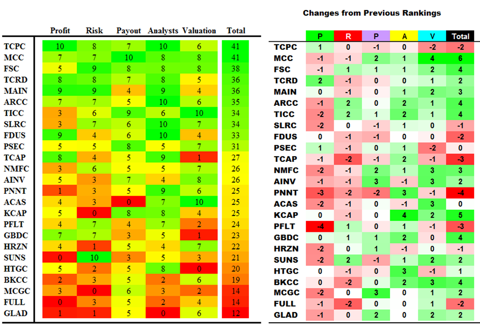 Click to enlarge
Highlights:
TCP Capital (NASDAQ:TCPC) has been near the top of the rankings for many reasons including beating EPS estimates by $0.10 or 26%, and increasing NAV by 1.4% from previous quarter. It recently raised $70.3 million in May 2013, and intends to use the proceeds to repay amounts outstanding under its revolving credit facility. The only changes in the ranking of TCPC are its valuation and payout categories because the stock continues to climb compared to most BDCs. In an article a few weeks ago "TCP Capital: The Overlooked BDC," I discussed its favorable risk profile compared to its valuation multiples and it has been moving toward appropriate multiples since.
Fifth Street Finance (NYSE:FSC) moved up in the rankings mostly due to the stock being down almost 10% since last month giving it favorable multiples and payout ratio, and consider it to be undervalued given its risk profile which is why it has an 8 out 10 in the valuation ranking. In April, I compared FSC to BKCC in "BlackRock Kelso Capital: Is It Better Than Fifth Street Finance?" discussing earnings potential and risk profiles. I will cover price targets for FSC in future articles.
Main Street Capital (NYSE:MAIN) has also moved up in the rankings due to recent pricing changes and is down almost 13% since last month. In many articles including "High Priced BDCs: Are They Worth It?" I have discussed how MAIN is one of the 'safer' BDCs that investors are still paying a premium for, so I view the last few weeks as a much needed price correction but still consider it overvalued and would like to see it closer to $25.
Ares Capital (NASDAQ:ARCC) has moved up in the rankings due to the potential for rate increases that could have a positive impact to its earnings as discussed in "Ares Capital: Ready For Rising Rates?" This would also have a positive impact on its 'relative' risk ranking compared to other BDCs that might not fare as well in a rising rate environment. I believe analysts see this as a positive for the company and have recently upgraded recommendations as well.
Prospect Capital (NASDAQ:PSEC) recently announced an increased estimate of net investment income for the current June 2013 quarter to $0.31 to $0.35 per share, which would almost cover its monthly dividend of $0.11 yielding 12.4% annually to investors. I adjusted the profit category to 5 out of 10 until results for Q2 are announced. PSEC also announced how rising interest rates would benefit the company: "Prospect has locked in a ladder of fixed rate liabilities extending 30 years into the future, while most of Prospect's loans float with LIBOR, providing upside to shareholders as interest rates rise." I discussed interest rate sensitivity for BDCs in my "BDC Risk Profiles: Part 6 - Interest Rate Sensitivity" article.
Triangle Capital (NYSE:TCAP) moved down in the rankings for a couple of reasons including the reassessment of its risk profile and revised earnings expectations. TCAP has only 2% of investments with floating rates and a higher debt to equity ratio than most BDCs. However, all of its SBA-guaranteed debentures, 2019 and 2022 notes bear interest at fixed rates, and account for 100% of its borrowings, so the impact to net income from the rise in rates should be nominal.
TICC Capital (NASDAQ:TICC) is one of the most underpriced BDCs trading near the lowest multiples in the industry as discussed along with my price targets in "TICC Capital: High Dividends And Low Price" and is considered a 10 in the valuation category. However, its use of leverage and exposure to CLO (Collateralized Loan Obligation) investments that give it the ability to pay higher dividends than most BDCs has increased risk which is reflected in its low valuation multiples. Earnings projections for Q2 have been reduced to $0.27 so I adjusted the profit category.
American Capital (NASDAQ:ACAS) has dropped more than any other BDC, down 20% from its recent high of over $15 most likely for the reasons discussed in "BDC Risk Profiles: Part 12 - American Capital". ACAS is the only BDC with a majority of investments in riskier equity investments instead of safer income producing debt investments. In addition, its debt investments have declining credit quality and the highest non-accruals of any BDC. However, it has one of the lowest debt to equity ratios, very little exposure to rising rates (negative or positive), continues to buy back shares and consistently increases its net asset value per share. I consider ACAS undervalued with a 10 in the valuation category but during turbulent markets investors flock to safety and are willing to pay higher multiples. Earnings projections for Q2 have been reduced to $0.25 so I adjusted the profit category.
BlackRock Kelso Capital (NASDAQ:BKCC) I consider it one of the riskier BDCs, with a 3 out of 10, and its stock price has dropped 9% from its recent highs. BKCC is still near the bottom of the list for a few reasons including increasing portfolio yields with declining credit quality and its portfolio companies have a debt to EBITDA ratio of 4.9, which is higher than its pre-crisis 4.7.
Apollo Investment (NASDAQ:AINV) had not reported at the time of my last rankings and met its EPS expectation of $0.21 covering its dividend of $0.20, however, Q2 is only expected to earn $0.20 due to its recent offering of 19 million shares. I consider AINV one of the riskier BDCs with a 3 out of 10 and its stock price has fallen 16% from recent highs last month so I adjusted the valuation category to 8 out of 10.
Disclosure: I am long MAIN, TCPC. I wrote this article myself, and it expresses my own opinions. I am not receiving compensation for it (other than from Seeking Alpha). I have no business relationship with any company whose stock is mentioned in this article.