Homebuilder share prices are tumbling as investors fear rate hikes will stall construction demand.
But, with apartment vacancy rates historically low and homebuilding activity still a far cry from its long-term averages, it's more likely rates will need to head significantly higher before NVR Inc (NYSE:NVR) profits suffer.
You may not follow NVR as closely as some of its homebuilding competitors. But, you should.
NVR is one of the largest homebuilders in the United States. The company has a building backlog of over 6,200 homes, nearly 1,300 more than well known competitor Lennar (NYSE:LEN) and twice the number of KB Home (NYSE:KBH).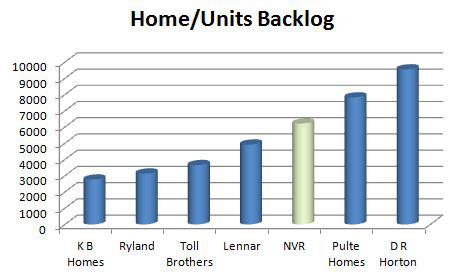 At nearly $1000, NVR's sky-high price may scare you. But, you shouldn't fear owning shares just because they're high priced.
After all, a 10% return has the same impact on your net worth regardless of whether it comes from a high or low priced stock. And, high priced stocks like NVR often find shares stay firmly in the hands of institutional clients, including mutual funds, which may be less inclined to panic when markets stutter.
Instead of share price, consider NVR's market position.
NVR builds homes primarily across the Mid Atlantic states. Last year, roughly 47% of its sales came from the Washington, D.C. and Baltimore markets. Despite lower government spending causing job growth headwinds, housing remains resilient in those markets.
Since unemployment peaked in 2009, the jobs picture has steadily improved within NVR's markets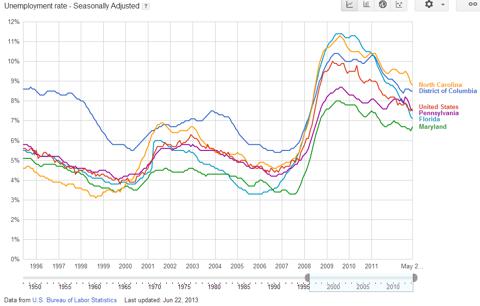 The improving job market has helped prices improve for the region's builders too.
According to the National Association of Realtors ("NAR"), existing home sales for the South, which includes most of the Mid Atlantic, climbed 36.5% year-over-year in May for the $250,000 to $500,000 home market.
That's good news for NVR given anemic existing home inventory supports new home demand and the average price of homes in NVR's backlog is roughly $350,000.
According Lawrence Yun, NAR's chief economist, "The housing numbers are overwhelmingly positive. However, the number of available homes is unlikely to grow, despite a nice gain in May, unless new home construction ramps up quickly by an additional 50 percent," he said. "The home price growth is too fast, and only additional supply from new homebuilding can moderate future price growth."
If that proves true, NVR has plenty of legroom to ramp construction activity.
NVR's land strategy smooths results
As competitors were furiously writing down land acquired for future development, NVR was weathering the housing crisis more smoothly thanks to its focus on prudent development over speculation.
The strategy focuses on land option agreements rather than out-right purchases. These agreements reduce the company's exposure to falling land values by reducing the company's risk to its up front option payment. This just-in-time method of land inventory management means the company didn't end up with bloated acreage during the last boom and stands poised to adjust quickly to the right markets at the right time.
The approach also helps NVR post some of the best operating margins in the industry.
Last quarter, NVR's operating margins came in at 9.2%, ahead of D R Horton's (NYSE:DHI) 8.3% and Pulte's 6.3% (NYSE:PHM) rate. Out of the biggest builders, only Lennar's 10.3% operating margin topped NVR.
And, those operating margins provide welcome support for a strong balance sheet, giving the company room to acquire smaller builders to expand or enter new markets.
That's exactly what NVR did in January when it acquired Heartland Homes. The deal broadens NVR's reach in Pittsburgh, West Virginia, and North Carolina, through 38 active communities. Last year, Heartland racked up 400 unit sales from those communities in 2012.
NVR may find itself able to do additional deals too. The company's cash and equivalents totaled over $1 billion, or $217 per share, exiting last quarter.
A rich book value means patience is warranted.
Arguably, the most common financial measure used to value home builders is price-to-book.
Historically, investors buy homebuilders when the price to book is near 1 and sell when the measure nears 3.
Investors who stepped into NVR shares when the price to book got to 1.4 in 2009 were nicely rewarded. It has since climbed as high as 3.5 in early 2013. Despite the recent sell-off, NVR's price to book is still a bit rich at slightly less than 3.0.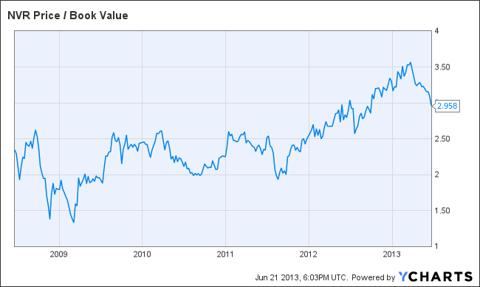 NVR Price / Book Value data by YCharts
That said, it's not just the share price having an effect on homebuilder price to book. Book value has been improving across the industry too. Last quarter, NVR's book value reached $1.5 billion, up from a low of $1.3 billion in 2011.
The improvement in book value isn't as dramatic at NVR as at competitors DR Horton and Lennar, but it's still solid considering its option land agreement approach offers less leverage.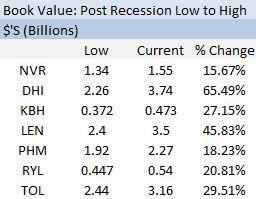 .
Regardless, if book value continues to trend up from where it is currently, it takes pressure off the price-to-book measure. A combination of improving book value and price consolidation may make for a much more attractive entry, particularly if investors can buy NVR closer to two times book over the coming months.
The rate of change in home starts and completions remain strong
In May, the industry broke ground on a seasonally adjusted 914,000 homes, 28.6% more than last year. During the month, permits were issued for 974,000 homes, up 20.8% from a year ago.
The starts and permit growth suggest an active season for construction and sales. The following chart puts the absolute number of homes being started in context. Despite rapid growth, starts remain tame compared to long-term trends. That suggests plenty of forward growth opportunity for NVR.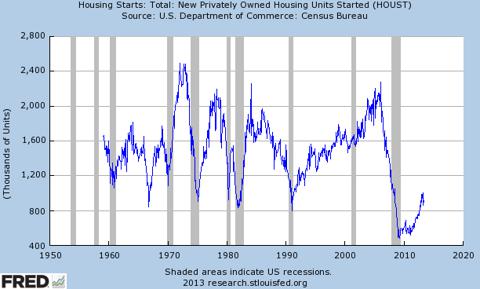 In the South, which includes many of NVR's top markets, permits were 15.5% higher than a year ago. New home starts in the Southern region were up 33.5% and completions gained 18.6% from last year. Those are solid numbers supporting NVR's quarterly results.
Those permit and home starts only matter to investors if they translate into completions, which show up in sales and earnings. In May, completions climbed 12.6% year-over-year to 690,000. And, those completions only matter if prices continue to increase. The Census reports Southern home sale prices hit new highs in Q4.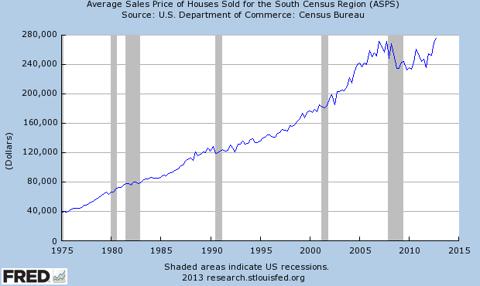 But, will future demand derail based on rising rates?
Rates are ticking higher as investors sell-off the 10-year Treasury. But, rates remain incredibly cheap relative to history suggesting it will take far more significant jumps to curb home buyer appetite.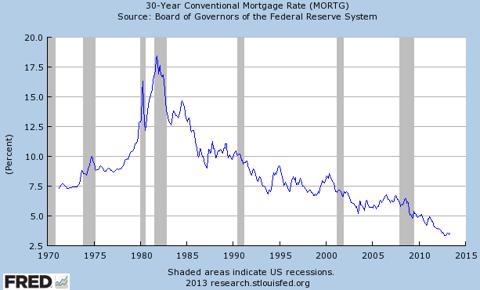 The National Association of Realtors Housing Affordability Index remains solidly above 100, an indication home ownership remains very favorable. At 183, a family earning the median income and putting 20% down has 183% of the income necessary to qualify for a conventional loan on the median priced existing single family home.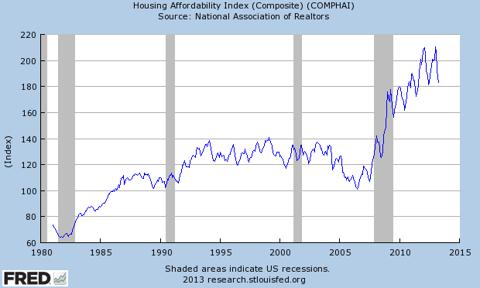 The backdrop of affordability becomes even more important when you consider apartment vacancy reached 4.3% in Q1, according to real estate tracker REIS. The reading is down from 5% in Q1, 2012 and a peak of 8% in 2009. Importantly, the effective rents charged by landlords have climbed above the pre-recession peaks. This means homes are not only affordable based on median prices and income, but relative to apartments too.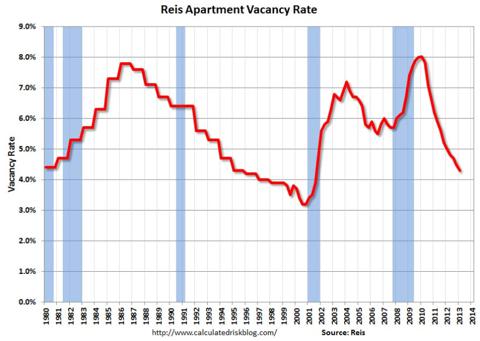 The combination of a disciplined land strategy, solid regional job growth, affordability and tight apartment vacancy suggest NVR sales and earnings will continue to grow even with the headwind of an early recovery in mortgage rates.
This suggests keeping a close eye on NVR as share prices come down. You should also watch NVR's price-to-book value, which you can easily track on ycharts.com. If book value gets closer to 2 than 3, you can consider adding it to portfolios.
Disclosure: I am long DHI, LEN, KBH, PHM, LEN. I wrote this article myself, and it expresses my own opinions. I am not receiving compensation for it (other than from Seeking Alpha). I have no business relationship with any company whose stock is mentioned in this article.