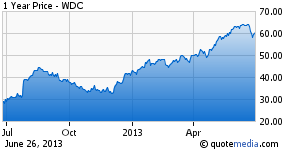 Shares of Western Digital (NYSE:WDC) are trading with losses of up to 3% in Monday's trading session amidst the general market sell-off, after the company announced the strategic acquisition of STEC (NASDAQ:STEC).
The strategic deal underlies Western Digital's strategy to diversify its operations and reinforce its position within solid state drives (SSDs).
The Deal
Western Digital announced that it has entered into a definitive merger agreement under which Western Digital's HGST unit will acquire STEC for $6.85 per share in cash.
In total, Western Digital will spend $340 million to acquire the early innovator in enterprise solid state drives. Excluding the net cash position of STEC, the enterprise value comes in at just $207 million. The deal represents an 88% premium compared to STEC's closing price of $3.59 on Friday.
With the acquisition, HGST accelerates its participation of enterprise SSDs. The deal has no implications to the joint development program with Intel (NASDAQ:INTC), as Western continues to deliver SAS-based SSD products with the firm.
CEO Steve Milligan commented on the rationale behind the deal "Solid state storage in the enterprise will play an increasingly strategic role in the future of Western Digital. This acquisition is one more building bloc in our strategy to capitalize on the dramatic changes within the storage industry by investing in SSDs and other high-growth storage products."
STEC has seen a dramatic year in 2012 as revenues fell by 45% to $168.3 million. The company reported a $103.2 million loss compared to a $25.1 million profit a year earlier. Operating with $132 million in cash and equivalents, and not having any debt outstanding, operating assets are valued at $207 million. This values the company at roughly 1.2 times annual revenues.
The board of directions of STEC and a special committee of independent directors have already unanimously approved the deal. Directors and executive officers have already voted in favor of the proposed deal.
The deal is subject to normal closing conditions, and is expected to close in the third or fourth quarter of 2013.
Valuation
Western Digital ended its third quarter with $4.06 billion in cash and equivalents. The company operates with $2.01 billion in total debt, for a solid net cash position of just above the $2 billion mark.
For the year ending in June 2012, Western Digital generated revenues of $12.5 billion, up 30% on the year before. Net income more than doubled to $1.61 billion in the meantime.
For the first nine months of its fiscal 2013, the company has reported a 50% increase in revenues, coming in at $11.6 billion. Net earnings rose by 44% to $1.25 billion. Full year revenues are expected to come in a touch above $15 billion, while earnings could come in around $1.6-$1.7 billion.
Trading around $59 per share, the market values Western Digital at around $14 billion. This values operating assets of the firm at $12.0 billion, equivalent to 0.8 times expected annual revenues for 2013 and 7-8 times annual earnings.
Western Digital currently pays a quarterly dividend of $0.25 per share for an annual dividend yield of 1.7%.
Some Historical Perspective
Western Digital has created a lot of value over the past decade for its shareholders. Shares steadily rose from lows of $7 in 2004 to peak at $40 in 2008 before falling back towards $10 later that year amidst the financial crisis.
From that point in time shares have recovered, trading in a steady $25-$45 trading range, before breaking out to highs of $65 earlier this year.
Between its fiscal 2009 and 2012, Western Digital has increased its annual revenues by two-thirds towards $12.5 billion. Net income more than tripled to $1.61 billion in the meantime.
Investment Thesis
A deal like the one with STEC is just a drop in the bucket for a firm the size of Western Digital. The $168 million in annual revenues could increase 2013's revenues by just a percent, while it does have a small negative impact on earnings.
While the company pays a generous premium for the troubled company, the actual amounts regarding the deal are rather modest. The transaction is of a highly strategic nature. STEC's shares, which peaked at $40 in 2009, have fallen ever since on the back of being outpaced by competition and insider trading scandals. The latest quarterly results reveal that revenues just totaled $22 million for the past quarter, implying that revenues could fall another 50% on an annual basis.
As such, Western Digital is purely buying the firm for the technology in an attempt to boost its position as a top player in the solid-state drive industry. STEC is one of the oldest makers of solid state drives, which are faster and more reliable, compared to traditional hard drives. Yet STEC has seen increased competition from Western Digital itself, but also from Seagate Technology (NASDAQ:STX) and Fusion-io (NYSE:FIO).
As CEO Milligan notes, the deal is a building block as SSDs become increasingly more important to the company within the storage industry. Western Digital continues to diversify away from personal computer sales into short-term data storage, heavily used by mobile device users.
All in all the deal is just a modest addition, and is certainly no deal changer for Western. While growth is slowing down, the valuation is quite appealing amidst a rock-solid balance sheet and decent profitability. As the growth slowdown could weigh on shares going forward, the overall valuation appears appealing enough to be cautiously optimistic regarding Western Digital's medium to long-term prospects.
Disclosure: I have no positions in any stocks mentioned, and no plans to initiate any positions within the next 72 hours. I wrote this article myself, and it expresses my own opinions. I am not receiving compensation for it (other than from Seeking Alpha). I have no business relationship with any company whose stock is mentioned in this article.