As I write this Barnes & Noble (NYSE:BKS) is reporting yet another disgraceful quarter. Q4 revenues were down 7.3% versus the same quarter last year. EBITDA was a negative $111 million. EPS came in at a negative $2.11 versus -$0.99 expected.
Mostly everything went wrong, both in the retail segment and with the Nook. It went wrong enough that Barnes and Noble has quit making the Nook tablets and will be partnering with a hardware maker from now on. The only segment doing well was college books.
Not on BKS earnings
But this article is not on BKS earnings. Instead, I am taking this chance to highlight something important: Some of the factors affecting BKS will also necessarily affect Amazon.com (NASDAQ:AMZN) negatively.
The point is that early 2012 was greatly favored by the "Hunger Games" and "Fifty Shades of Grey" series of books. As much can be confirmed using Google trends (I, II):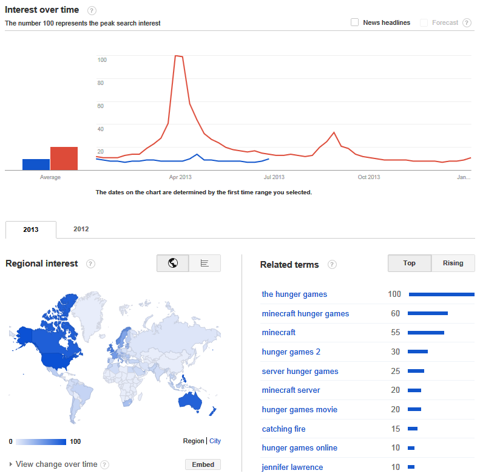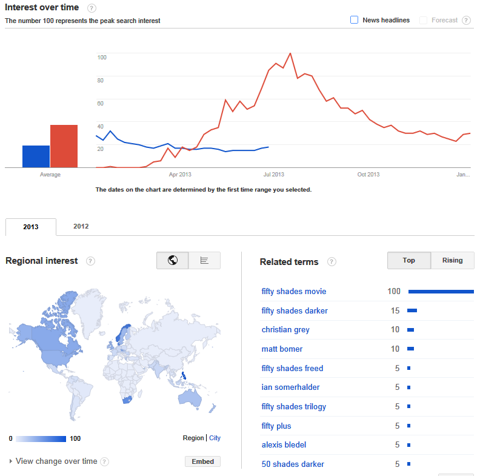 These were some of the best-selling books ever, with "Hunger Games" actually taking that prize away from the previous winner, the "Harry Potter" franchise. But as we can see above, their lure has now greatly faded. And with it, revenues will fade as well. This means that it was not just Barnes and Noble seeing these horrid comps - Amazon.com will see them as well.
Fifty shades probably overrepresented at Amazon.com
The "Fifty Shades of Grey" is what could be termed "erotic literature." This means that carrying the thing around in book form probably made some people uneasy. On the other hand, when reading that kind of literature in a Kindle, no one else knows what you're reading. This probably had the effect of over-representing the ebook sales in Amazon.com's Kindle platform. On the other hand now that makes for a larger impact when the book loses popularity.
Not surprisingly this was exactly what happened: "Fifty Shades of Grey" sold as much as 6 times more on the Kindle than on physical books, as per Amazon.com.
Kindle Fire
One could say that Barnes & Noble has thrown the towel on the Nook tablet. But the Nook is not the only tablet seeing pressure from a much wider field of competitors. Amazon.com's Kindle Fire, too, is seeing decreased interest as Google Trends shows: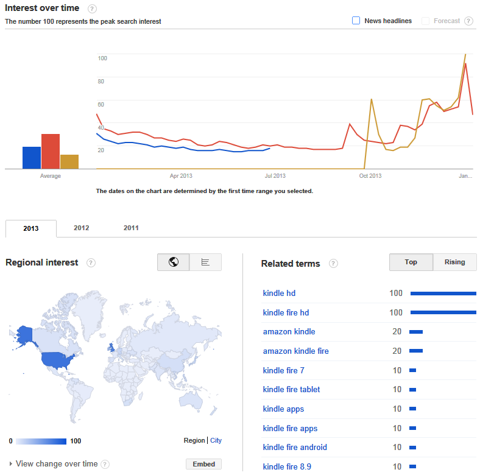 Media segment
When one puts the hard comps brought about by the hugely successful "Hunger Games" and "Fifty Shades of Grey" franchises in 2012 together with the headwinds represented by the new-generation gaming consoles launching in late 2013 but accepting pre-orders now, this increases the likelihood that Amazon.com will see its media segment growth decelerating and perhaps turning negative as soon as Q3 2013.
Obviously, Amazon.com does not trade like the stock of a company where a large segment, representing around 1/3 of its revenues, might be showing negative growth. This thus has the potential to be the straw, which breaks the camel's back.
Conclusion
Barnes & Noble's disappointing earnings turn our attention to something interesting: one of the factors greatly affecting Barnes & Noble also has the potential to greatly affect Amazon.com. I am talking about the "Hunger Games" and "Fifty Shades of Grey" franchises which dominated book and ebook sales during Q1 and Q2 2012, and which now constitute hard comps for Q2 2013, since there are no equivalent blockbusters this year.
In short, Amazon.com's media segment is likely to be challenged during Q2 and Q3 both due to these franchises fading, and due to the new generation consoles making for lower old generation sales (these are accounted for as "media" in Amazon.com's report).
Disclosure: I am short AMZN. I wrote this article myself, and it expresses my own opinions. I am not receiving compensation for it (other than from Seeking Alpha). I have no business relationship with any company whose stock is mentioned in this article.