In recent years, Thailand's political and economic climates have been plagued by a series of paralyzing events. A military coup, a tsunami and public unrest have made many investors justifiably uneasy. Antigovernment protests in Bangkok in April further damaged a tourism industry made fragile by the devastating tsunami of 2004. Recent government programs and stimulus efforts, however, are helping the country to heal internally. Externally, investors are beginning to turn toward Thai investments like the MSCI Thailand Investable Market Index Fund (NYSEARCA:THD).
THD tracks the MSCI Thailand Investable Market Index, set to mimic the performance of the Thai equity market.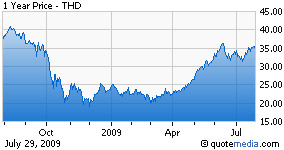 The fund is up nearly 42% for the three-month period ending July 27, as international investors regain their appetite for risk. THD's largest sector allocations are to energy and financials, which constitute 35.06% and 31.69% of the fund, respectively. When selecting stocks for the underlying portfolio, THD's methodology takes into account limitations on foreign investment while creating a market-cap-weighted strategy.
Thailand's outperformance, arguably, can be accredited as much to its internal economic recovery as to a surge of foreign investment. Because pensions and government programs have not been integral factors in the lives of many Asian citizens, the savings rates have been remarkably high. As the global economy recovers, government stimulus efforts have been particularly effective among those people who were not overleveraged in the first place.
Another boost to Thailand's economy has come from expansive healthcare reform. In 2001 Thailand instituted a national healthcare program that offered basic care to citizens for the equivalent of $1. More than 45 million people had signed up for the program by mid-2003. As the program took hold, a rise in consumer spending was also observed. Some economists argue, however, that the strength in consumer spending should be accredited to continued recovery from the economic crisis of the late 1990s.
According to a recent Barron's article, Thai equities are trading at less than 10 times earnings. This presents a compelling scenario for investors in developed markets looking to best the measured growth that they see at home. Potential THD shareholders should remain mindful, however, that equities in emerging economies naturally trade below valuations and that "emerging" can sometimes be synonymous with "unstable." While the political climate in Thailand is stabilizing somewhat, investors in THD will likely continue to experience volatility in the near term.
The ETF universe is uniquely positioned to benefit from investor interest in emerging markets. New emerging-market ETFs are premiering on U.S. exchanges as investors take note of the performance of funds like THD. Because of the inherent volatility of emerging markets, ETFs like THD offer investors a way to get in and out of funds with greater ease. THD's three-month average daily trading volume is a relatively low 53,000 shares per day, so investors may be better served by placing orders in smaller blocks.
Since THD has such a narrow focus, this ETF is best used as part of a well-diversified investment strategy. Investing in any single country can expose shareholders to geopolitical and currency risks. Investing in an emerging market can amplify these risks as well. THD's portfolio is top-heavy, but the structure of this ETF product helps mitigate some of the security-specific risk. Investors should be mindful, however, that nearly 63% of THD's assets are concentrated in the fund's top 10 holdings.
Emerging markets like Thailand present a compelling investment scenario, and ETFs are perhaps the safest way to access them. THD's reasonable 0.63% fee and security screening measures appeal to investors looking for a transparent vehicle. Investors should approach emerging-market investments like THD with caution. If the returns seem too good to be true, they just might be. Potential shareholders should keep an eye on THD's top components and the political climate abroad. THD is not a fund to "set and forget."