Since the beginning of 2009, McKesson Corporation (NYSE:MCK) has seen its stock trend to some of the highest levels. From $39 at the beginning of 2009, the stock currently trades at $111.16 paying a $0.20 dividend. The company delivers pharmaceuticals, medical supplies, and plays a small role in health care IT. It operates in two segments: Distribution Solutions (97%) and Technology Solutions (3%), both of which have seen substantial development over the last few years. However, this article will focus on how McKesson is going to take advantage of the upcoming changes in the industry and how its capital deployment techniques are simultaneously creating and distributing value to shareholders.
Investment Thesis
The drug industry is about to undergo a major change in the next ten years, and several key factors are expected to drive strong growth for McKesson going forward. The company is a leader in its sector, has the scale, efficiency, and service levels to deliver better pricing and convenience to its customers. It has stable and strong cash flows with FCF yields reaching ~8-10%. It has a steadily growing Technology Solutions division which is expected to contribute more to revenues in the coming years and lastly, is a big player in one of the most defensive industries in the market.
Patent Cliff
Paraphrased on Wiki from the European commission Pharmaceutical Sector Inquiry Preliminary Report:
The term Patent Cliff refers to the phenomena of patent expiration dates and an abrupt drop in sales that follows for a group of products capturing high percentage of a market. Usually, this phenomena are noticed when they affect blockbuster products -A blockbuster product in the pharmaceutical industry, for example, is defined as a product with more than 1 billion USD per year
The cliff in 2012 greatly benefited not only generic drug manufacturers but also, pharmacy retail chains (CVS Caremark (NYSE:CVS), Walgreen (WAG), Rite Aid (NYSE:RAD), etc.), since generic drugs are generally sold at higher markups than their branded counterparts.
Next year is expected to be a fairly slow year in branded-to-generic conversions since a large number of drugs went off patent this year and last already. McKesson is expected to face some headwinds in the process, but management expects strong growth (more on this later).
Branded-to-Generic (next 10 years)
Generic drugs have a compound benefit of being priced lower for consumers - the price leads to higher demand, which leads to higher margin and volume for distributors compared to branded drugs; they allow distributors to improve profitability through this margin expansion. The patent expirations over the next ten years are expected to invoke a major shift in the generic/branded mix within the pharmaceutical space. The shift is positioned to work favorably for McKesson's bottom line.
A major research house issued a report which detailed that the generic utilization rate is currently at 80% (generic utilization rate is the number of generic drugs dispensed over total drugs dispensed) and is expected to reach nearly 89% by 2022. This, coupled with the robust patent expiration schedule through 2022 indicates there's still a large part of the runway left (and money to be made).
The expiration schedule highlights 91 drugs which lose patent protection between 2013 and 2022. The drugs generate a substantial amount of revenue as well; they were responsible for roughly 35% of total 2012 prescriptions. Moreover, 27 of these drugs had sales of over $1 bil in 2012 (refer to "blockbuster drug" note above). Below is the schedule for the next two years: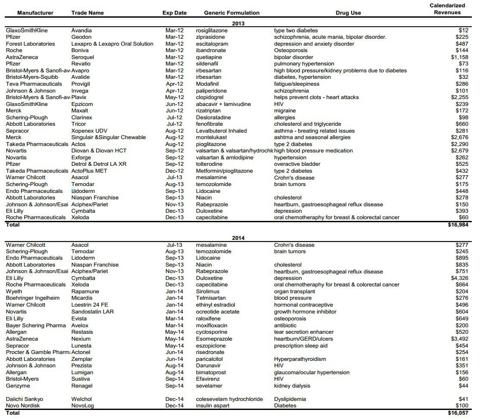 Source: Credit Suisse
Already McKesson has some of the highest margins historically among the oligopoly of the big three distributors (McKesson Corp. , AmerisourceBergen Corp. (NYSE:ABC) and Cardinal Health Inc. (NYSE:CAH)).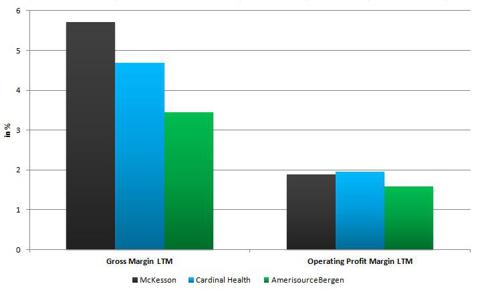 The three biggest pharmacy chains in the US are: CVS Caremark, Walgreen, and Rite Aid. They're expected to benefit the most from the cliff; an increase in generics sales volume is aimed to improve their top line and better margins are aimed to improve their bottom line. The interesting note here is that McKesson has contracts with two of those firms: CVS Caremark and Rite Aid, both of which renewed the contract till mid-2016 (with Rite Aid giving three 2-year renewal options to 2020). Walgreen recently decided to end its distribution contract with Cardinal Health and partner with AmerisourceBergen - the smallest player in the sector. This point gives support to McKesson's ability to service its clients in an industry where service level is a key success factor. This, along with the upcoming expirations, provides backing for McKesson's continued margin improvements over the next 10 years, as generic utilization rates increase ~10%. Although all three distributors are in a position to take advantage of this conversion, McKesson's already higher margins and partnerships with the two of the largest retailers puts the company in a better standing.
Financial Strength
Apart from being the largest player in the pharmaceutical distribution arena, McKesson also has a philosophy of generating shareholder value through acquisitions, share repurchases, internal investments, and dividends. The chart below shows how the company has deployed capital for the last five years: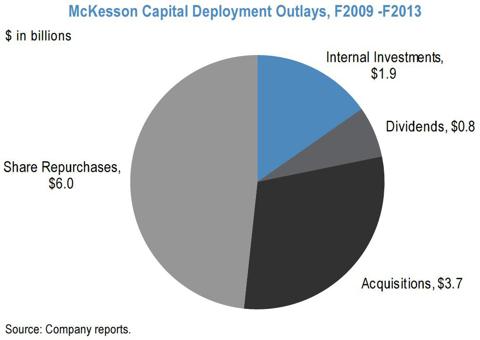 Breaking it down further: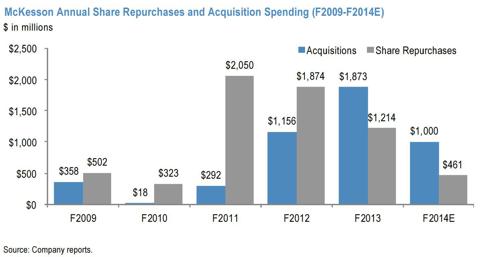 Historically, the company has generated a FCF Yield of ~8-10%. This puts their FCF position between $2.0-2.5 bil every year. As seen above, cash is being used to fund acquisitions (such as PSS World Systems and similar smaller ones for its Technology Solutions division) and return excess value to shareholders. The FCF schedule is given below (in $ millions):
| | | | | |
| --- | --- | --- | --- | --- |
| FY | 2010 | 2011 | 2012 | 2013 |
| Free Cash Flow | 1,938.00 | 1,950.00 | 2,547.00 | 2,077.00 |
Management has indicated it plans to repurchase more shares in 2014, to reduce the current share count to ~231 mil (down ~3.5% y/y). Although the company has a lower dividend yield than its competitors, it takes a "portfolio approach" to capital deployment. McKesson prefers to employ capital in a variety of accretive methods and has pointed out that a higher dividend will restrict the company's ability to continue doing so.
Technology Solution
It might seem slightly redundant to discuss a division which only generates about 3% of revenues for the company. However, the more important thing here to note is that because TS is a higher margin business (~45% GP Margin), it contributes to nearly 15% of EBIT.
The division consists of three buckets: Software and software systems (17%), Hardware (3%), and Services (80%). The services segment generates 80% of the revenues, but this stream is also recurring (95%) and sticky. Due to the unique nature of this segment, it was able to generate 4% annual growth in revenue even during the downturn of 2008/2009. McKesson's system is currently used by over 2,000 hospitals/health systems, approximately 1,900 payers, over 80 health information exchanges, over 200,000 physicians and in over 50,000 retail pharmacies.
It has made a series of acquisitions to improve the division and make it a larger part of its revenue stream (due to the higher margin contributions). The list of public acquisitions is below: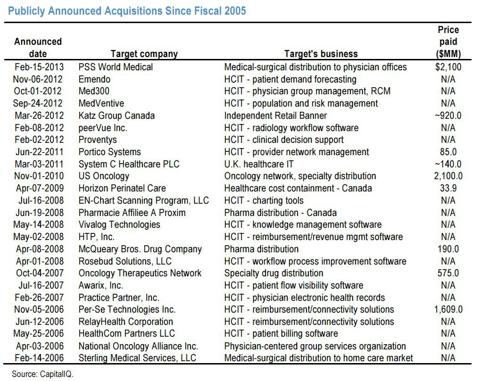 As you might have noticed, a large number of these acquisitions are in the software space.
Comparable Analysis
It doesn't make a lot of sense to do a comps table showing how McKesson's trading metrics (P/E, EV/EBITDA, etc.) are undervalued compared to its peers, since there are only three large players in this space. The numbers are fairly similar for all three distributors, but I believe that McKesson deserves a slight premium for its performance.
The company's revenue growth has outperformed its competitors by quite a large margin. However, its one year revenue growth has stayed almost flat (due to one-time impairment charges in FY13Q4). The average growth over the last 5 years for each company can be seen below: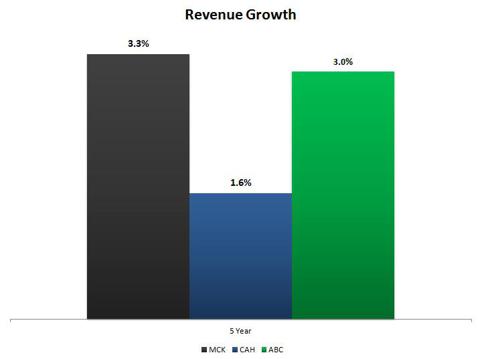 McKesson has grown revenues much quicker, and is expected by analysts to reach almost 11.4% in 2014. This is a stark contrast from the (6.8%) from Cardinal Health Inc. and above the 9.1% from AmerisourceBergen Corp. (Source: J.P. Morgan and Thomson ONE).
Discounted Cash Flow
I also valued the stock from a discounted cash flow perspective. The assumptions I used are listed below. However, I've used two different assumptions for 2014. One of them assumes the company will grow at 11.4% in 2014 and then at 3% for 9 years before a terminal growth of 1.4%. The other omits the large growth in 2014 and grows at 3% for the next 10 years with the same terminal growth value. I've used Bloomberg's assumptions for EBIT Margins and CAPEX growth.

It produced the following output for 3% 2014E growth: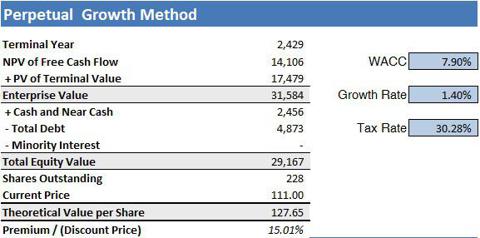 And the following for 11.4% 2014E growth: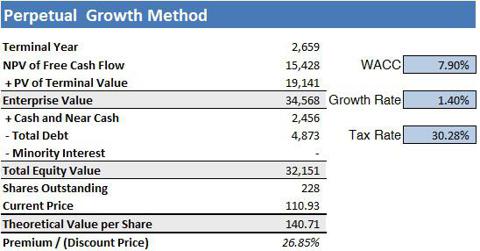 The DCF, in this case, is a much better valuation method to show intrinsic value than the comps table due to the limited universe of peers. However, DCFs generally tend to overshoot its target, so I tried not to use the optimistic analyst or mgmt assumptions for the next few years. Even at its average growth rate, the sheet is generating close to a 15% upside - a reasonable premium given how the sector is expected to shift over the next ten years.
Conclusion
McKesson was put in a tough position in 2013, as the company posted flat growth due to the one-time charges. From a value investment perspective, the company is stable, a leader in its arena, and generates steadily growing and stable FCF numbers each year. Moreover, it has made significant developments over the last few years to improve its Technology Solutions division, which has better margins and even more recurring and sticky cash flows. While the Distribution Solutions will take advantage of the major product mix shift in the industry, Technology Solutions will continue innovating over the next few years to become a larger part of the company's revenues (and even larger in EBIT). Looking at the company's scale, financial strength, and valuation, McKesson appears to have a large part of the runway ahead of it. The company may prove to be one of the better performers this year for investors.
Disclosure: I have no positions in any stocks mentioned, but may initiate a long position in MCK over the next 72 hours. I wrote this article myself, and it expresses my own opinions. I am not receiving compensation for it (other than from Seeking Alpha). I have no business relationship with any company whose stock is mentioned in this article.