The Obama Administration is strong-arming loan servicers to step up their loan modification programs, which so far have had little impact in slowing foreclosures. With good reason.
After a series of meetings with top banking executives, Treasury Department officials said they want lenders to modify 500,0000 mortgages by Nov. 1, the Washington Post reports. Since the program, known as Making Home Affordable, began in March, it has recorded about 200,000 loan modifications.
But more than 1 million borrowers received default notices during the first half of the year, and falling home prices and rising unemployment are pushing ever more homeowners into delinquency.
Felix Salmon at Reuters draws attention to a recent report from the Center for Responsible Lending confirming that loan modifications are not keeping pace with foreclosures.
According to Congressional testimony from CRL director Keith Ernst, the 1.5 million homes which have already been lost to foreclosure are just the tip of the iceberg compared to the 13 million total foreclosures expected over the five years from end-08 to 2014.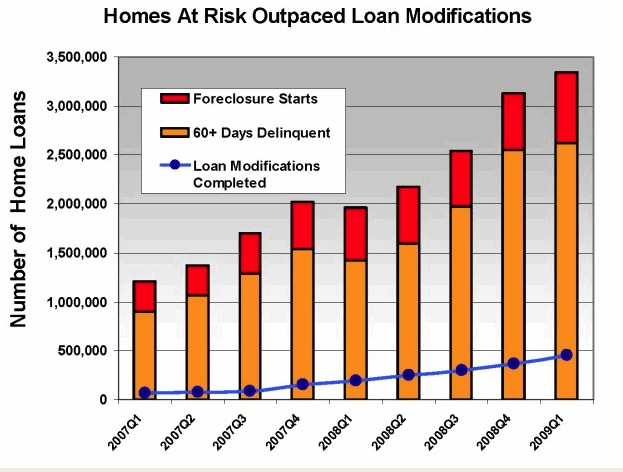 Mark Zandi at Mooody's economy.com also has a worrisome chart showing the clear inverse relationship between housing prices and foreclosures as a share of housing sales. And given the historic close but lagging correlation between unemployment and foreclosures, further increases are inevitable. Zandi expects foreclosures to peak early in 2010.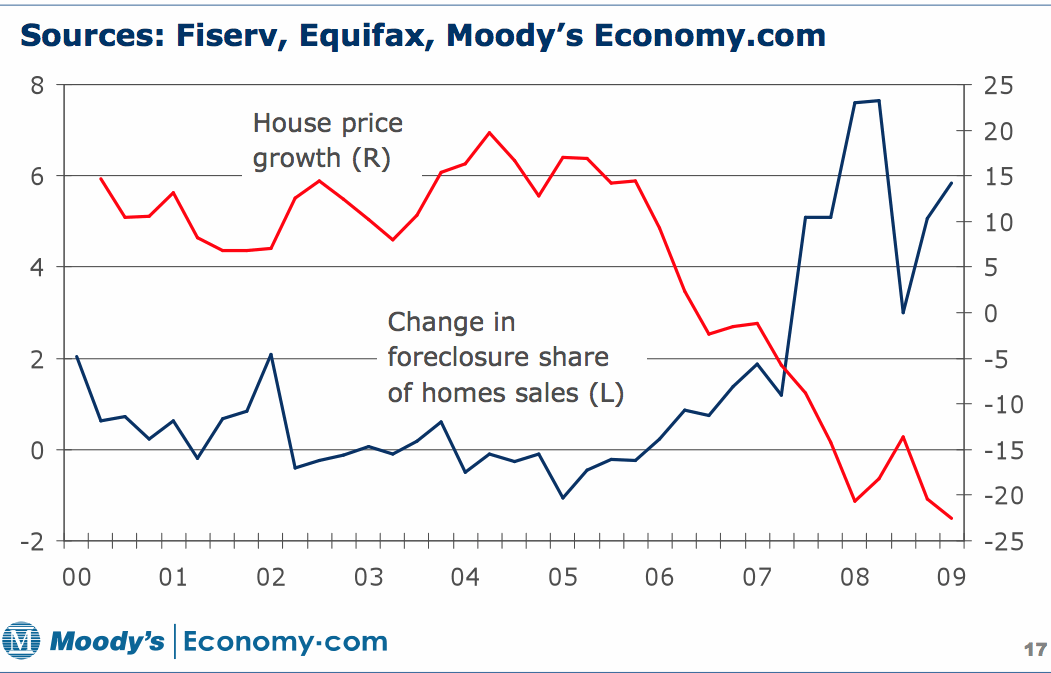 CreditSights continues to believe that risks remain for the housing sector:
Any apparent stabilization that we see in the homebuilding sector at this time would most likely be challenged by persistent high unemployment and rising foreclosures.
A glimmer of hope: according to emii, Bank of America (NYSE:BAC) has kicked off its foreclosure relief program for borrowers from its recently acquired Countrywide with a letter of notification regarding eligibility. BoA says up to $150 million has been allocated nationally for Countrywide borrowers in 40 states as part of a settlement with state attorneys general.