While searching for an undervalued small-cap stock with the high potential for growth, I discovered Mitcham Industries (NASDAQ:MIND). Mitcham is a $208 million market-cap international Texas-based company that is involved in the lease, sale and servicing of equipment in the seismic industry. The company operates in two segments: equipment leasing and equipment manufacturing. The leasing segment, which comprises about 86% of the company's revenue, leases seismic equipment to companies in the oil and gas industries. The manufacturing segment, which comprises 14% of the company's revenue, is involved in the design, production and sale of marine seismic equipment and operates under the company's subsidiary, Seamap.
Mitcham leases its equipment on a short-term basis typically lasting from two to six months to seismic contractors for particular seismic surveys. Some equipment that is used for vertical (downhole) seismic profiling is leased to oil field service companies for short periods lasting from a few days to two weeks. Customers benefit from operating and capital investment efficiencies as a result of these short-term leases. Short-term leases are a cost-effective alternative to purchasing equipment which allows customers to leverage their balance sheets by reducing the amount of idle equipment between jobs and by reducing capital expenditures for new equipment. Mitcham has the ability to fill a customer's equipment needs within 24 hours.
Oil and gas companies use seismic surveys to identify geological conditions that are favorable for the accumulation of oil and gas and to evaluate the potential for successful drilling and production.
Mitcham has a series of key supplier agreements with seismic manufacturer Sercel. These agreements give Mitcham preferential pricing arrangements which allows the company to benefit from competitive advantages. Mitcham is known as the exclusive worldwide short-term leasing representative for Sercel's DSU3 and 428XL three component digital sensors and the Unite cable-free recording system. The agreement also states that Sercel agrees to refer any inquiries for short-term rentals of these exclusive products to Mitcham and not recommend any competitors. Mitcham agrees to purchase minimum amounts of certain types of equipment over a period of time with specified pricing. This is a strong competitive advantage for Mitcham as it is the go-to company for leasing seismic digital sensors and seismic acquisition systems.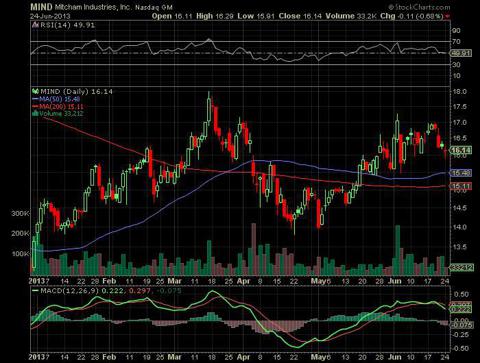 Mitcham is currently undervalued with a trailing PE ratio of 14.29, a forward PE of 10, a PEG of 0.78, and a price to book ratio of 1.15. As a comparison, the scientific and technical instruments industry is trading with a trailing PE of 19.85 and with a PEG of 2.15. Mitcham's gross margin of 36% is also higher than the industry's margin of 27%. I think that Mitcham looks attractive relative to the industry and relative to the overall market as measured by the S&P 500. The stock dropped in price after missing earnings estimates last quarter, which helped to create this undervaluation. The stock has been trading below its 52-week high of over $18 after missing earnings estimates for the past three quarters. The current valuation levels provide a good entry point for the long term.
The company generated an operating cash flow of $35 million and had free cash flow of $16 million for the past twelve months. $8.4 million in operating cash flow was generated in the first quarter of fiscal 2014. It's a good sign that the company has a positive free cash flow after capital expenditures. This shows that Mitcham is disciplined in strengthening its cash position. It also shows that Mitcham is in the position to buy back stock. Although a buyback has not been announced, CFO Robert Capps did hint in the recent earnings call that a buyback would be a good use of cash.
Mitcham's balance sheet is in excellent shape with $16 million in total cash and $2 million in total debt. The company also has about 8 times more current assets than current liabilities. The debt to equity ratio is attractively low at 1.3. I think that these figures clearly show that Mitcham has no problems in managing its debt.
The primary catalyst for Mitcham's growth is the price of oil remaining over $90 per barrel and the price of natural gas remaining over $4. Eia.gov projects that the price of crude oil will remain over $90 per barrel and that the price of natural gas will average $4 per MMBtu. These price levels are conducive for keeping exploration budgets up through at least 2014. This supports an increase in the demand for seismic activity. Mitcham has its products ready for use to handle the expected increase in demand. This catalyst should allow the company's stock price to increase as earnings increase.
Mitcham is seeing strength in Latin America, Europe and the Far East and Pacific Rim regions. This bodes well for the company as it generates 90% of its leasing revenue from outside the United States.
The company has grown earnings annually at 16.9% for the past five years and is expected to grow earnings annually at 15% for the next five years. The growth in the past five years was due to strong demand for Mitcham's seismic equipment leasing and Seamap businesses. Oil and gas companies increased exploration budgets as commodity prices increased after the financial crisis. Mitcham's earnings growth should continue as commodity prices remain favorable for new oil and gas projects that require seismic surveys. If this growth is achieved, Mitcham's current stock price of $16 should approximately double in five years to about $32.
The main risk for the company resides in the price of crude oil and natural gas. If the price of these commodities decrease, the demand for the company's seismic products could also be reduced. If the global economy were to unexpectedly weaken, commodity prices could fall, putting pressure on exploration budgets and reduce demand for Mitcham's products.
Conclusion
I like the attractive undervaluation that Mitcham currently presents. The company manages its capital well and I think that a stock buyback is likely since the company has solid cash flow and hinted at doing a buyback in the latest earnings call. The company is expected to grow earnings at an above average rate, which should allow the stock price to outperform the S&P 500 over the long-term. The current growing global economy supports the current oil and natural gas prices, which makes it likely for Mitcham to achieve these results as demand for its products continue to increase.
Disclosure: I have no positions in any stocks mentioned, and no plans to initiate any positions within the next 72 hours. I wrote this article myself, and it expresses my own opinions. I am not receiving compensation for it (other than from Seeking Alpha). I have no business relationship with any company whose stock is mentioned in this article.