As the market lingers on still shocked by tapering fears together with an economy which hasn't been producing the best of numbers, something interesting happened: All the regional manufacturing surveys are printing better numbers.
This opens up the chance that come July 1, the market will be treated to a nice ISM manufacturing index, since it closely tracks the aggregate of the regional surveys. And with the last print being 49, which calls for contraction, and the likelihood now being for a print above 50, this seems the kind of number able to move the markets positively.
Additionally, this will be anticipated by many market players, so I wouldn't be surprised to see some buying ahead of the number. With the number hitting on Monday, this leaves us 3 market sessions in the present week, in which to accumulate stock.
Regional Manufacturing Surveys
Every month, before we get the ISM manufacturing index, we get several regional manufacturing surveys, including Dallas, New York, Philadelphia, Richmond, and Chicago. As I write this, the first 4 have already been reported, and they were as follows: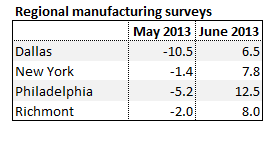 As we can see, the improvement was massive. Also, every one of the surveys went from contraction to expansion. This leads me to believe that the ISM stands a good chance of printing above 50 as well, also indicating expansion coming from contraction.
With the market looking for a positive catalyst, the ISM just might be what it needs.
As a small aside, the Chicago PMI will be known on Friday but is also expected to print above 50, in expansion territory, though down slightly from the May print.
Conclusion
The ISM manufacturing index follows the regional manufacturing surveys closely. From May to June all the manufacturing surveys that have already been reported went from showing contraction to showing expansion. This leads me to think that the ISM will also move from contraction (49) to expansion (>50). While good economic numbers might sometimes lead to investors yet again fearing quantitative easing removal, I'd expect that this particular instance might actually provide a positive impetus for the markets in general.
The ISM is reported during the next Monday (July 1), so there's 3 market sessions between now and then to position for a possible positive impact on the market. If no particular themes can be found for long exposure, then such exposure can be gotten using market-wide proxies such as the SPDR S&P500 (NYSEARCA:SPY) or the Powershares QQQ (NASDAQ:QQQ), which replicates the Nasdaq 100.
Disclosure: I have no positions in any stocks mentioned, and no plans to initiate any positions within the next 72 hours. I wrote this article myself, and it expresses my own opinions. I am not receiving compensation for it (other than from Seeking Alpha). I have no business relationship with any company whose stock is mentioned in this article.