Emerald Oil, Inc. (NYSEMKT:EOX) is an oil weighted exploration and production company focused primarily on the development of its 54,000 net acre position in the Williston Basin of North Dakota and Montana. This 54,000 net acreage position comprises 23,500 net operated acres and 30,500 net non-operated acres.
Recent Operational Results
Since its merger with Voyager Oil & Gas back in July 2012, EOX has steadily transitioned from a non-operated model to an operated model. EOX reported its latest two Bakken wells, the Arsenal 1-17-20H and Caper 1-15-22H, recorded an average of 761 BOEPD over the first 30 days and 1,543 BOEPD over the first 11 days, respectively. These two wells make three total producing operated wells for EOX. More importantly, all three are producing above EOX's 600 MBOE type curve.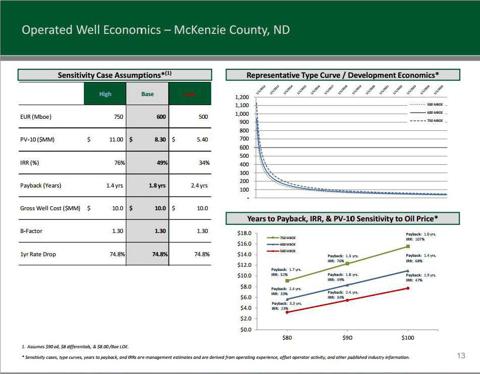 McAndrew Rudisill, Emerald's Chief Executive Officer, said in the news release: "The results of our Arsenal well and early indications from our Caper well continue to demonstrate the technical strength of our operating team. We are pleased that the results of our first three operated wells exceed our modeled type curve for the Low Rider Area where we continue to add acreage. Emerald is at a meaningful turning point in our operated production growth profile as operated wells continue to come on stream. Now that we have two rigs running on a continuous basis, production and cash flow will accelerate during the second half of the year."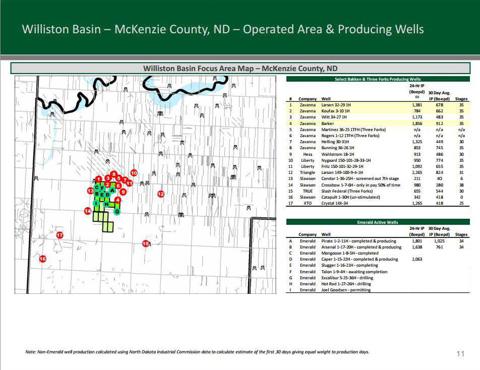 The street is looking for EOX to prove its technical ability to operate wells in the Williston Basin. How many wells will it take - five, 10 or 20? Regardless, the company is drilling and raising its production profile. The company's recent operated-well drilling results are producing above the company's estimated type curve. This next batch of operated wells announced during its Q2'13 results will add to the company's "operated-well" credibility.
This is a story that is transitioning from undeveloped, risked acreage in a proven play, to a company with long-term development opportunities that will contribute to near-term rapid growth in production, reserves and cash flow. There are many acceptable methodologies for valuing an E&P company. EOX is beyond early stage; however, it does enjoy an early-stage multiples. On an enterprise value to trailing twelve months production basis, EOX is trading at $293,006 per flowing BOEPD. Referencing EOX's June 2013 presentation, on an enterprise value to Williston Basin acre basis, the company is trading at $2,730, a 67% discount to the peer average of $8,262. KOG's $660 million acquisition of Liberty Resources 42,000 net Williston acreage was for $15,714 per undeveloped acre (without adjusting for any daily production).
We are not saying EOX should not trade at a premium valuation multiple. If the company hits its estimated Q4'13 average production guidance of 2,750 BOEPD, up from 1,065 BOEPD during Q1'13, we believe we will see the company's production multiple trade more in line with its Bakken peers, and its acreage multiple trade higher and closer to its peer acreage multiple as they continue to de-risk and prove up their acreage.
Recent OAG360 Interview with McAndrew Rudisill
EOX's Chief Executive Officer was interviewed on Oil & Gas 360 on May 22, 2013. You can listen to the interview now.
The Market's Favorites Change Over Time
If we take a look at E&P company P/CFPS multiples by region, you will notice the range at which they trade significantly changes over time. Currently, Bakken-weighted companies are receiving the second highest forward year P/CFPS multiple, approximately 5.0 times, behind only the Marcellus-weighted companies which are receiving an average multiple of approximately 9.5 times.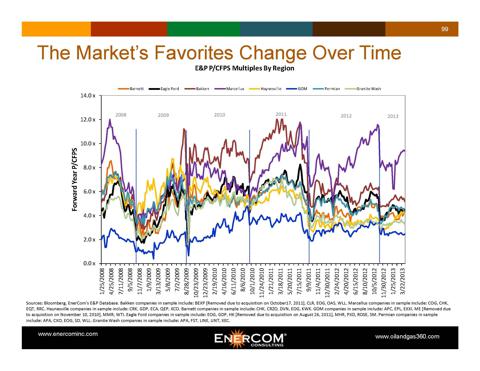 Disclosure: I have no positions in any stocks mentioned, and no plans to initiate any positions within the next 72 hours.
Business relationship disclosure: Oil & Gas 360® did not receive compensation for the publishing of this company note. None of the professionals associated with Oil & Gas 360® hold any investment position in Emerald, nor does it intend to in the course of the next five business days. Although Emerald pays Oil & Gas 360® a monthly fee to be a profiled company on the website, Oil & Gas 360® reserves the right to publish notes and observations on any company that is sees fit to distribute.