One of the largest oil companies on the globe, Chevron Corporation (NYSE:CVX), has recently been getting some very positive reviews here on Seeking Alpha. For example, Michael Fitzsimmons called CVX a strong buy anytime it dips under $120 less than three weeks ago. A few days later, another author, 'Thinking Big', recommended buying CVX at $126.
And now, it's even cheaper.
Chevron is now trading at $117.45, almost 10 dollars lower than its 52-week high of $127.40. As an investor focused on getting good dividend returns, I'm always happy to see quality companies trading at a discount. The 1$ per quarter dividend gives us a yield of 3.41%, which is very decent when compared to its biggest competitor, ExxonMobil (NYSE:XOM), which currently yields 2.83%.
It goes without saying that I'm looking for companies that grow their dividend at a decent rate. Can CVX meet this expectation? The following graph should speak for itself: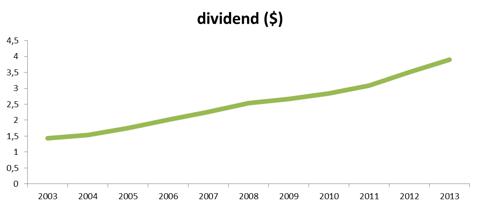 Click to enlarge
The dividend has been increased every year for the entire period I have examined, starting in 2003. For 2013, the dividend will be $3.90 ($0.90 for the first quarter, $1 for the 2nd, 3rd and 4th.) In 2003, the dividend was only $1.43, which means the average yearly dividend growth rate is at a very respectable 10.5%.
The payout ratio in 2012 was 26.3%, which means that even if income were to decline, the dividend payments would still be save. Chevron's payout ratio is very close to XOM's (which I've recently written an article about).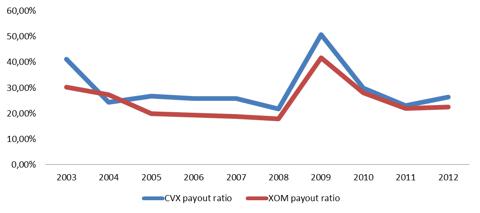 Click to enlarge
And there's one more thing keeping Chevron's dividends save: its huge amounts of cash. In 2012, total cash was at an amazing $21.9 billion. Total dividends were at 6.8 billion dollars which means even if they wouldn't make a single dollar in profit for 3 years, they could still keep up the dividend payments.
Another way of returning value to shareholders is buying back shares, which CVX regularly does.
Chevron's most recent 10-K stated:
"In July 2010, the Board of Directors approved an ongoing share repurchase program with no set term or monetary limits. The company expects to repurchase between $500 million and $2 billion of its common shares per quarter, at prevailing prices, as permitted by securities laws and other legal requirements and subject to market conditions and other factors. During 2012, the company purchased 46.6 million common shares for $5.0 billion."
Reducing the number of shares is a great way of returning value to shareholders, as it increases EPS, which often increases the stock's price.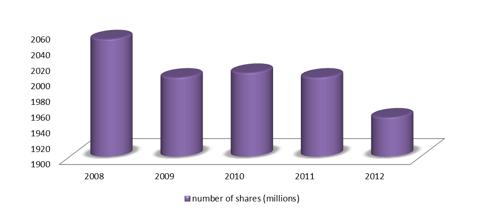 Click to enlarge
Conclusion:
CVX is a great stock to own at current prices. Its high dividend yield, combined with its low payout ratio and strong share repurchases make it a good stock to buy and hold. Over the past 10 years, the dividend has increased by more than 10% per year. I'm seriously considering buying some shares and reinvesting the dividends.
What's your view on CVX? Feel free to comment below!
Disclosure: I have no positions in any stocks mentioned, but may initiate a long position in CVX over the next 72 hours. I wrote this article myself, and it expresses my own opinions. I am not receiving compensation for it (other than from Seeking Alpha). I have no business relationship with any company whose stock is mentioned in this article.