We think Exelon Corporation's (NYSE:EXC) Chief Lobbyist Elizabeth Moler said it best when she said that Exelon is "The President's Utility." Despite the fact that natural gas prices have skyrocketed from $1.89/MCF in April to $3.75 recently, Exelon served up another steaming hot bowl of excuses to investors with regard to its financial performance. We're waiting for Exelon's CEO Chris Crane and its CFO Jack Thayer to start blaming Bush, just like the former Senator from Exelon is wont to do. Exelon reminds of President Barack Obama in that both were the hottest and most popular figure in each figure's respective field of endeavors back in the summer of 2008. Obama was the most popular political figure in our lifetime during the summer of 2008 and Exelon's stock had reached a peak of $92.13 in July 2008. Both support making energy costs skyrocket, both have been mediocre performers since 2008, and neither one takes accountability for their record of failure. We are amused at the amount of letters EXC goes through in its footnotes to identify its recurring pattern of "non-recurring charges." EXC's share price has bounced back by over 25% in the wake of its 40% dividend cut, but has given back its gains.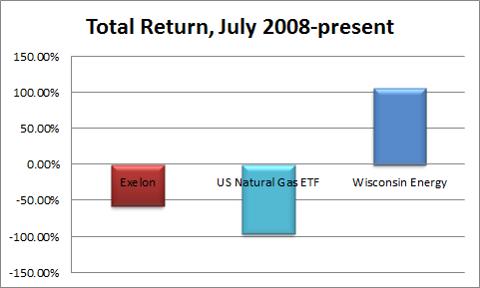 Source: Morningstar Direct.
Despite the fact that the number of natural gas drilling rigs declined by 35.5% year over year and has steadily declined since October 2011, natural gas production has held up pretty steady. Exelon bulls could point to the fact that monthly natural gas production declined by 1.2% in January 2013 vs. January 2012. We would like to remind Exelon bulls that monthly natural gas production had registered a year-over-year increase for 30 straight months before declining by 97bp in Q1 2013 and this was in spite of a steady reduction in the number of natural gas drilling rigs. We're surprised that Exelon's projected adjusted EPS for 2013 ($2.35-$2.65) is below its $2.85 in adjusted EPS in 2012 even with the recent run-up in gas prices. At least two of EXC's business units were able to register year-over-year growth in its business segment income. Although natural gas drilling rigs have declined by 35.5% year over year, oil drilling rigs have held steady and crude oil production has increased by 10% or more year over year for the last 15 months.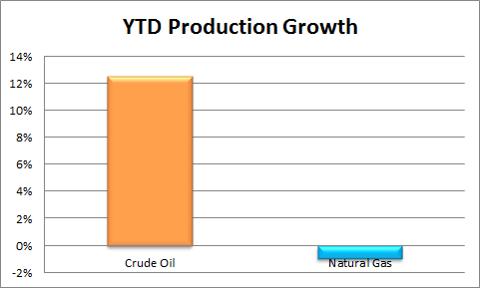 Source: U.S. Energy Information Administration.
We are glad that Exelon's Cover Slide did not include the words "Performance that Drives Progress" in its financial presentation supplement documents since we see a company with a long and proud track record of underperformance and its 2012 adjusted EPS regressed back to 2004 levels. We're surprised that EXC is proud of its performance because although its 2012 adjusted EPS was at the high end of its June 2012 guidance, its adjusted EPS still declined by over 31% even though natural gas prices have almost doubled in the last six months and that provides positive incremental revenue to EXC's wholesale power generation subsidiary Exelon Generation. EXC's management is entitled to its own opinion, not its own facts. Although Exelon's management and its stockholders insist that Exelon is different than typical regulated utilities, EXC cut its dividend so that it would be within the 65%-70% payout ratio that regulated utilities typically pay. We can't help but laugh at that considering that Wisconsin Energy (NYSE:WEC) is 90 miles north of Exelon and it is increasing its dividend to converge with the 65%-70% that typical regulated utilities pay.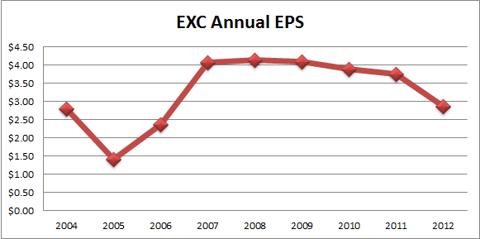 Source: Morningstar Direct.
Evaluation of Exelon Generation LLC (Power Generation Subsidiary)
We were disappointed but not surprised that Exelon did not report pro forma results for Exelon Generation. That didn't really matter because we can rely on it to generate mediocre performance. Despite bulking up the division with the acquisition of Constellation NewEnergy, ExGen's adjusted net income declined by 17.85% year over year in Q1 2013. Exelon's bulls have continually brayed, "Wait until natural gas prices rise." Despite the fact that Henry Hub Natural Gas prices have risen by over 80% from the end of April 2012 to the end of June 2013 and despite the inclusion of NewEnergy's operations in the income statement, ExGen's year-over-year adjusted net income declined by 17.85% ($409 million in Q1 2012 to $336 million in Q1 2013). Unfortunately, ExGen had $354 million in "non-recurring charges" for Q1 2013 vs. $241 million in Q1 2012 and reported a GAAP loss of $18 million. ExGen's adjusted net income declined year over year due to the following factors:
higher nuclear fuel costs;
lower realized market prices for the sale of energy; and
decreased capacity pricing related to RPM for the PJM market.
ExGen achieved a 92.7% capacity factor in 2012 vs. 93.3% in 2011. These items were partially offset by contribution to Generation's energy margins from the addition of Constellation Energy to Generation's operations and higher nuclear volume due to fewer planned and unplanned outage days. We believe that EXC's management should be pleased that the Net Averaged Realized Margin/MWH sold increased on a linked quarter basis for the second straight quarter since natural gas prices have been rapidly rising since April. We're still surprised that natural gas prices have continued to rise so rapidly because we still haven't seen any rational and fundamental reason for gas prices to keep up the rapid increase since April. The reasons why we think natural gas prices have no fundamental reason to rise is because of the following ongoing events:
the U.S. is facing an economic slowdown thanks to the tax hikes passed earlier in 2013;
Obamacare is scheduled to be implemented in 2014 (six months away);
the European debt crisis is still a nagging concern; and
hydraulic fracturing serving as a supply and demand changer for natural gas.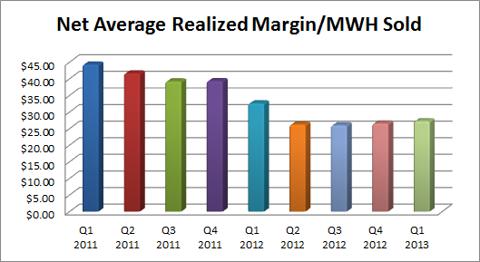 Source: Exelon's Last Nine Earnings Releases.
Evaluation of Utility Subsidiaries
Commonwealth Edison's revenue declined by $228 million during Q1 2013 vs. prior year levels; however, the revenue decline was offset by sharply reduced purchased power expenses ($238 million). ComEd's operating income decreased by 7.5% year over year ($17) as a $10 million increase in its gross margin wasn't enough to offset $12 million in increased operations and maintenance expenses and $18 million in increased depreciation/amortization expenses. Q1 2013 adjusted net income has increased by 1.1% vs. Q1 2012. ComEd incurred a $170 million after-tax charge to earnings resulting from the first-quarter 2013 re-measurement of a like-kind exchange tax position taken on ComEd's 1999 sale of fossil generating assets. ComEd recently filed for a 17% rate hike for its distribution charges and a key component of the price all households and businesses pay for energy -- a charge to reserve capacity at power plants operating in the regional grid that includes Chicago -- will soar in June 2014 under terms of a previously held auction among power generators.
PECO's adjusted net income increased by 23% in Q1 2013 vs. Q1 2012 and this was due to a 2.3% revenue growth for the quarter and stable expense management. This helped PECO's gross margin increase by 5.4% year over year during the quarter. PECO's adjusted (non-GAAP) operating earnings in the first quarter of 2013 increased $23 million from the same quarter in 2012, primarily due to favorable weather in PECO's service territory. PECO's performance was also aided by reduced interest expenses. PECO also redeemed its $87 million in outstanding preferred stock on May 1, and this will enable it to eliminate $4 million/year in preferred stock dividend payments.
Baltimore Gas and Electric's revenues increased by 26% in Q1 2013 vs. Q1 2012 because the Maryland Public Service Commission allowed BGE to raise rates by $142 million in Q1 2013 ($104 million for electricity and $38 million for gas), even with the lower cost for purchased power and other fuel expenses. This accounted for all of BGE's 45.5% gross margin increase. BGE's operating expenses declined by 10% and this helped operating income increase from a loss of $11 million in Q1 2012 to an operating profit of $163 million in Q1 2013. BGE's interest expense declined by $8 million and its reported net income swung from a loss of $33 million in Q1 2012 to a profit of $77 million in Q1 2013.
We'd also like to point out that Wisconsin Energy is 90 miles north of Exelon and its oldest operating subsidiary ComEd. Wisconsin Energy generated a higher level of net income during the year than ComEd and BGE combined as well as each of EXC's individual utilities. Wisconsin Energy's net income was within 61.1% of the combined net income of Exelon's three utility subsidiaries, despite having one-third the total revenue of Exelon's collective utility subsidiaries and a metropolitan service area (Milwaukee) that has maybe 8% of the total population of the metro areas of Exelon's three utility subsidiaries.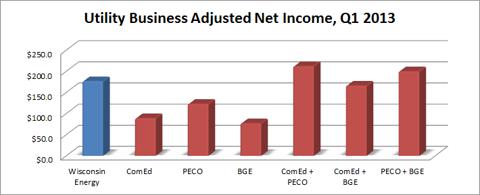 Source: Wisconsin Energy and Exelon Q1 2013 Earnings Releases.
Exelon's management forecast that its FY 2013 adjusted EPS would range from $2.35-$2.65, which was below the $2.85 achieved in 2012. Considering that it is a wide range, we think that's a pretty easy goal to meet. Wisconsin Energy only has a 10-cent range ($2.38-$2.48). Another thing we don't like about Exelon is all the "non-recurring charges that it takes." Of the $602 million in "adjusted net income," $606 million represents "non-recurring charges" that reduce reported EPS. Wisconsin Energy didn't report any "non-recurring charges" this period. Then again, Wisconsin Energy is the Midwest's leading utility company and as such, it doesn't have to Alibi Ike its earnings with "non-recurring charges."
ExGen and ComEd accounted for nearly 90% of the "non-recurring charges" and with $524 million of "non-recurring net charges" this accounted for 123% of the combined "adjusted segment net income" for these segments. The good news is that Exelon's management thoughtfully put a number explaining each adjustment to net income in 2011 and 2012. The bad news is that the "adjustment number footnotes" went up to the letter "m" in this quarter. Even with the lack of adjustments, Wisconsin Energy's actual profit margin was comparable to PECO's adjusted profit margin. WEC's actual profit margin exceeded the adjusted profit margin of the rest of Exelon's subsidiaries, including the highly vaunted Exelon Generation wholesale merchant power generation subsidiary.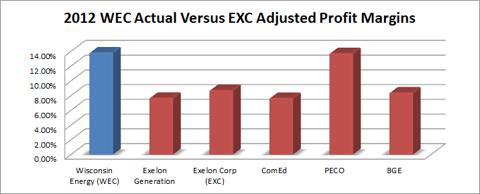 Source: Wisconsin Energy and Exelon Q1 2013 Earnings Releases.
Conclusion
In conclusion, we believe that if one is looking for a high-quality utility to invest in, we still don't recommend investing in Exelon . While the bounce back in natural gas prices will help keep profits at Exelon and its flagship subsidiary ExGen from collapsing further, we are still not impressed with Exelon's operations, assets or its management. Even though natural gas prices in Q1 2013 exceeded the levels seen in the second half of 2011 and FY 2012, EXC's adjusted EPS declined by 17.65% year over year. Exelon's bulls were braying about EXC's 6% dividend yield last year, but then EXC ended up cutting its dividend by over 40% earlier this year. We think Exelon's ticker EXC is short for "EXCuses," since the company seems to have those in spades. Considering that natural gas prices are more than double the lows last achieved in April 2012, we think it is inexcusable for Exelon to project adjusted EPS in 2013 ($2.35-$2.65) than were lower than the $2.85 achieved in 2012.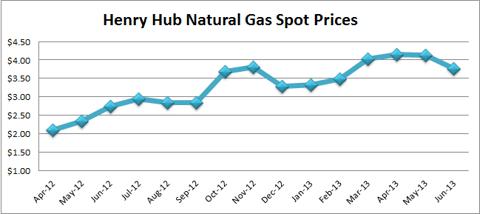 Source: EIA Natural Gas Pricing Data.
Disclosure: I am long WEC. I wrote this article myself, and it expresses my own opinions. I am not receiving compensation for it (other than from Seeking Alpha). I have no business relationship with any company whose stock is mentioned in this article.
Disclaimer: This article was written by an analyst at Saibus Research. Saibus Research has not received compensation directly or indirectly for expressing the recommendation in this article. We have no business relationship with any company whose stock is mentioned in this article. Under no circumstances must this report be considered an offer to buy, sell, subscribe for or trade securities or other instruments.