Growth in the rural economy reached a six month high in the month of June, according to the June survey of rural bankers. Improving economic data and expectations for record farm income has increased confidence in respondents, despite over half of bankers expecting the Federal Reserve to reduce bond purchases over the next six months.

The Rural Mainstreet Index (RMI) increased to 60.5 in June from 58.8 in last month's survey. The farmland price index decreased in June for the sixth time in the last seven months, but remains above growth neutral at 58.4. There are concerns from bankers farmland prices could be tapering.
Ernie Goss, the Jack A. MacAllister Chair in Regional Economics at Creighton University, commented, "Our farmland price index has been above growth neutral since February 2010. However we are tracking a clear downward trend in farmland price growth."
Bankers were asked this month about the Federal Reserve's Quantitative Easing (QE) strategy. Roughly 55% of bankers suggest QE should be reduced over the next six months and for the reduction to be implemented immediately.
"Furthermore, almost one of five bankers, or 19.4 percent, think QE3 has been unsuccessful at stimulating economic growth and 43.3 percent of bankers indicated that the program has put excessive air in asset price bubbles such as farmland prices," said Goss.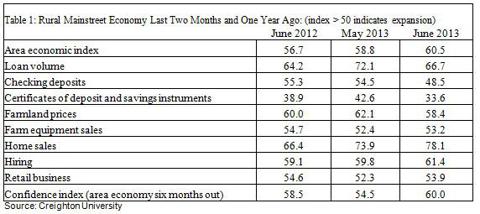 Survey
This survey represents an early snapshot of the economy of rural, agriculturally and energy-dependent portions of the nation. The RMI is a unique index covering 10 regional states, focusing on approximately 200 rural communities with an average population of 1,300. It gives the most current real-time analysis of the rural economy.
Disclosure: I have no positions in any stocks mentioned, and no plans to initiate any positions within the next 72 hours. I wrote this article myself, and it expresses my own opinions. I am not receiving compensation for it. I have no business relationship with any company whose stock is mentioned in this article.