In an interesting turn of events, HYG now appears to have broken its past trend and is tracking inversely to 10 year treasure interest rates. HYG is a bond fund with a current yield of 6.51% that invests in lower grade corporate debt. Logically, if rates climb as represented using the 10-year treasury index TNX, then the junk bond category should reflect lower share pricing. This return to correlation is represented in the chart below.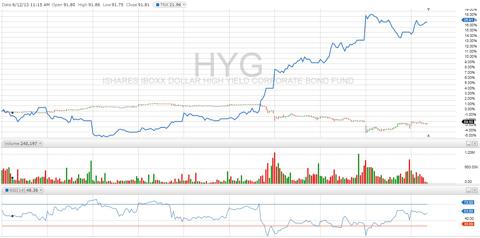 But this has not been the historical pattern, which creates an interesting break in trend and a trading opportunity. Since March of 2010, both instruments tracked with relative consistency. There is an excellent article that details the junk bond arena, so I won't go into details here.
The recent market reaction to the anticipated increase (at some point in the future) of interest rates has created panic selling and pressure on the bond markets that is not supported by past historical performance. We all know that past performance does not predict future behavior, but in the case of interest and bonds, there has been a pattern that broke down in 2010.
In the 10 year chart below you can see that the HYG and TNX tracked reasonably closely. Now there is a severe divergence from the previous pattern.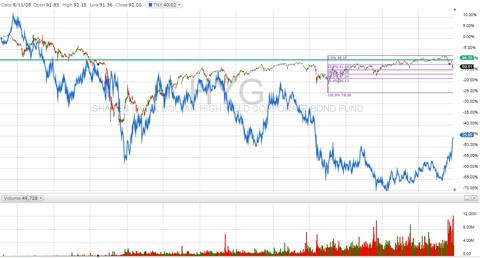 Chart dynamics set up an opportunity for trading HYG. With a yield of 6.51% it's time to allocate resources as pricing pulls back. Companies will continue to need financing in the future even if rates climb. It is never easy or comfortable to invest with a contrarian thesis. In the case of HYG, interest rates higher than today's did not negatively impact pricing. The 10-year chart adds visibility to HYG pricing and interest rates in a more normal environment. April 2007 pricing for HYG was $108 while the TNX was at 51 and interest rates on the 10-year treasury were 4.64%. The predictive value of TNX is verified by interest rate tracking reflected in the charts below.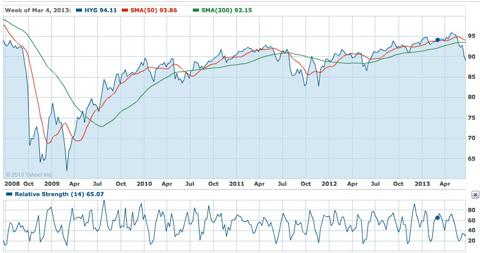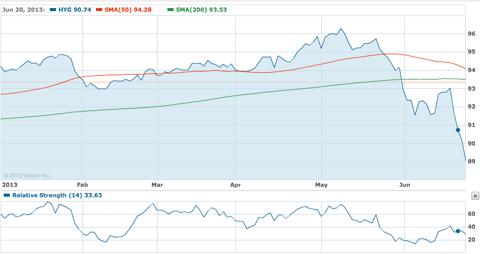 HYG will be added to the portfolio slowly using the TNX as an indicator for purchase points. Future interest rates are expected to increase but the short term spike has driven down the price of HYG to a point where adding shares now makes sense.
Disclosure: I have no positions in any stocks mentioned, but may initiate a long position in HYG over the next 72 hours. I wrote this article myself, and it expresses my own opinions. I am not receiving compensation for it (other than from Seeking Alpha). I have no business relationship with any company whose stock is mentioned in this article.