SunPower (NASDAQ:SPWR) is the initiator of solar business with silicon-based solar cells that dominate the industry in efficiency. SunPower rules the residential segment and is also delving into large commercial projects. The $2.22 billion company features amongst the top five leading publicly-traded energy companies in the world. SunPower manufactures solar panels and systems under the SunPower, SunTile, and PowerGuard brands for residential, commercial, and utility-scale power plant customers across the globe. Total Gas & Power USA (Total) holds a controlling stake in the company.
Key Segments
The company's key segments include (i) the Americas Segment, (ii) the EMEA Segment, and (iii) the APAC Segment. The Americas Segment encompasses North and South America. The EMEA Segment includes European countries, the Middle East and Africa. The APAC segment covers the Asia-Pacific countries. The Americas segment accounted for 70% of the company's total revenue for FY12, followed by the EMEA and the APAC segments with 20% and 10%, respectively. Revenue realized by the Americas segment was driven by large scale utility projects in North America. However, just 2 years back, the scenario was reversed compared to the current scenario, when the EMEA and the Americas segments contributed 69% and 28% of the revenue, respectively. In these 2 years, Europe witnessed a marked dip in terms of project development and component shipments due to disparaging government inducements and recession. On the other hand, the increasing solar power products' demand was primarily driven by the utilities sector in California. Even the gross margin for the Americas segment increased from 11% in FY11 to 17% in FY12, unlike the other 2 segments, which reported declining gross margins.
Comprehensive Lease Model
SunPower's Energy Solutions leasing model has provided the company with an edge over the others by allowing the consumer to install a SunPower system without upfront costs and enjoy 20 years of clean energy. A consumer can save up to 10% or 15% on their electricity bill and can go green at the same time. The company is trying to bridge the gap further by lowering the costs of the system and improving the efficiency. SPWR is aiming to enhance efficiency by 10% and reduce panel costs by 35% in 2015.
SunPower generates a residual value of $1.75 per watt for a payment of $541 million through the leasing business for residential purposes only through the installation of 100 MW against SolarCity (NASDAQ:SCTY), which generates a residual value of $1.25 per watt after leasing of 333 MW for a payment of $1.22 billion. It has been observed that SunPower's high-efficiency panels score above Chinese commodity panels in terms of their lifetime and the company is expected to generate more revenue at the end of a lease. They are also estimated to hold more residual value at the end of the lease.
Though in a smaller time span, SunPower and SolarCity are believed to witness similar benefits of their leasing businesses, SunPower ranks itself ahead in terms of generation of value over the life of the lease, which on average is 20 years. SPWR's premium products boast of generating 55% more energy in the initial year and ensure twofold clean energy for 25 years compared to its peers. SPWR's residential lease program has encompassed 16,200 customers with 130-MW reserved since the 4Q2012.
Total Gas & Power USA, a Provider of Crucial Capital and a Global Network of Contacts
SunPower leads in terms of cost of capital. The company can borrow at more subsidized rates than its peers due to Total's major ownership stake in SunPower. SPWR projects that a difference in cost of capital by 1% can generate $0.40 more residual value per watt. Total's majority stake in the company will help in accomplishing plum projects in the Middle East, where Total has a stronghold.
There is immense market potential left unclaimed as the company has tapped only 0.01% of its total distributed generation market, which is evident from the company's presentation. However, the same logic holds good for the company's peers as well.
Aiming Towards Distributed Generation and International Markets
SunPower is primarily focusing towards distributed generation and international markets through its PV technology and selling residential leases abroad. The sale of solar panels and equipment for distributed generation accounted for almost two-thirds of the megawatts deployed in 2012. Plans are being made to introduce the residential leases in France, Germany, Australia, Spain, Italy, and Japan.
The company also announced a joint venture with 3 companies from China in December, 2012, where they will be using the company's concentrating PV system called C7, which taps the sun's power leading to savings of electricity costs. The C7 has also been installed in the Arizona State University's Polytechnic campus in Mesa, Arizona and is expected to eliminate 1,277 tons of carbon dioxide emissions annually. The company also intends to invest around $15 million for a 25% stake in the Inner Mongolia-based joint venture. Once Saudi Arabia opens up its solar incentive program, it can unfold a sea of opportunities for the solar companies.
Achievements of 2013
SunPower's 579 MW Solar Project deal with MidAmerican along with projects in Kern and Los Angeles Counties in California in January, 2013, worth up to $2.5 billion, is being touted as a milestone in the world's largest solar photovoltaic power development. The projects are expected to contribute more than $500 million to the regional economy.
A 7.5-megawatt high efficiency solar power system, built by SPWR, is expected to generate 70% of the electrical power needs for the city of Phoenix's Lake Pleasant Water Treatment Plant, which produces 15 billion gallons of tap water annually.
SunPower and U.S. Bancorp (NYSE:USB) have announced a program for financing $100 million of residential systems and expanding leasing options in nine states.
San Diego's Southwest High School, Sweetwater Union High School District, which has installed 6 SunPower solar systems in its campuses, is expected to save around $6 million over the next 20 years pursuant to the installation of 16 more solar power systems. As per EPA, it will bring down the annual production of carbon dioxide emissions by more than 2,600 tons annually.
SPWR is also operating at 92 California K-12 public schools and has generated savings worth $5.6 million in 2012.
KB Home (NYSE:KBH) has constructed more than 1,000 homes using SunPower's high efficiency solar power systems, which are expected to save around $1 million yearly on residents' electricity bills.
SunPower, in partnership with the San Francisco 49ers and the new Santa Clara Stadium, is slated to provide 400 kilowatts from its high efficiency solar panels during 49ers home games.
SPWR's 5-Megawatt Kalaeloa Solar Farm generating power on Oahu, Hawaii is expected to negate 9,500 tons of carbon dioxide emissions annually.
SunPower's emission-free solar plane, Solar Impulse, is ready to fly for 24 hours at a stretch.
The corrosion proof SunPower X-Series Solar Panels (X-Series) for the residential markets offer an efficiency of 21.5% and come with a warranty of 25 years.
SPWR is constructing 2 SunPower solar systems in Yolo County, which is expected to save around $51 million in the next 25 years and negate 5,600 tons of carbon dioxide emissions annually.
Western Municipal Water District's 916-kilowatt SunPower solar power system is expected to save around $4.6 million in the next 20 years and eliminate 944 tons of carbon dioxide emissions annually.
According to the California Solar Initiative (CSI), sales of new production homes with rooftop solar power systems have almost doubled from 2011 to 2012. SunPower is the leading provider of solar energy solutions to major production homebuilders like KB Home, Richmond American Homes, and Lennar (NYSE:LEN) and Pulte (NYSE:PHM). The trend is expected to continue.
SPWR has also signed a 5-MW agreement with Verizon (NYSE:VZ) to generate 8 million kilowatt hours of electricity annually and eliminate Verizon's annual carbon footprint by 5,000 metric tons of carbon dioxide. The leading phone company is slated to invest $100 million in the U.S. solar and fuel cells.
Apple (NASDAQ:AAPL) is entirely dependent on renewable energy for its largest data center and is building a 20-megawatt solar farm at its Maiden facility with solar panels provided by SunPower.
SunPower's achievements bear a testimony to the fact of how much the company has an edge over its peers in providing efficient and pollution free energy.
Risks
Poor performance by the European region hammered the sales growth of the company in FY12 to a meager 1.8% y/y growth. Excess inventories around the globe affected the product prices despite a rise of 13% in the volume of solar products. Downward revision of concessions to the industry by the members of the E.U. further added to the miseries.
However, SunPower is keen towards completion of its Mexico plant project, which will add 12 assembly lines and increase its annual capacity by twofold. The company is in a crucial position to attain the breakeven profit level by scaling up given lower expected future prices for solar products by harnessing the potential of Total's lower borrowing costs and global contacts.
SunPower and its Peers
SunPower bags the third position in terms of market cap after First Solar, Inc. (NASDAQ:FSLR) and SolarCity Corp. However, SCTY only leases and installs solar panels, unlike SPWR and FSLR. SolarCity is also limited to its domestic states, unlike SPWR, which has broadened its horizons in the European and the Asian countries. However, Elon Musk, CEO of Tesla Motors (NASDAQ:TSLA) is the cousin of SCTY's CEO, Lyndon Rive, and is the largest stakeholder of the company. As a result, investors cannot turn a blind eye to the company despite its unprofitability. Goldman Sachs has agreed to finance $500 million towards the company's residential and corporate solar leases. However, SCTY cannot boast of a strong balance sheet like FSLR in terms of cash position and debt levels.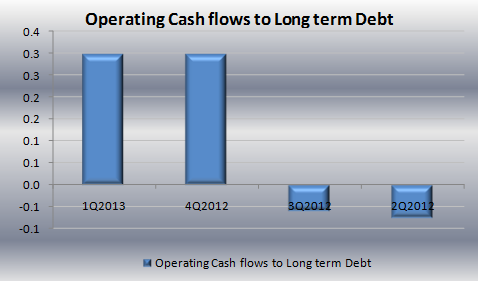 FSLR is also expecting revenues worth $3.9 billion and EPS of $4.25 for FY13. The company also reported a growth of 52% in its revenues and 7% growth in its gross margin during 1Q2013 on a y/y basis. FSLR's 550 Megawatt Desert Sunlight project is also expected to add to the revenue stream in the fiscal year. However, as per Bloomberg, SPWR's gross margin for 1Q2013 is 9.3% against -3.2% amongst the peers.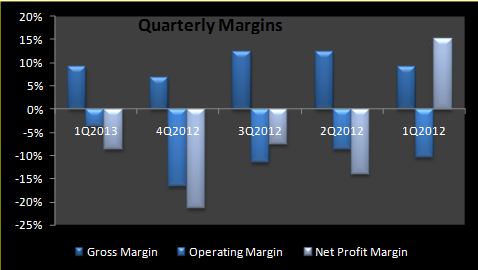 The share prices have increased by more than 172% in the new fiscal year. The net loss of the company also came down to $54.7 million during 1Q2013 from $74.5 million a year ago. The sales numbers for the quarter had also beaten the previous forecasts. SPWR also leads in terms of value of the asset, which can be leased again or be sold for further income. SunPower has been the pioneer in downstream investment, and the way it has transitioned from selling of hardware to the selling of energy has been phenomenal.
Keeping in mind the recent quarterly results, the positive outlook for the industry, and the projects in the company's pipeline, it seems evident that investing in the company can be a good prospect in the long term. In fact, Brian Lee of Goldman Sachs has upgraded the stock from "sell" to "neutral", raising its target price from $13 to $18.
Recent Quarter Results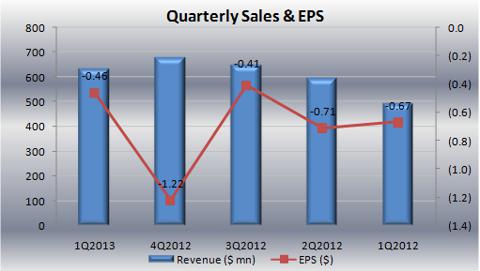 SunPower's total revenue for 1Q2013 increased by 29%, y/y to $635 million driven by solid performances by the 250 MW California Valley Solar Ranch project and the 579 MW Antelope Valley Solar Projects in California; and a 5 MW project in Hawaii during the quarter in the Americas segment. The segment reported an increase of 72%, y/y to $484 million, followed by the APAC segment, which reported an increase of 46%, y/y, powered by huge demand for Toshiba (OTCPK:TOSBF) and Sharp (OTCPK:SHCAY) in Japan. The gross margin of the company remained almost flat at 9.3%, y/y. Gross margin for the Americas segment remained flat at 14% whereas the APAC segment recorded an increase of 5% to 17%, triggered by large sales volume of Japan. SPWR had $506 million in cash and equivalent for the quarter versus $457 million a year ago. Net loss came down to $55 million from $75 million a year ago. So did the EPS from -$0.67 to -$0.46.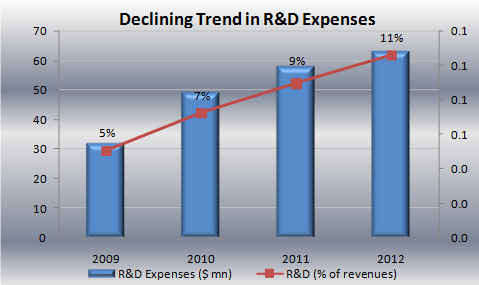 R&D expenses for the quarter came down by $3.6 million, or 21% y/y, due to the implementation of the manufacturing step reduction program during 1Q2012. SPWR generated a free cash flow of $216 million since the 4Q2012.
Management Guidance: FY2013
SunPower expects revenue to range between $2.6 billion and $2.7 billion, gross margin between 15% and 17%, and net income (loss) per diluted share of -$0.05 and $0.20. SPWR intends to cut down on its operational expenses by 10% compared to 2012 and generate free cash flow in the range of $100 million to $200 million.
Disclosure: I have no positions in any stocks mentioned, and no plans to initiate any positions within the next 72 hours. I wrote this article myself, and it expresses my own opinions. I am not receiving compensation for it (other than from Seeking Alpha). I have no business relationship with any company whose stock is mentioned in this article.