On Monday, one of the largest insider purchases on the market came from Richard Kinder, CEO of Kinder Morgan, Inc (KMI). The head officer and chairman of the board purchased 500,000 shares at an average price of $35.78. The total transaction value of the purchase was $17.89 million. According to the filed Form 4 found here, Richard Kinder now owns an impressive 230,259,786 shares of Class P common stock.
The large insider purchase may suggest that investors should begin to see value in the company's current share price level. KMI owns the general partnership interest in Kinder Morgan Partners along with the general partner interest in El Paso Pipeline Partners (EPB). The company also owns limited partnership interests in El Paso Pipeline Partners, Kinder Morgan Partners, and Kinder Morgan Management LLC.
As a whole, Kinder Morgan is the largest midstream energy company in North America. The company owns an interest in roughly 80,000 miles of pipelines and operates 180 terminals. The company transports everything from natural gas, to crude oil, and even carbon dioxide. Here are 5 reasons that KMI now appears attractive for investors:
10% pullback off recent highs. The company has fallen almost 10% since its latest highs set in May. Crossing below the 200-day moving average and bouncing back, the company appears to be trading in an attractive range in the present.
Quarterly dividend growth. Over the last year and a half, KMI has managed to increase its dividend every quarter for the last 6 quarters. In October 2011, the quarterly dividend was $0.30. This has since grown 27% to the rate of $0.38 in April 2013.
KMI trades in a relatively stable industry. The company operates in energy infrastructure which is unlikely to face significant amounts of volatility. The company's beta currently stands at 0.77, reflecting a more stable investment when compared to the overall market.
KMI investors benefit from its incentive distribution rights. Incentive distribution rights allow for a limited partnership's general partner to receive an increasing share in the rising cash flow generated by the partnership. This benefit that KMI enjoys helps to assist in the growing return of income to investors.
First insider purchase in 2013. As mentioned above, Richard Kinder's purchase of 500,000 shares represent the first open market insider purchase in 2013. The last insider transaction prior to this was a small transaction of only 1,500 shares by James Street in November 2012.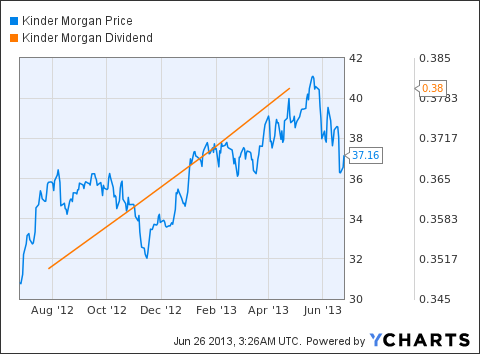 Concluding Thoughts:
KMI appears to be one of the more attractive income plays on the market particularly for its dividend growth potential. As seen through its recent track record, the company has steadily increased its dividend rate over time. At a current 4.2% annual dividend rate, the company returns cash to its investors well above the market average of 2.02% as of June 25.
The recent pullback combined with the significant insider purchase may suggest that investors can see the current price as an opportunity to initiate a position in the company. Tucking this investment away into a retirement portfolio may allow investors a significant return of capital over an extended time period. Because the company is embedded into the backbone of the nation's energy supply, KMI remains a stable asset in almost any economic environment.
Disclosure: I have no positions in any stocks mentioned, and no plans to initiate any positions within the next 72 hours. I wrote this article myself, and it expresses my own opinions. I am not receiving compensation for it (other than from Seeking Alpha). I have no business relationship with any company whose stock is mentioned in this article.