The past couple of weeks have been quiet with nothing coming from BlackBerry (NASDAQ:BBRY), but that has changed this week. I was not intending to write another article before this Friday's earnings call, but there have been some major announcements. The noise coming from BlackBerry may foreshadow what is to come Friday morning.
I had previously not been impressed, with the previous BlackBerry CEO regarding a string of broken promises, and product deadline extensions. With the present CEO Thorsten Heins, I have been acutely aware of his statements and the timbre of his promises. So far, I have not been disappointed and I am left wondering if this pattern will continue past Friday's earnings call. Previously Thorsten Heins stated , he sees sales in the "tens of millions" for the new Q10 smartphone device. With the new information presented this week, this statement might very well be true.
Q5 released
BlackBerry has released the new mid-range Q5 smartphone in Dubai. The Q5 comes in different colours, with a downgraded set of features. The Q5 still runs the new BB10 operating system, but at a significantly reduced price point. At $400, the Q5 is nearly half the price of the Q10 at $735. The value this information brings to investors, is the adherence to the projected availability date. As the Q5 is the third device manufactured by BlackBerry within 6 months, it would be easy for the Q5 to be delayed by BlackBerry.
In South Africa, the BlackBerry Q5 will be available on Thursday June 27th from Vodacom World.
Secure Work Space for iOS and Android
A new revision of BlackBerry Enterprise Service - BES 10.1.1 has been made available, to support iOS and Android devices in the corporate environment. This feature was promised to be released this month, as was delivered on time.
There has been some debate about this feature cannibalizing sales of the new BB10 smartphones. This may be true, but with the growing global market, gaining a corporate foothold will aid long term goals. Additionally, corporations adopting BES 10.1.1 may standardize on one brand of a client device for simplicity, and a lower total cost of ownership.
BlackBerry Enterprise Service 10 has been evaluated by many corporations worldwide. Currently there are over 18,000 BES 10 servers installed globally.
The annual client licenses will cost $99 for each Android or iOS device. Below are some screenshots from the mobile devices running secure workspaces.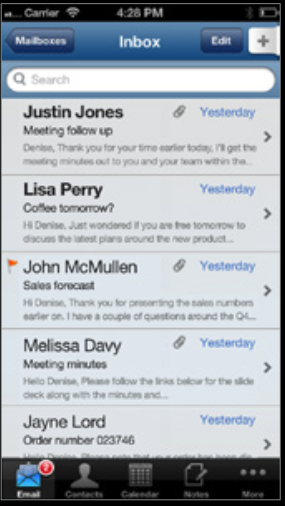 iPhone email view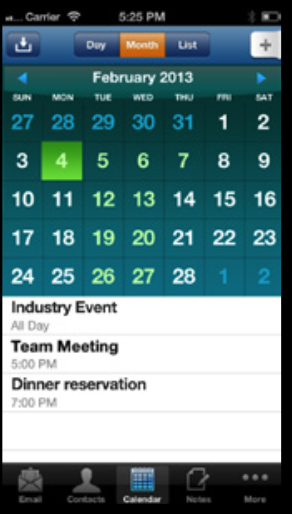 iPhone Calendar view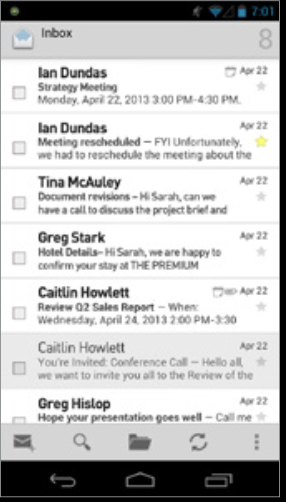 Android email view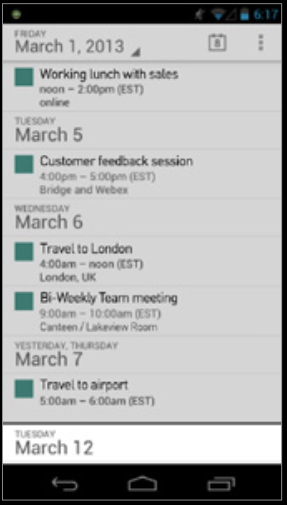 Android calendar view
BBM Channels
I wrote an article about BBM channels recently, but the main question being how was BlackBerry going to monetize this new feature remained unanswered. We are starting to see some indication from BlackBerry about the monetization of BBM Channels.
BlackBerry and Maple Leaf Sports Entertainment have announced a 3 year deal utilizing BBM Channels, and custom BlackBerry applications for sport fans. Maple Leaf Sports Entertainment owns the Toronto Maple Leafs, Toronto Raptors and the Toronto football club. Currently, the MLSE hockey team is the most profitable in the NHL. Fans will have access to real time updates and exclusive content on their BB10 devices and BBM Channels. This is a good starting point for BlackBerry in differentiating itself from the generic platforms, such as Facebook (NASDAQ:FB) and Twitter. As this new service evolves, various revenue streams should avail themselves and increase the profitability across various platforms.
BlackBerry will also be known as the "official computing partner of MLSE". This illustrates the new direction CEO Thorsten Heins is taking the company. Thorsten Heins has continuously stated that the new BB10 platform will be more than just a mobile smartphone device; it will be your computing power.
Conclusion
We have started to see BlackBerry's hand unfold, and the direction is promising. It will take time for the complete vision to come to fruition, but it is clearly on its way. The short term viability has been proven, and should be confirmed on Friday's earnings call.
While it is true that the onrush of positive news from BlackBerry, is timely before the earnings call; I do not think that there are ulterior motives. The bear case would imply, that the release of information this week would soften the blow of a bad earnings report. If this was the case, I would expect BlackBerry to release new guidance prior to this Friday. This would be especially prudent, given Thorsten Heins previous bullish comments.
Disclosure: I am long BBRY. I wrote this article myself, and it expresses my own opinions. I am not receiving compensation for it (other than from Seeking Alpha). I have no business relationship with any company whose stock is mentioned in this article.