The price for aluminum on the London Metals Exchange [LME] dropped below the key $1,800 level at the end of last week and closed on Tuesday at $1789.50 per ton (3 month buyer). Aluminum has not traded at these low levels since 2009. It will take more time to determine if this was a just a small breach or the start of a bigger breakdown, but I will assume there is more short term downside until aluminum recovers back above $1,800. Nonetheless, it is important to remember the long term supply/demand dynamics. There have been several announcements of production cuts and much of the global aluminum production is operating at a loss at these levels. Eventually, the production cuts will have an impact, though more are likely needed (especially if global demand is weaker than currently forecast). In this article I will analyze the dynamics in the aluminum market and the impact on Alcoa (NYSE:AA). I will also discuss the recent downgrade of Alcoa's debt rating.
Previous Articles About Alcoa
I wrote four articles about Alcoa and aluminum prices recently:
Because of the recent developments in the price of aluminum, I am updating my basic thesis, which appeared in previous articles. The changes are marked in strike-though and bold.
Alcoa is a well run company with an attractive downstream business that produces components for several growing end-markets, especially automobile and aviation. However, its upstream business has been pressured from very weak aluminum prices. Alcoa has a lot of debt and is marginally cash flow positive, so the price of aluminum is the key driver of Alcoa's overall profitability and the stock price. Aluminum prices are trading where they found support a few times in recent years. The next big move in Alcoa's stock will likely be determined by aluminum prices bouncing off this level or falling to new lows. The drop in aluminum prices below $1,800 could lead to a sharp move lower. The more time it takes for aluminum to recover this level, the greater the downside risks. Alcoa faces continued short term pressure with these low aluminum prices. Eventually, low aluminum prices will lead to more supply cuts, but it is unclear when that will happen and if they will be successful in reversing the downward move.
Moody's Downgrade
On May 29, Moody's downgraded the company's credit rating to Ba1, which is considered junk status, and adjusted the outlook to stable. The main driver for the downgrade was weak aluminum prices.
Moody's cited "continued headwinds pressuring fundamentals in the aluminum industry and aluminum prices" that would make it difficult for Alcoa to reduce its leverage in 2013 and 2014. Moody's added, "Currently LME aluminum prices are ranging in the low $0.80/lb and there appears little catalyst for upward price movement."
In response to the downgrade, Alcoa said:
"We believe Moody's decision is a greater reflection of macroeconomic conditions and the volatility of metal prices than a true statement of the financial and operating strength of Alcoa. We have a strong balance sheet and liquidity position with limited near-term bond maturities." (Source: Alcoa's press release)
I agree with Alcoa's response. Moody's needed to downgrade Alcoa because aluminum prices at current levels will make it hard for Alcoa to reduce its leverage. But, the downgrade is not as bad as it sounds and nothing substantial changed recently (aside from aluminum prices).
Regardless of the credit rating, Alcoa will do well if aluminum prices rebound and will face balance sheet issues if they don't.
LME Aluminum Prices
The following charts show the LME aluminum prices (3 months buyer). The $1,800 level was a key level going back to 2009.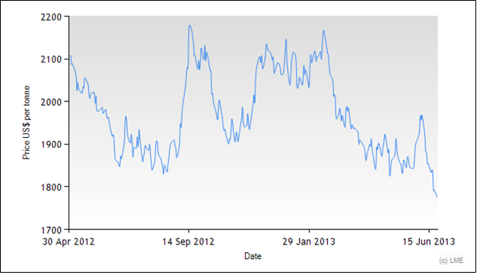 (Source: LME.com)
Impact Of Copper, Gold And Silver
Aluminum has been trading in-line with other metals. In fact, the weakness in gold (NYSEARCA:GLD) and silver (NYSEARCA:SLV) has been a negative catalyst for aluminum. I am concerned that further weakness in gold will continue to be a negative for aluminum.
Additionally, the recent turmoil in the Chinese banking system and the reduced growth projections for China are negative catalysts for all the metals.
The following charts show the recent price action for LME copper (3 month buyer), gold and silver.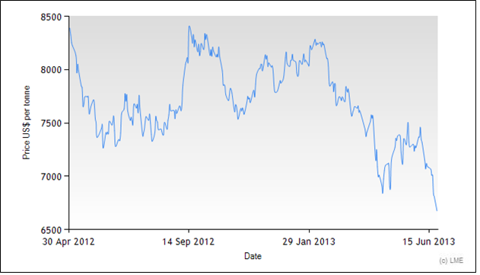 (Source LME.com)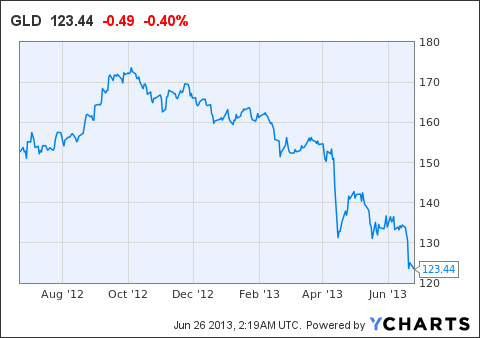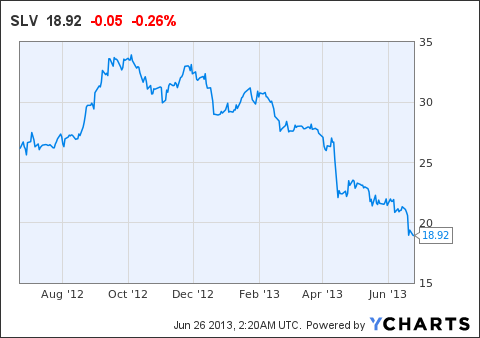 Aluminum Supply/Demand
Alcoa's Q1 earnings presentation included a projection of a 155,000 mt surplus of aluminum in 2013, consisting of a surplus of 75,000 mt in China and a surplus of 80,000 mt in the rest of world (ROW). Previously, Alcoa had forecast a surplus of 535,000 mt.
The projection assumed:
China supply: 23.075 million mt
China demand: 23.0 million mt
ROW supply: 26.5 million mt
ROW demand: 26.42 million mt
On May 1, Alcoa announced that it would review 460,000 mt of capacity for possible curtailment. On May 16, it announced that it would close 105,000 mt of capacity, out of the 460,000 mt under review.
According to a report in the Wall Street Journal on April 8, before Alcoa announced its cuts, Barclays' supply/demand projection for 2013 called for a 1.2 million mt surplus.
Rusal had previously announced cuts of 300,000 mt of capacity. However, after taking into account the 300,000 mt of Rusal's production cuts and the 460,000 mt of Alcoa's production cuts, Rusal's management stated in a presentation in early May, "We estimate another 1-1.5 mtpa of Ex-China capacity cuts should be made in order to support prices."
In early June, Aluminum Corp. of China announced that it would cut its 9% of its production, or 380,000 mt of aluminum. In May, Chinese imports of alumina were reported to be down 72% from the previous year and 38% from the previous month, implying lower aluminum production.
The bottom line is that Alcoa's supply/demand projections had been more optimistic than some other industry participants. The announcement of Alcoa's production cuts are a positive for aluminum prices since there is too much capacity in the industry. Other industry participants are also cutting production, which is an encouraging sign.
The following chart from Alcoa's analyst day in November 2012 shows the cost curve for aluminum. At LME aluminum prices below $1,800 much of the aluminum industry is operating at a loss. The situation in China is especially difficult.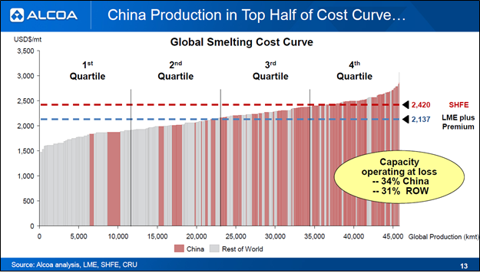 (Source: Presentation on Aluminum Market Fundamentals at Alcoa Analyst Day, November 7, 2012)
With so much of the global aluminum business operating at a loss, the recent production cuts are understandable and necessary. However, it is unclear if they are enough. Eventually, the production cuts will have an impact on price, but it is unclear when that will happen.
Recent Forecasts For Aluminum Prices
On June 24, Morgan Stanley cut its outlook for metal prices, including aluminum, copper, zinc and tin. The reason for the cut was slower growth in China. Morgan Stanley cut its 2013 outlook for aluminum prices by 2% to $0.89 / pound.
Deutsche Bank, Goldman Sachs and Credit Suisse also cut their outlooks for various metals on June 25. However, their forecasts for aluminum were not reported and I am not sure where they stand.
Analyst Estimates
Sellside analysts cut their estimates following the last earnings release, but there hasn't been much movement during the quarter. Considering the weakness in aluminum prices throughout Q2 and the recent downgrades to metal prices by several of the large investment banks, I expect further cuts to analyst estimates.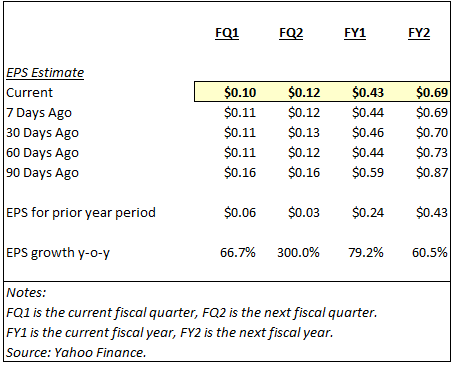 Alcoa's Stock Price
The $8 level had been a key level of support for many months. If the stock cannot trade back above that level quickly, it will be vulnerable to a sharp move lower.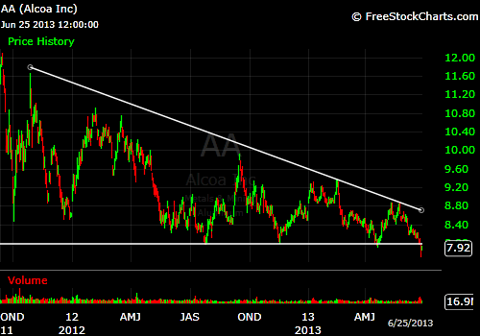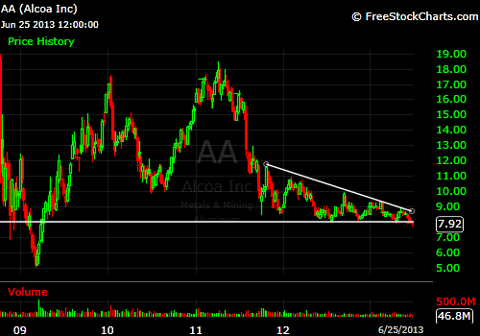 (Source: FreeStockCharts.com)
Alcoa's share price has held up better than the metals over the past year, but the general trend has been the same. Recently, copper, gold and silver have made a much sharper move down.
The following shows the price action for the iPath® Dow Jones-UBS Copper ETN (NYSEARCA:JJC) as well as the GLD and SLV.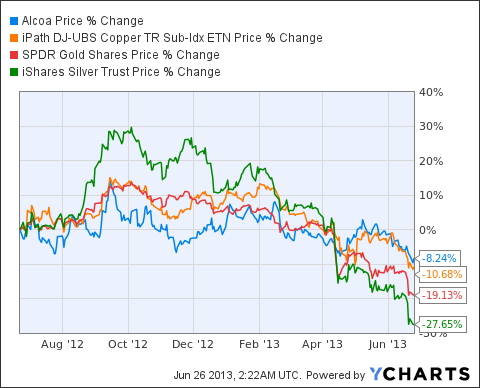 Alcoa has also tracked the general trend in the SPDR S&P Metals and Mining ETF (NYSEARCA:XME), but has held up better.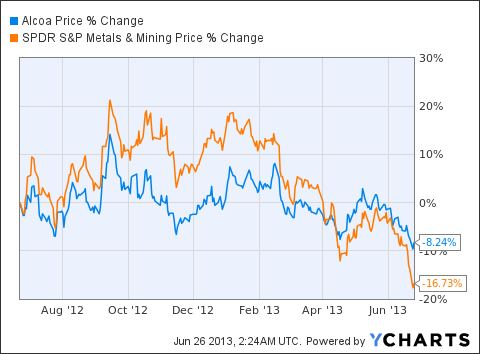 Conclusions
The drop in LME aluminum prices below $1,800 per metric ton is a key risk for Alcoa in the short term. It will be important to watch how long it takes for LME aluminum to get back above this level or if it continues to slide. It is still too early to tell if this was a breach or a breakdown, but I am cautious.
A $100 per metric ton swing in aluminum prices would have a $240 million impact on the company's net income on an annual basis (source: Alcoa's Q1 earnings presentation). Considering Alcoa's high debt levels and marginal profitability, aluminum prices can have a significant impact on Alcoa's bottom line and cash flow dynamics. (See my previous articles for more information about the financials.)
In the short term, LME aluminum prices below $1,800 will be a big headwind for Alcoa. However, it is important to keep the long term perspective in mind.
At the current LME aluminum prices, much of the global aluminum production is operating at a loss. This is not sustainable. Already, several of the major aluminum producers have announced production cuts. Further production cuts are likely if the price of aluminum continues to slide. Eventually, these cuts will have a positive impact on the price of Aluminum.
It will be important to see how the situation in China plays out. Forecasts for slower growth in China led several investment banks to cut their metals forecasts. However, the issues in the banking system could also cause curtailments in Chinese production.
In general, I am cautious on Alcoa's shares in the short term, especially until LME aluminum prices get back above $1,800. However, I like the company and think it will be a good way to play the eventual turnaround in the metals and mining sector. It looks like there is more downside before that inflection point, but it will come eventually. I have a small long position in Alcoa through options, but I recognize that I may be very early to the turnaround trade. I will reconsider this position over the next few days based on the price action in aluminum and/or Alcoa's stock.
Disclaimer: The opinions expressed above should not be construed as investment advice. This article is not tailored to specific investment objectives. Reliance on this information for the purpose of buying the securities to which this information relates may expose a person to significant risk. The information contained in this article is not intended to make any offer, inducement, invitation or commitment to purchase, subscribe to, provide or sell any securities, service or product or to provide any recommendations on which one should rely for financial, securities, investment or other advice or to take any decision. Readers are encouraged to seek individual advice from their personal, financial, legal and other advisers before making any investment or financial decisions or purchasing any financial, securities or investment related service or product.
Information provided, whether charts or any other statements regarding market, real estate or other financial information, is obtained from sources, which we and our suppliers believe reliable, but we do not warrant or guarantee the timeliness or accuracy of this information. Nothing in this article should be interpreted to state or imply that past results are an indication of future performance.
THERE ARE NO WARRANTIES EXPRESSED OR IMPLIED AS TO ACCURACY, TIMELINESS, COMPLETENESS, OR RESULTS OBTAINED FROM ANY INFORMATION IN THIS ARTICLE OR ANY LINKED WEBSITE.
Disclosure: I am long AA. I wrote this article myself, and it expresses my own opinions. I am not receiving compensation for it (other than from Seeking Alpha). I have no business relationship with any company whose stock is mentioned in this article.
Additional disclosure: I am long Alcoa through call options. I may trade this position or any of the stocks mentioned in the article at any time, including in the next 72 hours.