Linn Energy (LINE) has become an exciting company this year, especially in the last 2 months. LINE, one of the top 10 MLPs, is unlike many other MLPs which invest in pipelines and terminals to move energy around the US. LINE is an upstream company that invests in wells extracting oil and gas. The company has 19,000 wells with a goal to consolidate mature oil and natural gas assets. But LINE has grown largely through acquisitions. In 2003-2012, there were 58 acquisitions for almost $10 billion (including $2.9 billion in 2012).
This company is an industry leader using hedges to help plan for the future (as do many other businesses). LINE is hedged 100% on expected natural gas production through 2017 and 100% of expected oil production through 2016. But hedges are causing problems for detractors.
There have been negative articles on LINE and its accounting practices. The best known are from Barrons on February 16, May 4 and June 15. They allege that distributable cash flow will be insufficient to support present dividends/distributions. They also claim LINE is over-estimating the value of its undeveloped properties while it is under-estimating its lease operating expenses for maintaining production at current levels. Reduced earnings could result in security prices dropping in half. Now there is an army of short sellers for LINE. Since 2012 year end, the short position for LINE has tripled to over 11 million shares on June 14.
Distributable cash flow at LINE rose from $348 million in 2009 to $679 million in 2012 and management projects $1,241 million this year ($3.29 per unit). The projection was made in April and assumed LINE as a standalone company.
Linn Energy is also a leader in offering alternatives for owners. Last October it sold 35 million shares in LinnCo (LNCO) which raised more than $1.2 billion, a substantial IPO by any standard. Each share of LNCO is backed by one unit of LINE without tax hassle. IPO proceeds will be used for capital investments and as collateral for additional borrowings. The shares can also be used to acquire energy companies. In February, LINE proposed a merger with Berry Petroleum (BRY) for $4.3 billion. 5 LNCO shares will be swapped for 4 BRY shares. The merger was supposed to be approved by shareholders at the end of June. But on May 31, LINE announced it will have to file a second amendment with the SEC. As a result, shareholder meetings and closings are expected in Q3, a 2-3 month delay. The merger is expected to increase proved reserves at LINE by 1.65 Tcfe (Trillion Cubic Feet Equivalents) or 34%.
Linn Energy is fighting back by presenting its story to financial audiences last year and this year. Presentations include responses to short seller allegations. The latest was at Howard Weil on June 14. Howard Weil initiated coverage in January and in February it downgraded LINE from Sector Outperform to Sector Perform. On June 19, LINE was upgraded from Sector Perform to Sector Outperform. All presentations are listed at linnenergy.com and can be downloaded for personal review.
Management is backing up its speeches with investments in LINE. Below is a table of insider purchases in May and June (when there was substantial short selling). Last week there was heavy buying.
Name

Position

Date

Shares

Price

Terrance Jacobs

Director

6/17/2013

5000

$29.93

Terrance Jacobs

Director

6/17/2013

5000

$29.91

Mark Ellis

CEO

6/14/2013

10000

$30.70

Arden Walker

VP

6/14/2013

5000

$30.42

Terrance Jacobs

Director

5/30/2013

5000

$34.03

Terrance Jacobs

Director

5/30/2013

10000

$34.28

Terrance Jacobs

Director

5/10/2013

5000

$34.58
The price swings in LINE last week were unusually volatile. Shorts were encouraged by negative articles and discussions about accounting practices. But other advisors are backing management and prices bounced back in the second half of the week. Unusually high volume accompanied the price volatility.
Linn Energy -- June 10-24, 2013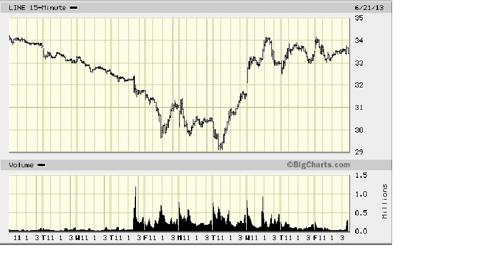 Linn Energy is becoming a battle ground, between short sellers and loyal stock/unit holders. The shorts are betting millions on lower prices for LINE and already have made a lot of money. In May and June, security prices plunged $10 to the low $30s, raising the yields to more than 9%. The battle is becoming a growing media event. Linn Energy is getting a lot of attention on television, in the print press and on the web.
Omega Advisors, a prominent hedge fund run by Leon Cooperman, is comfortable with its $200 million investment in LINE. Cooperman wrote, "Omega Advisors, Inc. is comfortable with our investment in Linn Energy, we are convinced of the professionalism and integrity of the company's management, we are optimistic about the company's future growth and financial performance," in a June 17 letter. On June 19, he reaffirmed his allegiance to LINE when he said "We have done our homework." ValueWalk on June 20 discussed Leon Cooperman's comments: Linn Article.
I am standing pat on my LNCO investment and dividends are being reinvested in more shares. Starting in the middle of July, the first monthly dividend ($2.90 annual rate) will purchase more shares. I am impressed that management made purchases last week (at the lows) and Omega Advisors is standing behind management with its substantial investment.
The stock and units of the MLP are only for investors who are willing to accept high risk for earning high returns and yields. Short sellers will return with periods of heavily selling as they did last week. The BRY merger is important in 2013 and has to be considered iffy because the shorts will fight it. But management has a record of growing distributable cash flow and the long term outlook for energy remains excellent. According to Energy Department data, rising petroleum output is putting the US on track to surpass Saudi Arabia as the world's largest producer by 2020.
Disclosure: I am long LNCO. I wrote this article myself, and it expresses my own opinions. I am not receiving compensation for it (other than from Seeking Alpha). I have no business relationship with any company whose stock is mentioned in this article.