AeroVironment (NASDAQ:AVAV), one of the leading makers of unmanned aircraft systems widely relied upon by the Department of Defense to deliver controversial strikes on suspected enemy combatants, blasted analyst expectations with a solid beat on Q4 results. A loss of $0.04 per share was significantly more benign than the loss of $0.09 expected by the markets, while revenue exceeded consensus of $51.4M by nearly $3M, despite representing top-line decline of over 50%.
The company offered initial FY14 guidance of $0.35-0.50 on revenue of $230-250M, with the midpoint on both ranges still shy of expectations of $0.46 EPS and sales of $245M.
AVAV did attempt to ease investors' concerns that President Obama's recently announced adjustments to the military drone program would impede its future growth - the program faces potential curtailment next year in the wake of a rising wave of criticism contenting a breach of sovereignty.
CEO Timothy Conver pointed to significant revenue growth in its more portable Switchblade UAS program in 2013 as one of the "new pathways" toward long term growth.
In a conference call, Corver said management is "cautiously optimistic" about increased adoption of switchblade systems this year and overcoming delivery delays weighing on the program in recent months. To that end, a decline in Q4 backlog from $70.5M to $59.4M may suggest early progress in production efficiency.
We should point out that CEO Corver is still holding near-term expectations in check - in the Q/A component of the conference call, Corver hinted that the significant increase in contracting delays that materialized in Q3 may not be over in Q1. Shares of AVAV were up nearly 6% in after hours trade at $20.70 - the highest level this stock has seen since late May.
Is this the start of a rally or a mere blip within a broader trend of steady 2-year-long decline? We don't think so.
Until we see more concrete evidence of successful transformation and a steady top-line growth, investors appetite for buying the unmanned spying death machine story is likely to be dulled by the challenging landscape.
Management spends a great deal of time discussing advances in technology - aircraft capturing more detailed video, having quicker reaction time, and being able to land in a variety of terrain. Less covered are the more prevalent headwinds for the industry - the impact of sequestration on defense budgets (particularly in the realm of smaller contractors where order decline does not necessarily translate into high profile job cuts), the down-scaled military campaigns in the Middle East requiring less above-ground troop support, and potential for growing reluctance to engage in drone spying in the wake of recent NSA surveillance scandal.
Negligible short interest and elevated price earnings to growth ratio compound AVAV's recovery prospects, demanding more visibility for this embattled stock.
For an interactive version of this chart, click on the image below.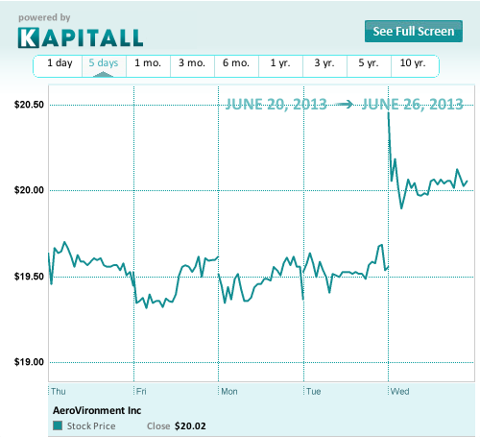 *All data sourced from Yahoo! Finance.
Disclosure: I have no positions in any stocks mentioned, and no plans to initiate any positions within the next 72 hours.
Business relationship disclosure: Kapitall is a team of analysts. This article was written by Eben Esterhuizen, one of our writers. We did not receive compensation for this article (other than from Seeking Alpha), and we have no business relationship with any company whose stock is mentioned in this article.