Introduction:
On May 7th, I wrote an article, "Strategies For Dealing With A Possible Market Meltdown." My concern, at the time, centered on the notion that the stock market was approaching all-time highs and that many investors were becoming anxious as to what they should do with their money.
I am a Dividend Growth Investor. I understand that DGI is not for everyone. There are many different approaches that investors can take with their investment strategies. I just happen to prefer this particular strategy. That being said, I tried to be as objective as I could and presented 5 different strategies that investors could use moving forward and I wanted those strategies to apply to whatever investment style you use, in order to create discussion points so that others might benefit from the discussion.
In light of market conditions, I presented 5 strategies for investors to consider. Each one, taken either individually or in some combination, would have served most investors well over the last 30 days. Here are those strategies for you to review:
Balance Your Portfolio
Take Profits Off The Table
Take Your Original Investment Off The Table
Sell Everything And Wait Until Market Conditions Improve
Do Absolutely Nothing
What I Know:
Let's take a look at The S&P 500 chart for the last month, since my last article. There has been a market decline, as measured by the S&P 500 chart, below.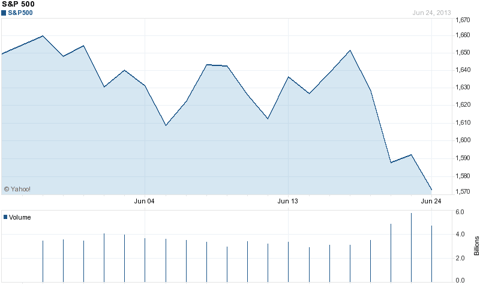 What You Should Know:
One day, while looking at different financial sites online, I visited CNNMoney. What caught my attention was a section called "The Fear and Greed Index." Here's how they explain the value of their index:
Investors are driven by two emotions: fear and greed. Too much fear can sink stocks well below where they should be. When investors get greedy, they can bid up stock prices way too far. So what emotion is driving the market now?
CNNMoney uses 7 measurements to determine whether the markets are operating in the "fear" mode or the "greed" mode. The Fear and Greed Index indicates that the markets, right now, are being driven by fear. The market is running on emotion right now. The fear of the end of QE is somewhat overplayed, in my opinion. I think that the recent decline in stock prices is not a clear harbinger of a signal to be buying here, though. Instead, I would be inclined to continue using strategy #5. That is, "Doing Absolutely Nothing." Even with the decline that the markets have had, there is not a big enough pullback to get overly excited just yet.
What You Should Be Doing Here:
I am a believer in the idea expressed best by Chuck Carnevale on more than one occasion. Chuck likes to point out that we are investing, not in a "stock market", but we are investing in a "market of stocks." Following that thought process, what investors should be doing here is creating a watch-list of stocks that they want to own; determining what price they want to be paying for stocks on that watch list; and setting limit orders at that price, in order to add them to their portfolios.
I think that most people who have read my articles know that I am very fond of Coca-Cola (NYSE:KO). A month ago, KO was selling for about $42.50 a share. Just recently, KO slipped under $40 a share to a recent low of $39.15. Being jazzed up on KO selling under $40 here is not cause for celebration. It's cause for "peaking interest in the company" but I like it a heck of a lot more at $35-$37 than I do at $39. That $35 price brings the PE ratio in line with "value" and also brings the dividend to a locked in 3% yield for any new purchase. I can wait and use the limit order to secure a purchase at my price point.
Another company that took a hit yesterday, was Walgreen (WAG). The company announced earnings that were not in keeping with expectations. WAG took a "drubbing" yesterday, down as much as 7% from its previous closing price. In and of itself, is that enough to have made WAG a "buy" for you today?
Conclusion:
Emotions can derail the best laid plans of any investor. Fear and greed are two very devastating emotions to enter into your decision making process. This is a time to begin looking at your own investing strategy and reminding yourself how you got here and where you want to go moving forward. It is not time for emotional decisions. It's time for "patience." That's not an emotion--it's a virtue.
Disclosure: I am long KO, WAG. I wrote this article myself, and it expresses my own opinions. I am not receiving compensation for it (other than from Seeking Alpha). I have no business relationship with any company whose stock is mentioned in this article.