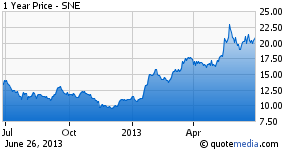 Sony Corporation (NYSE:SNE) stock has been performing very well since the beginning of the year, going from $12 per share in early January to just under $21 per share yesterday. The company has made several important announcements, including the release of its much anticipated PlayStation 4 and raising guidance in late April on its outlook for the full-year 2013. However, news that buoyed the stock nearly 10% on May 21st, was a proposal made by an activist investor to break up the company into smaller parts.
The push to split up Sony was spearheaded by activist investor Daniel Loeb, whose hedge fund Third Point LLC owns around $1.1 billion of Sony stock and has recently increased its position in the company. The plan, put forth in a letter to Sony CEO Kazuo Hirai, includes spinning off up to 20% of Sony's Entertainment unit in an initial public offering. Sony Entertainment primarily consists of its movie studios and music departments. The more profitable entertainment division boasts movie franchises such as Spiderman, James Bond and Men in Black. The music division has rights to artists like Michael Jackson and the Beatles. In 2012, the entertainment division made more than an $860 million operating profit, while the electronics division lost nearly that same number.
The letter calls for 15-20% of the entertainment division to be sold in a public offering with Third Point LLC providing up to a $2 billion backstop. Loeb and his hedge fund were not asking for any fees in exchange for this guarantee, but of course they did suggest something in return in addition to just increasing Sony's stock value. First, Loeb wants existing Sony shareholders to be given priority in the direct ownership of the new company, a stipulation which no doubt contributed to the big single day pop that occurred upon the letter's release. Secondly, near the end of the letter, Loeb states that Third Point LLC "would gladly accept a seat on Sony's Board of Directors."
So how would this benefit Sony? For one, selling a partial stake in Sony Entertainment would give the electronics division a much needed influx of cash. Next, the electronics division could move some of its debt to the more profitable entertainment division. With the divisions separated, the company has more leeway to attract and compensate highly qualified executives and to further streamline its product offerings, getting rid of under-performers such as personal computers. According to Loeb, the increase in Sony stock price could be as much as 60%.
Investors immediately embraced the idea as the stock hit a 52-week high of 22.91 a share when the letter was released. Sony has since come off of those highs, but remains strong. Some of the hesitation may be the general unwillingness of Japanese companies to cater to activist investors. In addition, CEO Kazuo Hirai has said as recently as May 14 that "the entertainment businesses are important contributors to Sony's growth and are not for sale." I am still bullish on Sony stock, especially because of how far the company seems to be ahead of Microsoft (NASDAQ:MSFT) with its next generation gaming console. When the PlayStation 4 is released this fall, it should take the number one spot away from the Xbox and put more distance between it and Nintendo's (OTCPK:NTDOY) Wii U. Also, just last week Hirai said the board was still discussing Loeb's proposal and I believe some form of it is likely to be approved.
Disclosure: I have no positions in any stocks mentioned, but may initiate a long position in SNE over the next 72 hours. I wrote this article myself, and it expresses my own opinions. I am not receiving compensation for it (other than from Seeking Alpha). I have no business relationship with any company whose stock is mentioned in this article.