"I will tell you the secret to getting rich on Wall Street. You try to be greedy when others are fearful. And you try to be fearful when others are greedy." [Warren Buffett]
This is particularly applicable to Encana (NYSE:ECA), as shares just recently dipped below $17, to mark a 5 year low, all the while the underlying fundamentals don't paint the same picture. Five years ago Encana was a $90 stock and could do no wrong, now at $17, it can't do anything right. I will try to explain the huge disconnect between the market price and the fundamental price of the assets Encana owns.
Encana is an oil and natural gas exploration & production company that has been around since 1971, headquartered in Calgary, Canada. It is one of the highest volume producers in North America when it comes to natural gas and has over the past 3 years suffered mightily from an oversupplied natural gas market. Since its IPO in April of 2002 (~$15) it is roughly only 15% higher over an eleven year period; while reaching a peak of $90+ in 2008 it has lost considerable ground since then. Poor execution and senior management changes have affected investor confidence over the past few years, although now with an increased focus on cost controls and rising natural gas prices (up around 100% off their lows), the stock appears likely for a long-term upward reversal.
I feel for the sake of discussion pertaining to this article Chesapeake (NYSE:CHK) remains one of the better comparisons, both in size and the strategic focus on natural gas. Chesapeake has been the one of the largest producers by volume in the U.S. behind only Exxon Mobil (NYSE:XOM) with their acquisition of XTO energy in 2009. With Encana being mainly a natural gas producer, the comparison to Chesapeake makes sense, given that natural gas is the main area of concentration in both asset portfolios. While both companies have been diversifying into NGLs and oil of late, the main profit driver for both is still natural gas.
| | | |
| --- | --- | --- |
| Comps | Encana | Chesapeake |
| Market Cap | 12.57 | 12.83 |
| Total Cash (mrq) | 2.88 | 0.033 |
| Total Debt (mrq) | 7.73 | 13.63 |
| Operating cash flow | 2.83 | 3.49 |
| Price to Sales | 2.81 | 0.95 |
| Price to Book | 2.65 | 1.01 |
| Enterprise Value/EBITDA | 11.67 | 5.76 |
*Data provide by Capital IQ, all figures applicable are in billions.
While Chesapeake in the last three years has been getting rid of assets at fire sale prices, Encana has a much more stable balance sheet and has weathered the storm with most of its key assets intact. A closer look at some of the recent transactions from Chesapeake reveals asset sales that are only getting a fraction of their proposed "true value".
As you can see the recent deals Chesapeake has put up for sale represent asset sales at a severe discount to the potential value in a "sellers market". Unfortunately for Chesapeake, everyone is scrambling to raise capital at the same time from the collapse in the price of natural gas, causing a severe depression in any assets related to natural gas.
Encana in the last three years has been able to sign lucrative joint ventures with companies like Phoenix (a wholly owned subsidiary of PetroChina), which is carrying a significant portion of the future drilling costs as well as putting up approximately C$2.18 billion (total) for the project. Encana has also signed other JV/Partner contracts with Mitsubishi (C$2.9 billion for a 40% interest in Cutbank Ridge), a Toyota Tsusho contract for C$600M for a 32.5% royalty interest, as well as an agreement in 2010 with KOGAS for approximately C$750M for 50% interest in the development of the Horn River. Here is a full list of JV partners currently working with Encana .
While Chesapeake is relying on asset sales to fund and service its massive debt load, Encana is coming from a position of strength, by strategically aligning itself with JV partners who are funding large portions of the development costs associated with "new plays". Comparing price to book, price to sales, and EV/EBITDA, it appears that Chesapeake is significantly cheaper than Encana. However, it is likely that Chesapeake will have to entertain significantly more asset sales to service its debt load in 2013, while Encana has suggested only a small JV deal (C$ .5-1.0) in 2013 to meet total Capex inclusive of operating cash flow.
From Chesapeake Q1 2013 update: "The company continues to make progress toward its goal of completing $4.0--7.0 billion of asset sales in 2013, having closed or signed approximately $2.0 billion of asset sales year to date."
So Chesapeake has roughly $2-$5 billion more in potential sales occurring this year alone, and in 2014 there is likely to be even more, especially if natural gas prices do not increase meaningfully. While Chesapeake does have a tremendous asset portfolio, we feel that there is significant risk to future ownership of its "key properties". It seems that Carl Icahn has been instrumental in a quick turnaround through asset sales, however, we feel that this is the equivalent of selling a home during the peak of the financial crisis at trough multiples.
Encana Assets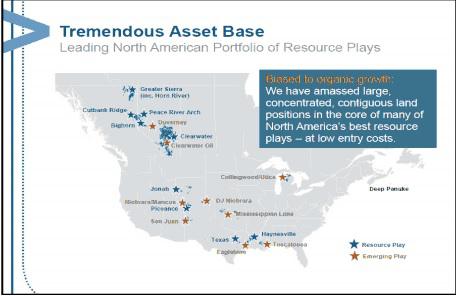 Encana Corporate presentation
Valuable asset base with high retained value throughout development, utilizing JV partners effectively to fund development costs and risk sharing. A number of emerging plays may be potential growth drivers going forward, aggressively developing Duvernay (recent funding from PetroChina subsidiary), 16% of Canadian Cap Ex for Clearwater properties (both oil and gas). The strategic location of the Texas and western Canada properties can easily be used as feed stock for LNG exports.
Cost of production: management has updated their economic cost of production estimates as 3.00/MCF for natural gas and roughly $60.00/bbl supply cost for oil. Management has stated given the current pricing environment it should produce IRRs greater than 20%. We think one of the possible exciting potential catalysts for a large increase in the share price is represented by the low cost of supply for natural gas. For example, if natural gas gets back to just its 10 year average between $5-6, the IRRs for natural gas would grow exponentially.
Long-term macro supply & demand drivers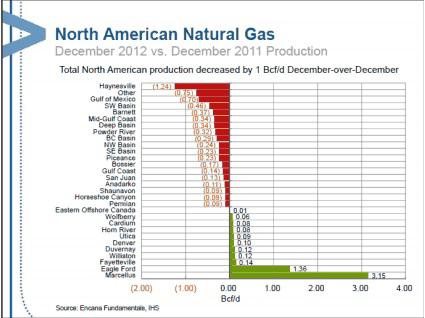 Encana Corporate presentation
Consistently declining natural gas rig counts, in culmination with quickly declining initial production curves, seems to have halted natural gas production increases. For the majority of North American natural gas producers, the average cost per well in our view is roughly break even at $3.75 to slightly profitable given costs associated with treatment, transportation, royalties, land acquisition/leases, infrastructure builds, and taxes. We continue to believe that current rates of return given total costs do not incentivize producers to increase natural gas drilling programs with the exception of certain "sweet spots". We know this is highly debatable, but just regarding the rig count data, keeping everything else constant, we are not seeing any mass utilization of natural gas targeted rigs. This is most likely why we are seeing many producers across both Canada and the U.S lowering production rates (excluding the Marcellus shale).
U.S. political changes have also affected the demand drivers for natural gas, under the Obama administration the EPA has aggressively set mandates for utilities to have carbon emission caps. Utilities over the long haul continue to switch from coal to natural gas, even as prices increase, due to serious regulation issues that will affect the long-term viability of coal power plants. This is mainly a 2015 event as most of the finalized plans would not become fully effective until then.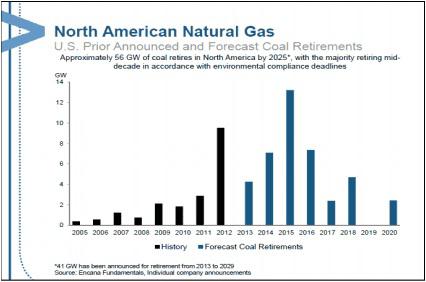 Encana Corporate presentation
The most significant demand driver in our estimation is the exportation of LNG which starts occurring in late 2015 (Sabine Pass) in the U.S., and perhaps even sooner in western Canada. There are now two approved export facilities in Texas and Louisiana, with many more proposals awaiting approval. We feel Encana is well positioned to take advantage of the LNG export trend in the next few years, with geographic areas of concentration in close proximity to all the currently approved LNG export terminals in North America.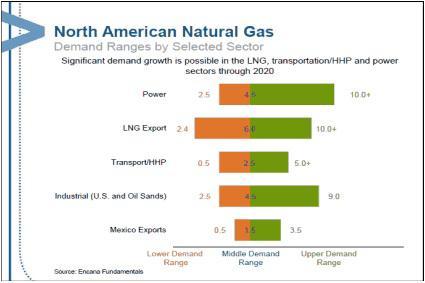 Encana Corporate presentation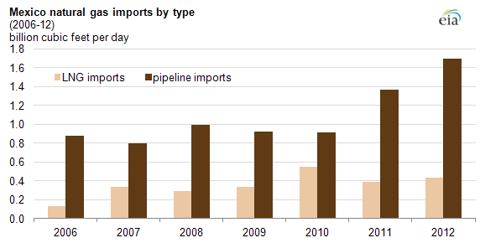 Encana's prediction of an average 1.5 Bcf/d exportation to Mexico is already shown to be too conservative. They had an estimate that by 2020, Mexico would be importing approximately a mean of 1.5 Bcf/d while EIA is already showing them importing approximately 1.7 Bcf/d right now.
Encana positioning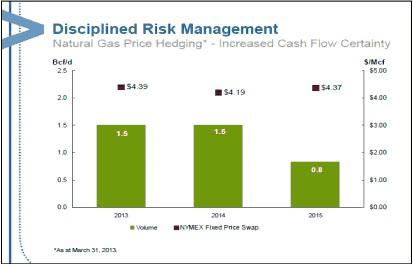 Encana Corporate presentation
Roughly half the 3Bcf/d production is hedged at $4.39, and approximately half in 2014. We feel this is a prudent strategy given in the short run (12-24 months) prices will likely continue to be under pressure. However, by year end 2015, it is likely the U.S. market will see the first LNG exports take place in culmination with the largest ever proposed retirement of coal burning power plants at approximately 13 Gigawatts of coal fired power pulled off the market. Of the 13 GWs of power pulled off the grid, it is likely that the majority of the replaced power will be from natural gas and to a lesser extent renewables. Also in 2015 the EPA is likely to enforce the carbon emission caps through Obama's proposals just recently announced. So overall, we feel that by hedging less than one third of overall production in 2015, it is likely a wise move given the multiple catalysts for price increases arising in the tail end of 2015 and the start of 2016.
Risk factors to thesis
Increased natural gas production from low costs areas such as the Marcellus shale, generating a supply imbalance.
Political delays in more permits for LNG exports due to special interests/lobbyist groups.
LNG exports from Australia and Africa lowering the worldwide equilibrium prices of natural gas, thereby lowering the profitability of the spread between prices in North American nat gas compared to Asia and Europe.
Political changes in 2016 could result in a change of course with respect to the EPA limitations on carbon emissions, thus potentially favoring cheaper coal over natural gas power generation.
Renewables over time becoming cheaper than natural gas in power generation.
Disclosure: I am long ECA. I wrote this article myself, and it expresses my own opinions. I am not receiving compensation for it (other than from Seeking Alpha). I have no business relationship with any company whose stock is mentioned in this article.