Often times I am questioned whether or not I see greater value in Sirius XM (NASDAQ:SIRI) or Liberty Media (LMCA) as a play on the satellite radio operator. I received a thoughtful question yesterday asking my opinion on the subject: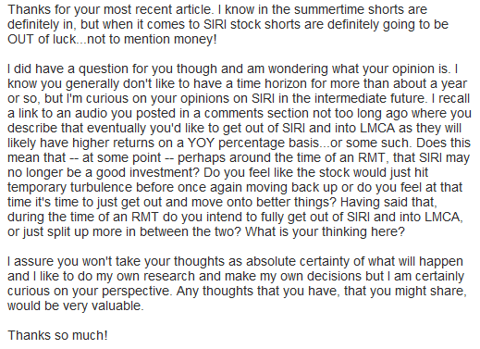 Investors who are familiar with the two companies understand full well that Liberty Media owns a controlling stake over 50% in Sirius XM. Not only does Liberty own that controlling stake, but Sirius XM makes up the lion's share of Liberty Media even more so now than when I wrote that Sirius XM was "the meat" in the Liberty burger.
The commentary the reader is referring to has to do with my statements on Demian Russian's radio show from June 11th over at satelliteradioplayground.com. I Enter at approximately the 35 minute mark, and my comments which prompted the reader's question come in at the 47 minute mark.
In short, my answer at the time was that for now, I would be an investor in Sirius XM, but at some point in the future I would likely shift opinion and choose investment in Liberty Media.
My thought process.
It should be stated that I am going to be using numbers here which are "rough" and not precise to communicate concepts in a more simplistic fashion. While I will use, for example, Liberty's ownership of Sirius XM as a 50% stake, it is currently higher by a percentage point or two (or more depending on the current state of Sirius XM's $2 billion buyback). For those that wish to nit pick the small stuff, keep this in mind.
If we assume Sirius XM at a $21 billion market cap, and Liberty Media at a $13.7 billion market cap we can make a simple rough calculation.
Liberty owns 50% of Sirius XM, or $10.5 billion in value. $10.5 billion divided by Liberty's market cap of $13.7 billion gives us 76.6%. Thus for every $100 you put into Liberty Media you are essentially buying $76.6 worth of Sirius XM.
That said, buying Liberty Media buys into a conglomerate of companies, and Liberty tends to trade at a discount to the sum of its parts. For this I'll make a simple assumption for example purposes that you receive a 10% discount on each part of Liberty by buying the sum. It may be more or less, but it's the general concept that you are receiving a discount that is important. Under this assumption, for every $100 you invest in Liberty Media you receive $85.11 worth of Sirius XM.
Point one.
Great! You might say. I'll just purchase Liberty and get my 10% for free! It's not that easy. This hidden value is currently locked within the conglomerate that is Liberty and in my opinion will only be unlocked at the point Liberty decides to spin off Sirius XM in a reverse Morris trust.
A reverse Morris trust (further denoted as RMT) is a somewhat complex tax efficient spin off strategy wherein Liberty Media would be able to spin out Sirius XM in a tax favorable manner.
When will that happen? A year from now? Two? Everyone has their opinions but nobody really knows for sure. What is important to understand here is there *is* a discount on Sirius XM when buying Liberty, and that value will be unlocked sometime in the future. It may take the form of increased percentage appreciation of Liberty vs. Sirius XM slowly over time, rapidly near the point of the RMT, or only within the RMT itself.
Investors should make note of this fact and decide, based on their own opinion of how this "discount" will unwind, whether or not to invest in Liberty now, or later. If you believe the discount will be unwound slowly, you will want to be in Liberty sooner rather than later to take advantage of this. If you believe it will be unwound quickly either near an RMT or within an RMT, then you may want to wait. If you disagree with me and do not believe that you can buy Sirius XM at a discount through Liberty, then you will likely find little benefit of one stock over the other on this point.
Point two.
As a second point is the question of whether or not during an RMT that Liberty Media will receive some sort of "premium," let's call it 5%, for relinquishing control of the company. As it currently stands, Liberty holds a controlling stake and that is worth something. You may disagree on how much it is worth, but it is hard to argue that 49.9999% is worth nearly as much as 50.00001%. Control has a value tied to it that is worth more than the few shares underlying the difference. Because of this it is reasonable to assume that Sirius XM will "pay" to get control back within an RMT.
If you are with me on this one, then it pays to be in shares of Liberty Media during an RMT vs. Sirius XM as Liberty will be the benefactor. While I don't think this benefit will materialize in Liberty's share price before the RMT, it is important to understand that it will likely be there afterwards. Look at it as X% for free, in this case, 5%.
Does this mean Sirius XM will drop by 5% and Liberty will go up by 5%? No, not at all. Why? Because Sirius XM just "bought" control, and that control has a value. What is important here is during the RMT you are given Sirius XM shares, and Liberty Media shares. The Liberty holder reaps reward on both ends here, one from the premium and the other from the spun shares of Sirius XM now holding control of Sirius XM. The straight Sirius XM holder simply receives control (which has value) for what it pays Liberty in order to get that control back. It's again an unlocking of value. Control of Sirius XM has value and this is likely not currently priced into the share price of Liberty Media.
The winner here, then, is the Liberty Media holder in the RMT, and again at or near the RMT the better play will likely be Liberty.
As I've said I have not done exact calculations here as to the percentage benefit I would expect for Liberty shareholders within an eventual RMT of Sirius XM, but I expect the benefit to be significant given the combination of the two issues above. 15% is not out of the question. If you believe one can purchase Sirius XM for a "discount" through Liberty, and if you believe Liberty will be paid a "premium" for relinquishing control in an RMT, then the choice should be clear. The eventual winner here is Liberty Media.
So what now?
That might be the question on your mind at the moment. What does an investor put his or her hard earned money in right now? Where is the maximum profit to be had?
This is not easily answered. Sirius XM is certainly the pure play. An investor is exposed to only Sirius XM by buying Sirius XM, while an investment in Liberty brings with it Liberty's other holdings such as Live Nation (NYSE:LYV) and Barnes and Noble (NYSE:BKS) (both of which are performing well) among others. Because the RMT is likely a considerable distance away, it may be some time before the hidden values are unlocked in the Liberty play, and until that time an investor in Liberty is subject to not only the pluses and minuses of Sirius XM, but all the pluses and minuses of Liberty's other holdings.
That may not jive well with some investors who are only interested in Sirius XM.
It should also be noted that Liberty Media does not have the level of trading liquidity Sirius XM has on a daily basis, and activity in Liberty's options are virtually nonexistent, limiting complex plays which some may find attractive. This may impact an investor's decision making process in where to invest, and when.
The verdict.
I believe investment in Sirius XM's owner, Liberty Media, will eventually outperform a direct investment in Sirius XM, but I believe it will take an actual RMT to "unlock" the majority of this value. For the time being the pure play, or investment in Sirius XM will likely be more attractive to those accustomed to following Sirius XM and for those already invested in Sirius XM.
That said, I think that as the eventual RMT approaches, investors may wish to seriously consider shifting their investment to Liberty Media. Arguably, from this point forward, shifting between the two could be as good a time as any, and on the other hand, there's no rush.
I remain invested wholly in Sirius XM, and there is a high probability that I will be shifting my investment into Liberty Media as the time of the eventual RMT approaches. After all, once the RMT is complete I will again hold a pure Sirius XM position as a portion of my holdings. I expect many Sirius XM investors will be doing the same.
Disclosure: I am long SIRI. I wrote this article myself, and it expresses my own opinions. I am not receiving compensation for it (other than from Seeking Alpha). I have no business relationship with any company whose stock is mentioned in this article.
Additional disclosure: I am long a collection of January 2014 SIRI calls from $2 to $3.50, and short Jan 2014 $4 SIRI calls against many of these positions.