The rise of Herbalife (NYSE:HLF) has not been a smooth one. It has experienced many struggles along the way. Recent accusations include everything from the exploitation of minorities and low-income families to insider trading scandals. Although Herbalife has announced surprising earnings in the most recent quarter, these setbacks have visibly hurt the stock, which is currently flat from one year ago. A new setback may be on the horizon for Herbalife. Vemma, a private multi-level marketing firm in the healthcare industry, has surged ahead in 2013. Led by a group of young men and women (known as the Young People Revolution), Vemma will pose a substantial threat to the future growth of Herbalife for a number of reasons. This article will take a look at negative Herbalife balance sheet changes, successful Herbalife leaders exiting the company, and increasing competition from a group of enthusiastic young people.
Balance Sheet Woes
Herbalife has seen a major shift in its balance sheet lately, namely liabilities. Below we can see a significant and periodic increase in long-term debt and liabilities. Long-term debt has increased more than 117% to $975 million. Liabilities have bulged 300% to $1.7 billion.
Click to enlarge images.

This increase in liabilities and debt is an indication that Herbalife may be struggling to generate cash from operations to support future growth. In the most recent quarter, we can see that cash from operations (including a notable decrease in net working capital) is the most likely contribution to increases in liabilities.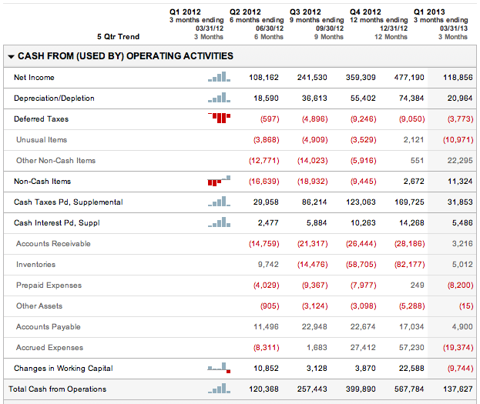 Source: Etrade Research.

It is also important to point out that inventory has continued to build for the health product company. This inventory increase indicates that Herbalife is struggling to sell product as fast as it produces it. Inventory has increased from $134 million in 2008, to over $330 million currently. These increases in inventory cause costs associated with storing that excess inventory to increase, resulting in lower margins and higher overhead.

Mass Exodus
This year, Herbalife has seen a number of high-profile leaders leaving the company and fleeing for greener pastures. One of the most successful and influential Herbalife distributors, Anthony Powell, left Herbalife for Vemma in January. While one distributor leaving is certainly not a huge deal, Powell also encouraged a large number of his 16,000 distributors to leave for Vemma. This is a huge momentum shift, affecting millions of dollars of product. With a yearly distributor turnover rate of nearly 50%, many less publicized exits have occurred in Herbalife as the integrity and legitimacy of the company are being questioned. A recent government probe into Herbalife and criticism from prominent hedge fund managers has likely spooked many top leaders in the company, prompting an early exit to other growing companies in the industry.
Vemma and the YPR
The largest threat to the survival of Herbalife comes from a growing MLM company in Scottsdale, Ariz. Vemma, a prominent healthy energy drink company, has been overrun by a large number of young business-minded individuals. Led by Alex Morton, these younger professionals are taking the health industry by storm at a mind-blowing rate. Sales are even expected to double year over year for 2013. Website traffic for Vemma has exploded as well. For the past year, traffic to the Vemma site has actually surpassed Herbalife, based on Alexa research. Below we can see an increasing trend in web traffic since January 2013. For a company that has very few bricks-and-mortar locations and mainly does business online, this is huge. Especially from a company a fraction the size of Herbalife.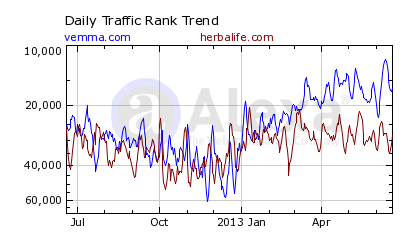 Using social media and college campuses, Vemma has scooped up young people who are excited and ready to work. From one living room in Tempe, Alex Morton has managed to build an empire across hundreds of college campuses and high schools throughout the country. This army of young business men and women has vowed to grow Vemma into the largest MLM company in the world. At current growth rates, they certainly may be right.
Herbalife, as with any MLM, counts on new distributors to grow, but mainly focuses on recruiting an older demographic. Vemma currently recruits younger individuals, who in turn recruit parents and other family members. Vemma has broadened its potential client base and has been rewarded with significant growth. Herbalife has a smaller pool of individuals that it markets to and, in turn, must work harder for the same growth.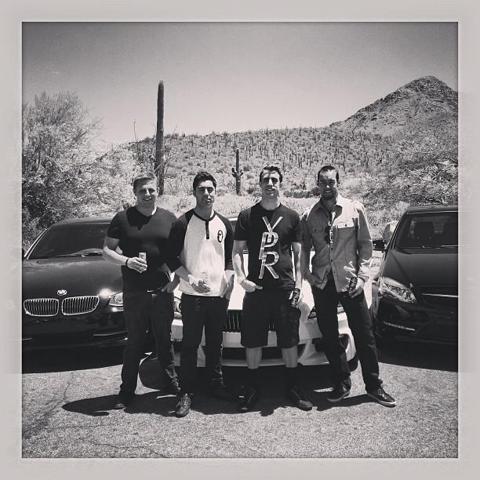 Bottom Line
Currently, Herbalife is an ideal short candidate. In the competitive MLM marketplace, companies are on top of the world one day and gone the next. New and exciting products and services have to be offered to keep distributors happy and growing. Vemma has successfully delivered. Vemma and its never before seen in the industry army of 16- to 26-year-olds are energetic and moving fast. Endorsers like Dr. Oz and Chris Powell continue to move this company in the right direction. Above all, at current growth rates (over 100% for 2013) Vemma could take hundreds of millions of dollar in revenue from Herbalife over the next five years.
Disclosure: I have no positions in any stocks mentioned, and no plans to initiate any positions within the next 72 hours. I wrote this article myself, and it expresses my own opinions. I am not receiving compensation for it (other than from Seeking Alpha). I have no business relationship with any company whose stock is mentioned in this article.