Family Dollar (NYSE:FDO) was a savior for much of the country during the most recent recession, as unemployment and financial struggles shook the foundation of millions of Americans across the country. Now that we have emerged from this recession, unemployment has improved, and housing prices are on the rise, will Family Dollar be able to deliver the type of earnings Wall Street expects? Family Dollar is set to announce first quarter earnings on July 10th, and a Wall Street consensus EPS of $1.04 is a high bar to set. Using macroeconomic principles, as well as financial indicators, we can see that Family Dollar is set to miss on Thursday's earnings report.
Weaker demand
Looking at Family Dollar from a macroeconomic view, we can think of Family Dollar as an inferior good for much of the middle class. When times are tough, Wal-Mart (NYSE:WMT) just doesn't cut it for many middle-income families. Families look to Family Dollar to make ends meet. We can see that as the economy turns south, Family Dollar share price goes through the roof. Over the past 5 years, Family Dollar has a cumulative return of 220%, compared to 20% for the S&P 500.
(Ycharts.com)

Mid-2009 is where we can see a transition though. Americans start saving again.
(Ycharts.com)

This is important to note, because saving is an indication of economic recovery. Households are saving, paying down debt, and are less likely to increase spending on inferior goods.
In response to an increase in customer spending at Family Dollar, the company has increased its number of locations by almost 20% in the past 4 years. Below, we can see an increase of approximately 1000 stores from 2008-2012.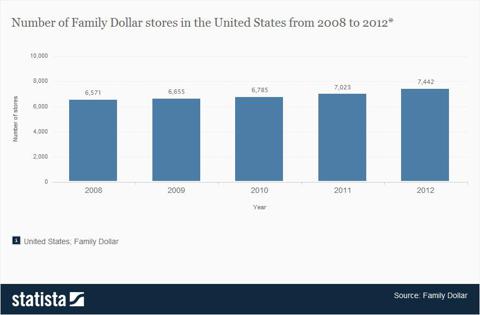 This can also be seen in the statement of cash flows under investing activities. More than $1 Billion has been spent per quarter in store expansion since May of 2010. This kind of expansion may be too fast for the improving economic conditions. Next, we will examine how Family Dollar may be in trouble if this expansion does not pay off.
(Yahoo Finance)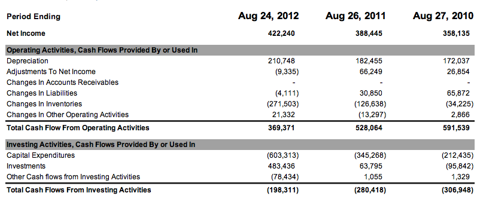 (Click to enlarge)
Barely Paying The Bills
Family Dollar has an extremely concerning quick ratio of 0.30x. The company currently has $189 million in cash and equivalents, while accounts payable has increased to over $1 billion for March of 2013. This is a cash strapped company that has a majority of its current assets in inventory. A slowdown in sales could be catastrophic. A couple of months of mismanaged inventory purchases, and Family Dollar could struggle paying even the most essential bills.
It is also important to note that short-term debt has boomed over 1000% in the past 3 quarters. Short-term debt is actually currently higher than cash and cash equivalents. This suggests the company may be struggling to pay its short-term obligations.
(Etrade Research)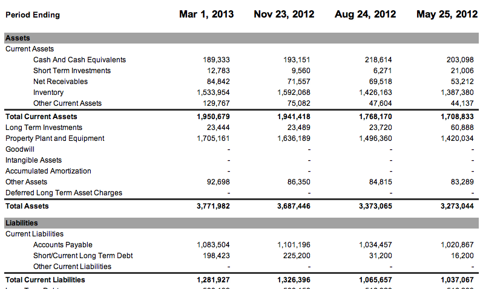 Bottom Line
Wall Street has set the bar high for Family Dollar's next earning report. The reality is that this low cost provider may struggle to deliver. Cash is scarce and short-term debt build continues to shake my confidence in the upcoming earnings report. The most recent recession has come to an end, and store expansion of 1000 stores may end up hurting the company over the long run. Family Dollar is an ideal long-term short candidate for these reasons.
Disclosure: I have no positions in any stocks mentioned, and no plans to initiate any positions within the next 72 hours. I wrote this article myself, and it expresses my own opinions. I am not receiving compensation for it (other than from Seeking Alpha). I have no business relationship with any company whose stock is mentioned in this article.