The first article of the series has introduced the Carbonate Triangle of the renowned Canadian oil sands. The region is the world's third largest oil reserve with its rich carbonate-hosted bitumen deposit located in the northern Alberta's deep underground. Precisely, the Carbonate Triangle is situated between three major bitumen areas, Athabasca, Cold Lake and Peace River.
In today's investment guide on the Carbonate Triangle, I will briefly recap the main characteristics of the Cold Lake region to have a better assessment of its potential. Then, I will introduce an oil producer that owns a few assets in that specific play.
So far, I examined the following producers involved in the Carbonate Triangle. The first area analyzed was Peace River. The producers were:
The current area, Cold Lake, has been reviewed in a past article as well as the following oil producer:
Notably, an analysis of the current operations of the company will be examined with the objective to give the most complete information available to the potential investors before deciding to seize the opportunity that the 54,132 square miles of the Carbonate Triangle has to offer. Let's start by reviewing briefly Cold Lake, the second larger oil sands deposit of the Carbonate Triangle.
The Cold Lake Region
Source: National Energy Board
Historically, the majority of the primary bitumen has been produced from the Cold Lake oil sands area using vertical wells and progressive cavity pumps that tolerate the large volumes of sand produced with the bitumen. More recently, with improvements in horizontal and multilateral drilling technology, primary bitumen is being produced from the Athabasca and Peace River oil sands areas.
The Cold Lake oil sands lie within a package of stacked incised valleys that rest encased within more regional deltaic, shoreface sands and marine mud. These overlie the fluvial and estuarine sands of the Clearwater formation. This formation is overlain by regional deltaic, progradational barrier complexes and incised valley-fills of the Lower and Upper Grand Rapids formation, which extends to the top of Mannville group.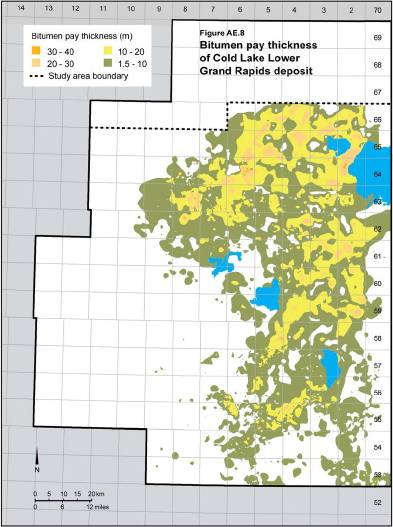 Source: ERCB
The entire Cold Lake area is estimated to contain 201 billion barrels of initial in-place volumes, within a total oil sands reserve estimated at 1.8 trillion barrels for the entire Carbonate Triangle. Approximately 8% of the 201 billion barrels would be accessible given the available technologies, which would represent 16.08 billion of recoverable barrels for Cold Lake.
Canadian Natural Resources (NYSE:CNQ)
Canadian Natural is one of the largest independent crude oil and natural gas producers in the world. The company has a diversified combination of assets in North America, the North Sea and Offshore Africa, which enables it to generate significant value even in challenging economic environments.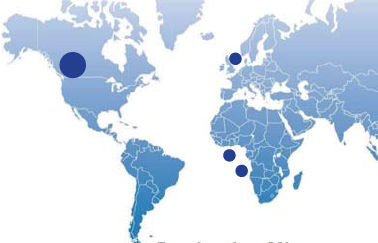 Source: Canadian Natural's June 2013 Corporate Presentation
Its balanced mix of natural gas, light oil, heavy oil, in-situ oil sands production, oil sands mining and associated upgrading facilities, represents one of the strongest and most diverse asset portfolios of any energy producer in the world.
Canadian Natural's primary heavy crude oil operations are centered on the Alberta-Saskatchewan border, near the city of Lloydminster. The company's extensive and dominant land base allows it to conduct large scale drilling and development programs while minimizing its capital cost requirements. Costs are further managed through owning and operating centralized treating and sand handling facilities, maximizing the utilization and using its size to achieve economies of scale.
Canadian Natural is the second largest independent natural gas producer in Canada with the largest undeveloped land base in the relatively undeveloped, natural gas prone areas of northeast British Columbia and northwest Alberta. The picture below depicts the land owned by the producer as well as its producing properties.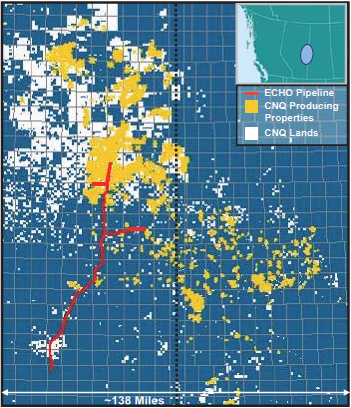 Source: Canadian Natural's June 2013 Corporate Presentation
Regarding liquids, the company is the largest heavy oil producer in Canada with a diverse portfolio of light, primary heavy, in-situ oil sands, light synthetic upgraded oil sands mining and natural gas liquids. As a matter of fact, it produced approximately 236,600 barrels per day of crude oil and NGLs for Q1 of 2013.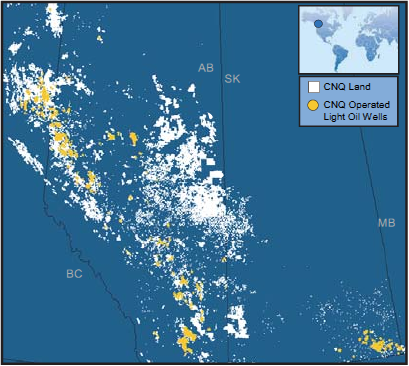 Source: Canadian Natural's June 2013 Corporate Presentation
The producer's strategy consists of focusing on exploitation rather than exploration, thus minimizing the risk by maximizing the value of already discovered resource. Moreover, only the efficient and effective producers will continue to generate economic returns throughout the cycle, the rest forcing to divest its assets to the stronger competitors. Therefore, Canadian Natural considers itself a very strong competitor by adopting such an approach on how it conduct its business.
Furthermore, the producer believes that fully owning and operating its own assets is the best way to produce efficiently, allowing the company to facilitate an ever-vigilant weekly allocation of capital by the management and allowing start-up or shut down drilling programs on very short notice.
The company's infrastructure includes five crude oil processing facilities and four salt caverns for solids disposal. Ownership of the ECHO sales pipeline allows to be the only producer capable of delivering undiluted heavy crude oil into its blending facilities at Hardisty, Alberta. According to Canadian Natural, its infrastructure and size gives the company significant competitive advantage in this area and its large inventory of drilling prospects leads to greater flexibility, enabling it to react very quickly to changes in commodity prices or changes in capital allocation.
Primary production typically produces between 5% and 15% of the original oil in place, leaving a vast un-recovered resource that will ultimately be exploited. Improving recovery by drilling infill wells in some pools, testing waterfloods in others and using horizontal wells in specific applications are a few of the ways the producer is working towards improving recovery factors. It is also evaluating several other technologies such as polymer flooding and solvent injection.
Technology Used In Cold Lake
In the Cold Lake deposits, Canadian Natural has Primrose and Primrose East operations where it currently produce from the Clearwater reservoir using the CSS process with a single well bore to inject and produce steam.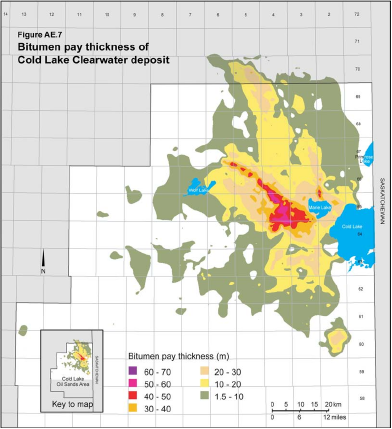 Source: ERCB
This technology has been historically applied to reservoirs that have barriers to vertical flow. The production peaks and troughs at Primrose are a reflection of this process as the peaks are associated with production cycles from newer, less mature wells and the troughs are associated with production cycles from the more mature areas in the field.
Primrose And Wolf Lake Oil Sands Project
Canadian Natural's multi-year thermal development program began with the Primrose/Wolf Lake Oil Sands Project in 1985. This project was a thermal in-situ operation located approximately 35 miles north of Bonnyville in northeastern Alberta. Primrose South has been developed and is producing at 45,000Bls/d while Wolf Lake, developed at the same time, is achieving 13,000Bls/d. In 2006, Primrose North was commissioned and is producing 30,000Bls/d.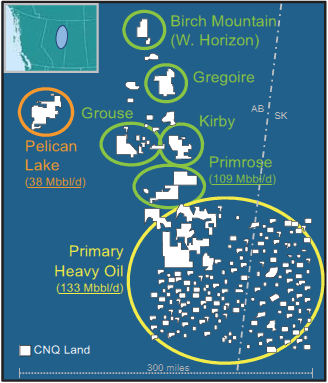 Source: Canadian Natural's June 2013 Corporate Presentation
In 2008, Canadian Natural completed construction and production start-up at the Primrose East expansion. This 32,000Bls/d project achieved first production in Q4 of 2008, on budget and ahead of schedule. The major components to the project included expansion of its central treating facility at Wolf Lake, taking capacity to 120,000Bls/d and also a new satellite steam generation facility at the Primrose East site.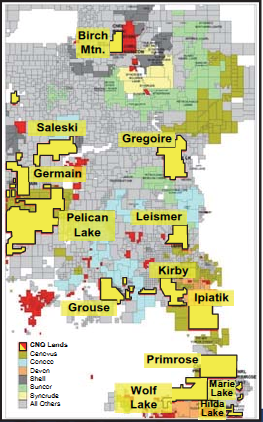 Source: Canadian Natural's June 2013 Corporate Presentation
Operating costs to produce a barrel of crude has averaged a remarkable $9 per barrel at its Primrose asset for 2012.
Source: Canadian Natural's June 2013 Corporate Presentation
Pelican Lake Premium Project
Pelican Lake is a premium asset within Canadian Natural's portfolio. The company has had great success with enhanced oil recovery in this pool, first with waterfloods and now with polymer floods. Pelican Lake is a large, shallow crude oil pool in the Northern Plains core region estimated to contain 4.1 billion barrels of original oil-in-place on Canadian Natural land.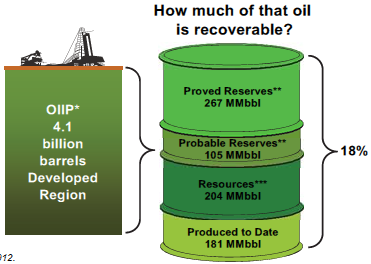 Source: Canadian Natural's June 2013 Corporate Presentation
Although initially developed for primary production, the producer started converting portions of the field to waterflood in 2004, resulting in a significant production increase which reversed the previous three years of production decline. Building on that success, it began testing polymer flooding in 2005. This enhanced oil recovery technique has proven to be much more effective than waterflooding and as such, Canadian Natural is in the midst of converting more of the field to polymer flood.
Source: Rock Energy
Polymer is a chemical compound that is mixed with water to create an injection that has a viscosity similar to olive oil. The application of the polymer flood increases oil recovery since the thicker polymer solution reduces fingering or break-through in the reservoir. Polymer flooding has the potential to increase ultimate recovery to 17% of the original oil-in-place at a relatively low cost, approximately an incremental $3 to $4 per barrel in operating cost, plus an incremental $10 to $13 per barrel of reserves in capital cost.
Since converting from primary production to the polymer flood requires the company to re-pressurize the reservoir with the polymer solution, the full response from the polymer flood is typically seen between 9 to 24 months from injection. Production is expected to peak in 2015 and plateau at approximately 80,000 barrels per day.
As in any waterflood, optimizing water handling is key to the process, polymer flooding is no different. The producer recycles more than 90% of its produced water and it has initiated brackish water usage to mix with the polymer. Currently, work is done on enhancements to the process to optimize the field operations.
Financial Highlights
According to its Q1 of 2013 earnings release, the company produced 236,600Bls/d of crude oil and NGLs with 267 net successful wells drilled at 99% success rate compared to 225,286Bls/d with 235 net successful wells drilled at 98% success rate for the same period last year.
Revenue of the producer has increased year after year, from $2.95 billion for Q1 of 2011, $3.53 billion for the same period last year, and $3.76 billion for Q1 2013. Regarding its P/E ratio, the company has a fair TTM ratio of 19.74 compared to its industry's average of 25.37.
Realized product pricing, before hedging activities and after transportation costs has been in constant growth for 2009-11 for crude oil and NGLs as it achieved $57.68, $65.81, $77.46 respectively, with a drop to $70.24 for last year. Notably, oil sands mining operating costs per barrel, including 4-5% of royalty rate, amounted to an average range of $38-$41. Outside that region, operating costs per barrel in North America achieved an outstanding average range of $12-$14.
The long-term debt to equity ratio of 37.20 compared to 68.20 of its industry suggests that Canadian Natural manages its financing at fair levels to finance its projects. As a matter of fact, the company managed to repay its debt with the use of some of its cash flow, from 2008 to 2011 with $12.6 billion, $9.7 billion, $8.5 billion respectively and stabilize its long-term debt at $8.7 billion for 2012.
For this year, the company is projecting to generate about $7.4 to $7.8 billion in cash flow since crude oil & NGLs production is expected to grow by about 10% with its growing operating cash flow from several assets.
Canadian Natural's gross reserves of crude oil and natural gas as of December 2012, was estimated at 4,329Mmbls (million barrels) of proved crude oil and NGLs, 4,136Bcf (billion cubic feet) of proved natural gas, 7,886Mmboe (million barrels of oil equivalent) of proved and probable barrels of oil on an estimated total bitumen-in-place of 97 billion barrels.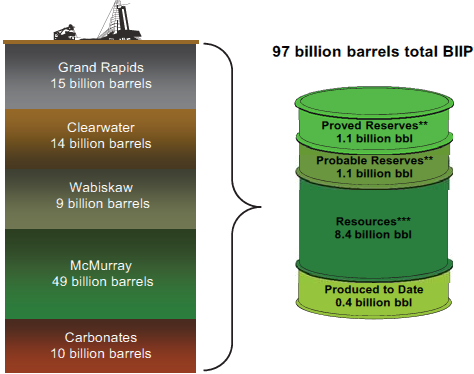 Source: Canadian Natural's June 2013 Corporate Presentation
Canadian Natural committed 120,000Bls/d of crude to be transported by TransCanada's (NYSE:TRP) Keystone XL Pipeline to USGC for 20 years . Initial capacity of 700Mbls/d is expected for Q4 2013 (Cushing to USGC) and is expandable to 830Mbls/d for Q4 2015. Furthermore, the producer committed 100,000Bls/d to a major U.S. Gulf Coast refiner for 20 years.
Bottom Line
Canadian Natural is undeniably one of my favorite as the producer owns a substantial amount of land in the oil sands area as well as in all the Western Canadian Sedimentary Basin. Here are the upsides for this great producer:
Strong, balanced assets deliver excess cash flow over near term growth requirements
An estimated total bitumen-in-place reserve of 97 billion barrels for all the lands
13 consecutive years of dividend increases to achieve year-over-year growth rate of 21% CAGR
One million common shares repurchased at an average price of $28.91/share in 2012
Use of derivative financial instruments as efficient hedging
Disclosure: I have no positions in any stocks mentioned, and no plans to initiate any positions within the next 72 hours. I wrote this article myself, and it expresses my own opinions. I am not receiving compensation for it (other than from Seeking Alpha). I have no business relationship with any company whose stock is mentioned in this article.