A couple of years ago, earnings growth-obsessed investors and banking analysts treated Banco Santander (STD) almost as an after-thought. For every mention of Banco Santander in the UK investment press, there were 10 articles on each of the other big banks; Barclays (NYSE:BCS), RBOS, LloydsTSB (NYSE:LYG), HBOS (OTC:HBOOY) and HSBC (HBC). Santander just wasn't very exciting. Plus, the London investment community, deeply in love with its own Anglo Saxon model of capitalism, was ever so slightly amused at the thought that our European cousins in the Mediterranean might articulate banking management skills equal, or god forbid superior, to those in London or Edinburgh.

Now, as the country continues its efforts to formally exit the worst financial crisis in living memory, the enigma that is Banco Santander is better appreciated.

But in all logic, the bank should be suffering a maelstrom of problems. Santander is domiciled in Spain, arguably the most vulnerable economy in Western Europe. The group also, in 2004, acquired one of the largest British banks, Abbey National, and it would be fair to expect Abbey to have a similar depth of exposure to struggling UK consumers and the housing market as the much maligned Northern Rock, RBOS, HBOS or LloydsTSB do, (the latter two now forming Lloyds Group). But Santander isn't in a mess, nor was it on the verge of collapse like so many banks late in 2008. It didn't dominate the headlines with news of government bail-outs or queues of panicking savers urgently trying to extract their cash. Quietly, professionally and with minimum fuss, the Spanish bank has consolidated its position, strengthened its brand in the eyes of risk-averse consumers and built a reputation amongst banking sector observers for financial integrity and stability that most other Western banks can only dream of.

Santander's strategy of geographical diversification and a commitment to building a relatively prudent book of loans and mortgages has protected its balance sheet from the worst excesses of the debt bubble, though obviously some additional bad debt provision has been necessary. The bank should be congratulated for having paid close attention to the Good Risk Management textbook, the book HBOS management left on the shelf, collecting dust, thinking it was a secret Martian code too complex to be deciphered.

Reviewing the financials from the latest quarterly report also reassures. The group's attributable profit in Q2 has progressed to Euro 2,423m from Euro 2,096 in the prior quarter, whilst year on year performance is a modest 4% lower. The UK contributed 16% of profits, Latin America 34% and Continental Europe 50%. H1 2009 loan provisions rose 61% to Euro 4,626 from Euro 2,880 in H1 2008, causing a 19% descent in earnings per share which otherwise would have made strong progress. A proportion of the bad debt provision may be 'returned' to the P&L if actual bad debts are less than the provision. Of course it is also possible that the provision is inadequate but with a diversified business model and exposure to the relatively healthy Latin America region, the future remains brighter for Banco Santander than many of its competitors.

The chart below highlights the growth in the bank's NYSE listed ADR (Banco Santander Cent Hisp) which is deep in over-bought territory with a 14-day RSI of 77.38, so investors should add the firm to their watch list and reconsider the question of buying if better value returns.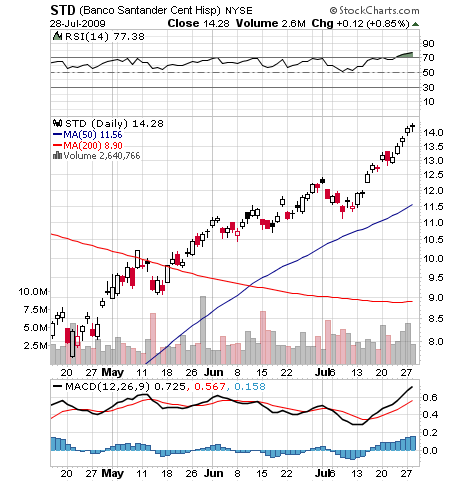 Disclosure: No interest.