The stock spin-off of the IT staffing and consulting company Mastech (NYSEMKT:MHH), from i-Gate (NASDAQ:IGTE), occurred about ten months ago and so far its chart pattern seems to be true to form for a spin-off.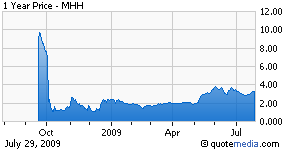 The first half of the expected (hoped for?) spin-off stock cycle, the initial drop in price for reasons unrelated to the inherent value of the company, appears to have occurred.
To this point we have just been observors. Now we need to have a plan that determines if and under what conditions we will start buying the stock. We do have a wealth of information in the SEC filings and from looking at the stock's chart.
You will have to decide what facts are most relevant to you, but some things that caught my eye were
the ownership of 57% of MHH shares by the majority owners of IGTE
the top two clients account for over 25% of the total revenue
the business is described by management as highly correlated with general economic conditions
immigration laws have a great effect on abililty to get staff
the stock is traded very thinly
most recent earnings will be reported August 6, 2009
there are no options available presently
This is an interesting situation to me because of Mastech stock's low volume that makes it just about impossible for most professionals to buy and of little or no interest by analysts to follow. If and when it "jumps" onto the screens of the professionals, it could be very rewarding for those who go onboard early.