By Amy Merrick
Target (TGT) has built its image on cheap-chic merchandise -- think of those Michael Graves teakettles or the Missoni zigzag-print dresses that caused a fashionista frenzy -- that's not so easily found at other retailers. Unique merchandise is increasingly important these days because, on products Amazon (AMZN) can lay its hands on, online prices are so cheap that bricks-and-mortar retailers are highly vulnerable.
Well, guess what? Target's more vulnerable than you might think: William Blair analyst Mark Miller recently chose a sample of Target merchandise and found Amazon also sold 47% of those products. In that study, Amazon's prices were nearly 14% lower than Target's, on average, meaning anyone willing to do a quick online search can save some money and avoid a trip to Target's parking lot.
Miller and his colleagues at Blair have been quarterly surveying a wide array of retailers to gauge vulnerability to Amazon. Product overlap, price comparison and the presence, or lack, of a compelling shopping environment (think Nordstrom's (JWN) ladies shoe department) are the crucial factors Miller looks at. With the huge shift of shoppers to online sales, there will be some traditional merchants that weather the storm and others that perish.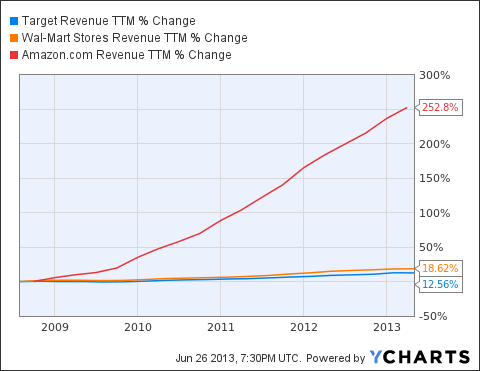 TGT Revenue TTM data by YCharts
YCharts, proclaiming Amazon the Suicide Bomber of Retail (it trashes other companies' profits, as well as its own), has extensively covered the competitive retail landscape and how Amazon has altered it. TJX (NYSE:TJX) sidesteps Amazon by stocking goods the online giant doesn't have. We've written recently about Amazon's threat to Staples (SPLS); how some Amazon-resistant stocks are crushing the market; eBay's (EBAY) competition with Amazon; and Ulta's (ULTA) vulnerability to Amazon.
Between Target and Amazon, the mid-teens percentage price gap is notable on larger items one might shop around for. A Kitchen Aid five-quart stand mixer, for example: Amazon's price in a recent search was $299.99, a full $50 below Target's $349.99.
Target's smart retail strategy of recent years -- remember, the company jettisoned its entire department store operation to focus on the hip discounter -- would seem to give it an advantage over Wal-Mart (WMT) in attracting upscale shoppers and developing loyalty to fend off Amazon. But Wal-Mart has a surprising edge, especially as people go online. In the William Blair survey, Amazon carried only 34% of the Wal-Mart product sample, at an average price of 8.9% less per item.
Wal-Mart sells more goods under $10, where Amazon doesn't have a price advantage, according to William Blair. With its continued push into groceries, including expanding its produce section, Wal-Mart also differentiates itself from Amazon, which can't compete on perishable merchandise.
Wal-Mart also stocks merchandise for its online shoppers far fancier than you'd expect after taking a walk around one of its dingy stores: Dyson vacuums and iPhone 5s. Wal-Mart's shipping policy for online orders is slightly more generous than Target's -- free with a $45 purchase vs. Target's $50 threshold.
While the chains closely monitor each other's prices on identical merchandise, Wal-Mart sometimes throws in extra goodies to make its offer more compelling. For example, a Canon EOS Rebel T3 digital SLR camera sells online for $449 at all three retailers. But for that price, Target sells only the camera. Walmart throws in a tripod, memory card and bag, while Amazon includes those accessories and others.
Target is investing in its online business, but its efforts can seem overly complicated. The best example is its new partnership with Facebook (FB), Cartwheel, a smartphone coupon app that lets customers mix and match discounts. The Wall Street Journal called the concept "a mish-mash of ideas from executives desperate to ride the coattails of several popular trends at once."
If Target responds to Amazon and Wal-Mart by cutting prices, that move will further pressure its already-weakening profit margins: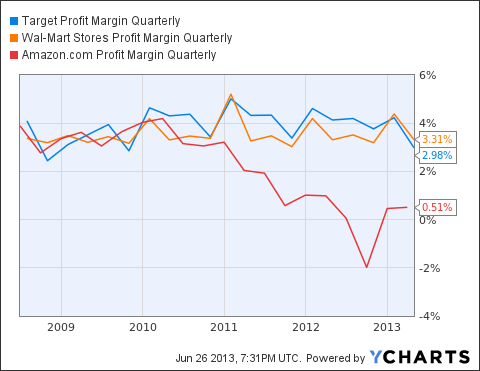 TGT Profit Margin Quarterly data by YCharts
Target still has its exclusive product lines to cushion its margins, but most of its sales come from basic goods that are easy to substitute. Right now, Wal-Mart and Amazon are playing a savvier game online than Target, which risks losing informed customers.
For investors, a little company research shows that Target remains in favor, as seen in its PE ratio. The company's dividend yield, at about 2.5%, is nice, if not rich, but its dividend growth has made it a standout among large-cap stocks.
Amy Merrick, a contributing editor at YCharts, is a former staff reporter for the Wall Street Journal, where she spent 11 years writing about the Midwest economy, state and municipal finances, and the retail and banking industries. Her work has been published in the Poynter Institute's Best Newspaper Writing series. She can be reached at editor@ycharts.com. You can also request a demonstration of YCharts Platinum.
Disclosure: I have no positions in any stocks mentioned, and no plans to initiate any positions within the next 72 hours. I wrote this article myself, and it expresses my own opinions. I am not receiving compensation for it. I have no business relationship with any company whose stock is mentioned in this article.