There is no question that Caterpillar (NYSE:CAT) has been an under performer this year. While the S&P 500 is up nearly 10% YTD, CAT is down roughly 12.5% YTD at the time this article was written. That is hardly the performance one would expect from a DOW component. Everyone keeps yelling about how poorly sales in China have been. Those same individuals keep shouting about a botched deal with a Chinese mining equipment company that caused Caterpillar to take a one time goodwill impairment charge of $580 million. The bear case against Caterpillar has been winning thus far, but has the downward spiral overextended itself?
CAT has some stiff competition in the industrial space. Competitors come in the form of Chinese manufacturer Sany Heavy, Deere and Company (NYSE:DE), Komatsu Ltd. (OTCPK:KMTUY), and Joy Global (NYSE:JOY) to name a few. Those competitors are nothing to sneeze at when you consider the lack of a robust worldwide economic recovery. Chinese data has been less than promising, and recently released U.S. GDP data was revised downward to just 1.8% versus 2.4% growth expectations. It would seem that the downward move in CAT's stock price is warranted. Let's take a look at the fundamentals of CAT, DE, and JOY to determine which is the best value play?
| | | | | |
| --- | --- | --- | --- | --- |
| Ticker | P/E | Forward P/E | PEG | P/S |
| CAT | 11.05 | 10.29 | 0.86 | 0.86 |
| DE | 10.10 | 9.44 | 0.97 | 0.84 |
| JOY | 7.20 | 8.89 | 0.95 | 0.97 |
Looking at these metrics, it appears that CAT is overvalued in comparison to DE and JOY in the near term. However, look at the PEG ratio and P/S ratio. The PEG is stating quite clearly that analysts are expecting Caterpillar earnings to grow at a faster rate than both Deere and Company and Joy Global. Why is that? China!
The same reason people are pointing to China for the reason Caterpillar is struggling right now, it's the same reason Caterpillar is in a better position than JOY and DE. CAT has already spent the money on building the infrastructure in China. Although Chinese sales only account for 3% of CAT's total revenue currently, Caterpillar has 19 manufacturing plants in China with six more under way. Meanwhile, Deere only has 7 plants and Joy has limited manufacturing experience in China. Caterpillar clearly has the upper hand against foreign competition in the Chinese manufacturing space.
Go back to that $580 million goodwill charge CAT made due to an accounting scandal at Siwei. In May, Caterpillar settled the issue with the concerned parties left for just $29.5 million instead of the $164.5 million originally owed. That is $135 million in savings for CAT. Have analysts taken that into account yet when looking forward to the July 24, EPS release? If they haven't, that would give Caterpillar a major boost to the bottom line. Don't agree? Chinese sales would need to grow by roughly 35% to return that same amount of revenue.
Now for the economics of the situation. Unemployment in the United States is still exceptionally high, and that has politicians scrambling to create jobs. Historically, the quickest way to get the country back to work is by creating construction jobs. The roads, bridges, and railroads in the United States are in desperate need of repair, and that would create those much needed jobs. Caterpillar currently owns 32% of the construction equipment market share in the United States, far exceeding the runner-up. Also take into account that new home sales have been soaring, just another facet helping Caterpillar's balance sheet.
As much as I loathe using technicals for any reason other than confirming fundamentals, we wouldn't be doing this article justice unless we at least looked at them.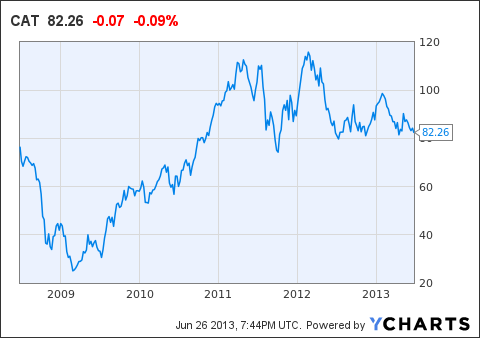 CAT data by YCharts
Since January of 2011, has closed below $80 only a handful of times. Most of those closes below the key $80 level were due to the eurozone Crisis and Debt Ceiling Debacle. Considering the lack of such severe macroeconomic events to cause such a tumble, $80 is the key technical level for Caterpillar to hold. CAT stock is less than 5% above the 52-week low as well, which should help make that $80 level support even firmer.
Caterpillar was one of the first, and only, industrial manufacturers to come out and seriously slash its forward guidance. That helps take much of the mystery out of what's to come for the stock. With limited downside exposure, and a successful settlement on the books now for Caterpillar, it would be hard to pass on this stock at near 52-week lows. The bears may have won the battle so far this year, but the fundamentals point to the bears winning before the end of the year.
Personal year-end price target: $100.00.
Personal 52-week price target: $115.00.
Disclosure: I am long CAT. I wrote this article myself, and it expresses my own opinions. I am not receiving compensation for it (other than from Seeking Alpha). I have no business relationship with any company whose stock is mentioned in this article.
Additional disclosure: Investing involves a significant risk of loss, as such never invest more than you can afford to lose. Always consult with your own registered financial professional before adding a new position to your portfolio.