In a previous article at the beginning of May 2013, I suggested that owning physical platinum (NYSEARCA:PPLT) would serve as a better safe haven than gold over the coming months and years. While not actually untrue thus far, physical platinum has still fallen 14% since the article was published, outperforming gold by a mere 3%.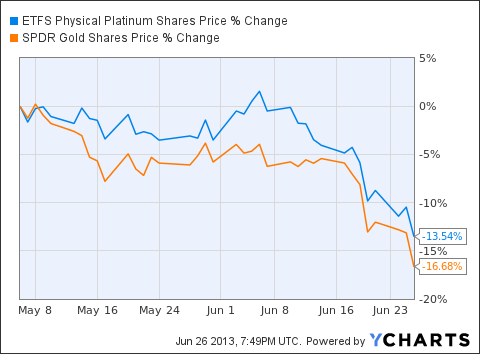 PPLT data by YCharts
Given concerns over withdrawal of central bank stimulus I did expect some parallel downdraft in these two precious metals, but not to this degree. If you have owned platinum you have been hit by a Perfect Storm, but if your powder is dry I believe PPLT now represents an amazing opportunity while most investment options are mired in uncertainty. Today, I would no longer describe Platinum simply as a better safe-haven investment; I would describe it as an incredible opportunity for capital appreciation. For those with higher risk tolerances, the 2x leveraged platinum ETF (NASDAQ:LPLT) is now worth considering.
3 reasons why Platinum has fallen
Before considering the bullish case, it is worth examining why the price of Platinum has fallen sharply. I believe there are three primary forces that have driven prices lower.
1) Liquidation of metals/precious metals funds
Retail investors have been infatuated with metals funds for several years. The exodus from these types of funds has forced broad-based selling of metals, indiscriminate of their individual investment merits.
2) Investment managers don't understand Platinum and believe it's easy to group it together with Gold
As I mentioned in my previous article, a panel of three veteran money managers was unable to field my questions about Platinum. The panel members did not know what price it was trading at, nor any of the industry characteristics from a demand or mining perspective. But they were able to talk in length about gold. I believe that this phenomenon is accurate across a broader spectrum of managers. Most remain uneducated about the dynamics of the platinum industry. Their quick-and-easy valuation of Platinum is to trade it alongside the movement in gold.
3) Fears of withdrawn central bank liquidity
While the reduction of quantitative easing in the near term is far from a certainty, it is worth assessing whether the market is correct to infer that such a scenario warrants lower Platinum prices. I think the market has it wrong. To begin with, the Fed has tied reduction in stimulus to an improving economy, and a stronger economy means increased demand for the industrial uses of platinum. Furthermore, with platinum demand forecast to exceed supply in 2013, a reduction of liquidity in the system (and higher financing costs) make it less likely that operators will see viability in expanding their platinum mining operations. In fact, given current average production costs conservatively in the $1500/ounce range, the industry is more likely to curtail platinum production.
The key bullish arguments for higher Platinum prices remain in place
Market price per ounce is now more than 10% below average mining cost
The Platinum industry is forecast to experience a shortfall in 2013
Marginal cost of mining is substantially higher than $1500 as platinum extraction requires deeper and deeper mines
South-African labor negotiations are likely to take on a whole new level of tensions as the industry grapples with production costs substantially above market value
Emergence of physical platinum ETFs is eating-up more supply
In conclusion, only the price action of platinum seems to suggest dire prospects for the investment merits of this metal. All fundamental dynamics point the other way. Platinum has hit the sweet spot after being dragged lower by gold and other metals. I expect a substantial rally in PPLT and LPLT once the fog has cleared after the recent market sell-off.
Disclosure: I am long PPLT, LPLT. I wrote this article myself, and it expresses my own opinions. I am not receiving compensation for it (other than from Seeking Alpha). I have no business relationship with any company whose stock is mentioned in this article. I first purchased PPLT in the $133 range