We have been watching the iShares MSCI South Korea Capped Index (NYSEARCA:EWY) ETF with keen interest all year long, as it crumbled under the perfect storm of escalating standoff with its neighbor to the North, Bank of Japan inflationary policies, and most recently a flight to safety following what seemed to be an increasingly less helicopter-like Federal Reserve.
Indeed, EWY is down 20% on the year, underperforming its regional ETF relatives in Taiwan, Vietnam, Singapore, and Indonesia by a wide margin. The South Korea finance minister has just announced a more upbeat outlook for the local economy, lifting 2013 GDP projections to 2.7% from 2.3%. Could this be the mark of a bottom?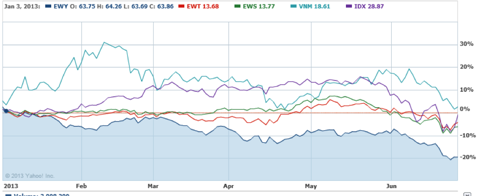 Source: Yahoo! Finance
One by one, the aforementioned constraints are abating, presenting emerging Asian market value hunters with an opportunity to take advantage of what could be a short-term bounce.
The South Korean stock market has an inherent geopolitical premium built in from its tense relationship with the North. That stand-off reached a more alarming stage in late April, when the annual US-South Korea joint military drills were expanded, testing the resolve of North Korea's new leader and resulting in a closure of the Kaesong industrial base shared by the two sides. With the military exercises now concluded, over the weekend, Pyongyang surprised world leaders by expressing a willingness to hold direct talks with the US or return to 6-party negotiations for the first time since 2009.
South Korea - Japan's closest competitor for regional exports - was most directly impacted by the export-boosting, weak-yen-driven inflationary policies of Abenomics. Short-yen trade appears to have run its course, as markets await clearer evidence that Tokyo can dodge the devastating loss of control over the Japanese bond markets.
Several Fed officials have gone out of their way to temper the perception of an impending Fed taper, devastating high-beta EM flows that benefited from easy money policies up until the most recent FOMC statement. Soft final Q1 GDP report appears to have diminished expectations of a near term QE exit, as US treasury yields finally turned lower following the data on Wednesday.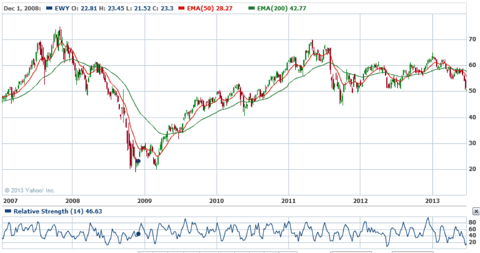 Markets appear to be keenly aware of the $50 mark which served as an upward inflection on several occasions since late 2011. Sustained rebound in risk appetite, more bad US data, signs of progress on negotiations with Pyongyang, or a solid Q2 preliminary earnings report from Samsung Electronics - a whopping 22% holding in the fund - in early July are all potential catalysts toward renewed EWY upside.
Disclosure: I have no positions in any stocks mentioned, and no plans to initiate any positions within the next 72 hours.
Business relationship disclosure: Kapitall is a team of analysts. This article was written by Eben Esterhuizen, one of our writers. We did not receive compensation for this article (other than from Seeking Alpha), and we have no business relationship with any company whose stock is mentioned in this article.