Haynes International (NASDAQ:HAYN) recently reported its fourth straight earnings miss as it continues to navigate through tough industry headwinds. Analysts have significantly lowered their earnings estimates for Haynes over the last several months, sending the stock to a Zacks Rank No. 5 (Strong Sell). Given that valuations don't look particularly cheap for the stock at these levels, investors should consider avoiding it until its earnings momentum turns around.
Haynes International develops, manufactures, and markets high-performance alloys primarily for the aerospace, chemical processing, and land-based gas turbine industries.
Second-Quarter Results
Haynes reported disappointing second-quarter results on May 2. Earnings per share plummeted 58% year over year to 52 cents, missing the Zacks Consensus Estimate of 67 cents. It was Haynes' fourth consecutive miss.
Net revenues declined 19% to $129.2 million, which was well below the consensus of $141.0 million. President and CEO Mark Comerford noted that "slowing demand in [its] aerospace engine products market as the supply chain continued its cautious buying and order entry pattern from the first quarter." Operating income fell 57% as the operating profit margin declined from 14.5% to 7.6% of revenues.
Estimates Falling
In the second-quarter press release, CEO Comerford cautioned that "market conditions remain extremely competitive, and market visibility in the near term is uncertain as to the direction of order entry and how quickly pricing may solidify. Pricing, volumes per order, backlogs and lead times are all under competitive pressures as we navigate through this challenging economic environment."
Not surprisingly, analysts slashed their estimates for both 2013 and 2014. This sent the stock to a Zacks Rank No. 5 (Strong Sell). The Zacks Consensus Estimate for 2013 is now $1.94, down from $3.04 just 60 days ago. And the 2014 consensus is currently $3.49, down from $4.41 over the same period.
You can see this negative earnings momentum in the company's price and consensus chart: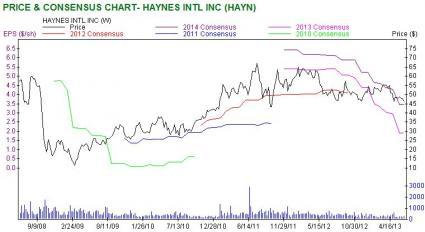 It looks as if this trend is industry-wide, too. The steel-speciality industry currently ranks in the bottom 7% of all industries.
Valuation
Shares of Haynes trade around 15x 12-month forward earnings, which is in line with the industry but at a premium to its historical median of 13x. Its price-to-sales ratio of 1.1 is in line with its historical median but a premium to the industry multiple of 0.7.
The Bottom Line
With challenging industry conditions and falling earnings estimates, it might be awhile before things turn around for Haynes. Considering that valuations don't look particularly cheap for the stock at the moment, investors should probably avoid Haynes for now.
Haynes International: Free Stock Analysis Report (email registration required)