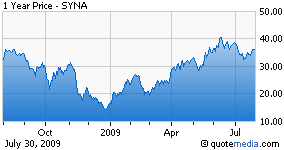 Synaptics (NASDAQ:SYNA) is expected to report Q4 earnings after the market close on Thursday, July 30, with a conference call scheduled for 5:00 pm ET.
Guidance
The consensus estimate is 44c for EPS and $112.11M for revenue, according to First Call. Guidance provided management on its last earnings call is for Q4 revenue $105M-$115M, above the then consensus of $102.39M. Since then, consensus expectations have steadily moved up. Slowdown or no slowdown, the irresistible allure of touchscreen devices, and strong growth of smartphones and netbook sales is expected to help touchscreen technology maker Synaptics results beat Wall Street expectations.
Analyst Views
Thomas Weisel expects Synaptics' revenue could exceed Street estimates as the company is likely to benefit from its high PC market exposure. Based on this better than expected demand, Weisel believes PCs could now represent over 50% of revenue from its previous 40% estimate. Weisel's revenue and non-GAAP EPS estimates are $110M and 41c, respectively. Some analysts have sounded a cautious note for FY10 as competition snaps close on the heels of the company, which counts BlackBerry maker Research in Motion (RIMM) among its customers. Also, the benefit to Synaptics from Microsoft's (NASDAQ:MSFT) Windows 7, which features an array of new touchscreen functions, could push out well into FY10, says Capstone Investments analyst Jeff Schreiner. Thomas Weisel's take on the September quarter: the firm expects guidance to reflect another strong quarter for PC, by their estimates growing roughly 30% quarter-over-quarter primarily on seasonal strength in notebooks. The firm expects handset revenue to continue outperforming the general Smartphone market based on growing capacitive touchscreen adoption, and it believes the persistent industry chatter related to design losses is largely unwarranted. Weisel's Q1 revenue and non-GAAP EPS estimates are $133.3M and 62c, above the Street estimates for $127.4M and 54c.