This year has been a triumphant one for gold bears. This article answers 5 major questions about gold and how to remain bearish on the metal moving forward.
There are a number of conventional factors that influence the price of gold (NYSEARCA:GLD). Real interest rates, inflation, seasonality, commitment of trader's reports and currencies come to mind. Additionally, in the modern era close attention must be paid to paper gold, emerging market demand (NYSEARCA:EEM) and currency appreciation.
What is the effect of Real Interest rates?
Real interest rates are the difference between the Nominal rate and the rate of inflation. Currently this real interest rate is negative. The nominal interest rate is 0.25% and the rate of inflation according to the US Federal Reserve is 1.4%. This means the real interest rate is equal to -1.15%.
No one can argue that real rates are not negative; however, the conditions for this are becoming increasingly less convincing. Unemployment rates, disposable income levels and decreases in budget as a percentage of GDP levels all point to a strengthening economy. These factors all contribute to conditions that warrant economic policy that is more focused on controlling growth, not spurring it. As the economy strengthens the fear trade in gold goes away, which presents a bearish overbought condition for the metal.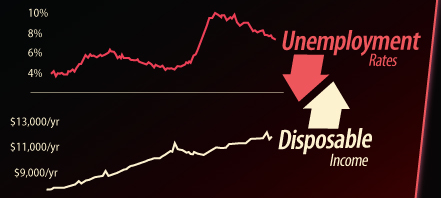 (Click to enlarge)
What is the impact of Inflation and expected inflation?
During Quantitative Easing the amount of money actually in circulation did not increase proportionately to that of the M0 stimulus packages. Bank lending rates demonstrate that the amount of money actually making it into circulation is far less than the quadrupling of the M0 money supply. To take this a step further, the Consumer Price Index rarely rose above 4% and Treasury Inflation Protected Securities (NYSEARCA:TIP) remained between 2%-4%. The expectations of highly inflationary environments never arose and thus gold has become extremely overvalued based on these conditions.
What is the international impact on gold?
Global gold demand was down 19% in Q4 2012 (World Gold Council stat) on the realization of strengthening economic conditions, lower inflation forecasts and a stronger US dollar. The bearish retort is an argument based on international currency and less on demand from foreigners. Developing nations (NYSEARCA:VWO), BRIC etc., are exporters of goods, which means as their currency appreciates their goods become less competitive in the global markets. Therefore, they will do what is necessary in order to keep their currency cheap versus the current global reserve currency, the US dollar. This US dollar strength creates a bearish outlook on gold (NYSEARCA:IAU).
What is the short-term outlook for gold?
The selling pressure on gold since late 2012 has been especially brutal. The break of $1550 and the 200-day moving average on the weekly chart added fuel to the fire and the downside pressure continued. Even Goldman Sachs' short gold call worked. On the weekly chart it looks like two new lower highs have been put in at $1500 and $1425. The next stop appears to be the $1250 area, which was the breakout that started in October 2010.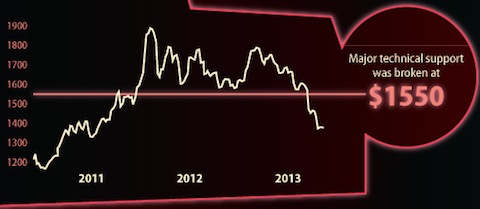 (Click to enlarge)
Additionally both the major producers (NYSEARCA:GDX) and juniors (NYSEARCA:GDXJ) have been demolished. Monster capital expenditures in combination with sky-high G&A expenses contribute to the downfall. The appetite for financing in the junior market is non-existent. First quarter earnings were a disappointment when companies were locking in $1600 gold sales. Moving into second quarter earnings, these will be significantly worse as the average gold sales price will have tumbled significantly.
What is the long-term outlook for gold?
Gold is a commodity, not a currency. It is only worth what someone else is willing to pay for it. You cannot buy groceries or pay taxes with it. It pays no dividends and appreciates solely on fear and inflation levels, while having significantly less industrial usage then silver or platinum. The least controversial outlook price for gold is one that stems from economics: price equals marginal cost. The marginal cost for gold is equal to the current marginal costs of the major gold producers' all-in costs, roughly $1200-$1300 per ounce.
Bottom Line: The back half of 2012 and all of 2013 can be chalked up to nice wins for the bears. Focusing on a rosier economic outlook both domestically and globally in combination with a strong USD and a tightening of fiscal stimulus provides three compelling reasons to remain bearish long-term for gold. The bearish investor can additionally setup short positions heading into the second quarter earnings season.
Disclosure: I have no positions in any stocks mentioned, and no plans to initiate any positions within the next 72 hours. I wrote this article myself, and it expresses my own opinions. I am not receiving compensation for it. I have no business relationship with any company whose stock is mentioned in this article.