Lennar (NYSE:LEN) did not make my list of homebuilder picks for 2013, but I am watching the company for its commentary on the housing industry and to see how well the company performs with its broad portfolio of investments and businesses. LEN reported earnings on the morning of June 25th. The conference call was full of very valuable commentary on the housing industry.
As one would expect, the rapid rise in interest rates was the number one topic and concern for analysts on the call. While LEN acknowledged the issue, I was surprised by the implication that the business is effectively immune from these rates, at least for now (quotes assembled from the Seeking Alpha transcript of the call and emphasis mine):
Let me state the obvious. Interest rates have moved higher and mortgage rates have moved from their unprecedented low point towards more normalized levels. And while this movement is not a surprise, given the improvement in economic conditions and in the housing market in general, it seems that the timing has caught the investor community off-guard and has shaken investor confidence in the overall housing recovery. Our view, though, is that the housing recovery is still very much intact and that the fundamentals of that recovery remain solid…

At current interest rates, affordability remains at historically very high levels. Even with more significant movement in both interest rate and pricing, homes remain affordable by all measures, and will continue to remain attractive relative to rental options as well…

Even with interest rates edging upward to more normalized levels, the monthly payment math continues to push families to find a way to purchase, in order to lower their monthly payment, to increase their disposable income, and to stabilize their living expenses without annual repricing…

I think that affordability is in such a comfortable place right now, that…if you're in a range of moderate increases in interest rates, as we have seen, I think that all markets, pretty much across-the-board, are going to continue to be reasonably strong.
Miller sealed the deal on LEN's immunity to higher rates by insisting that the builder plays in a type of sweet spot given its focus on "first-time, move-up, middle-market, and some…second-time move-up." Below that, in the sub-120K price point, and above that, in the high-end, are where the consumers are particularly sensitive to mortgage rates. Miller also assured analysts that to-date customers have not been buying as much home as they could actually afford so there is plenty of room for buying even as rates rise.
Of course, all this confidence begs the question of just how high is finally too high for rates. When an analyst asked directly "What rate starts to get you nervous?," LEN did not provide a direct response. CEO Stuart Miller recognized that rates will have to normalize at some point, but reiterated the opinion that rates are increasing in the healthy context of an improving economy and improving labor market. Miller also pointed out that upward pressure on pricing will continue as long as the current supply shortage continues.
My issue is that it is not clear that interest rates are moving upward because of improvements in the economy. The economy has arguably been improving for at least a year or more and during much of this time interest rates remained at historically low levels. The rate gain in the last few weeks reversed nearly a year's worth of reductions.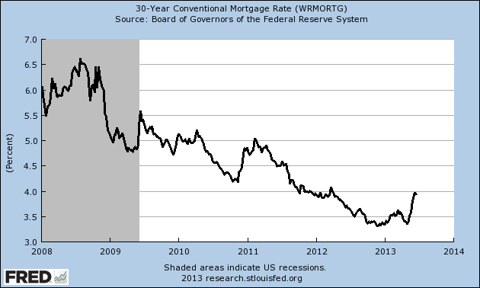 Click to enlarge
Source: St. Louis Federal Reserve
The current rise in rates seems to be more of a reaction to a change in sentiment based on pronouncements in the media and various financial officials. As a case in point, on June 27th, Federal Reserve Bank of New York President William C. Dudley talked about scenarios where the Federal Reserve might increase quantitative easing if the economy diverged from forecasts. He also said "the labor market still cannot be regarded as healthy…I continue to see the economy as being in a tug-of-war between fiscal drag and underlying fundamental improvement, with a great deal of uncertainty over which force will prevail in the near-term."
Miller was very emphatic in his bullishness for the housing market:
The overriding driver of recovery in the housing market remains the underproduction of both single and multifamily product throughout the economic downturn and up to and including this year. ..We have more than absorbed the overbuilding of the early to mid-2000s, and have been underproducing for a protracted period of time…

While production continues to lag the need, we are experiencing supply shortages against a growing demand. While some have argued that increased demand is being driven by low interest rates, we believe that it's being driven by a generally improving economy, driving household formation and a decoupling of households under one roof…The bottom line is that there are too few dwellings for a growing population and for normalized household formation.

Inventories are low for both new and existing homes, as well as for rentals. As demand increases, there are fewer homes or apartments to purchase or rent, and prices are being driven higher…

We continue to feel that this housing recovery is fundamentally based and driven by a long-term demographic need for dwelling units. We believe we're still in the beginning stages of a recovery that will be sustained for several more years.
LEN backs up its bullishness with continued aggressiveness in the acquisition of land under a strategic program that began in the depths of the recession in 2009. In the previous quarter, LEN paid $450M for around 8,700 homesites. LEN spent about $122M getting land ready for building. LEN's land acquisition and land spend has doubled year-over-year. LEN now has enough land to deliver on its projections through 2014. An example of LEN's aggressiveness came from its pursuit of a $1.7B loan from a Chinese state-run bank to fund a major redevelopment project in San Francisco. While the deal fell through, LEN is proceeding with plans to build at least 200 homes in Hunters Point using its venture arm.
Earnings results support LEN's confidence. New orders increased 27% year-over-year in the previous quarter. The value of its backlog is at a 5-year high, up 76% year-over-year. LEN improved gross margins by 160 basis points year-over-year to 24.1% (one of the highest in the industry). Operating margins improved 410 basis points to 13.3%.
The company is sticking to its projection for 18,250 to 18,500 homes delivered for 2013 with margins increasing into the fourth quarter. LEN increased its gross margin guidance to 24.25% for Q3 and 24.75% for Q4. This increase comes in spite of some increase in costs. On the selling, general and administrative (SG&A) side, LEN made a 230 basis point improvement in the percentage of revenues to 10.9%, a 7-year low.
Miller did point to several constraints that continue to slow down the housing market - some of which I have discussed in earlier blog posts this year and last year. Shortages in land and labor are driving up prices for both. The labor shortage is particularly acute in the hottest markets and exists throughout the supply chain from builders to distributors to manufacturers. Miller chose to take the positive perspective on rising wages given it motivates more people to come back to the industry and fuels confidence as employment rises. On the demand side, the mortgage market remains "overly-restrictive" due to "highly conservative underwriting criteria." Miller expects conditions to improve toward more normalized levels: "More people are getting approved, more people are finding their way to mortgage approval, and I think it's a trend that we're going to continue to see."
The stock market's immediate response to LEN's results was initially positive, but the stock sold off from its highs and ended the day flat. A rising market this week is likely driving the gains since then. From a technical perspective, the stock has broken down below important support levels from the upward trends in the 50 and 200-day moving averages (DMAs). LEN is actually under-performing the S&P 500 (NYSEARCA:SPY) this year with a -3.3% performance year-to-date. This comes after a major breakout in 2011 that delivered a +96.8% increase. (As I have argued before, it seems like the stock market decided to price in a large bulk of the housing recovery all at once in 2012).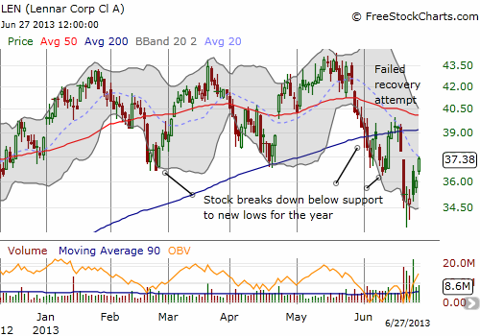 Click to enlarge
Source: FreeStockCharts.com
Despite the poor performance this year, housing bears continue to back off their bets against LEN. Bears fought LEN all the way up in 2012, reaching a peak of 37.6M shares short by mid-November. Those shares short have plummeted since then by 24% to 28.4M shares. This is still 17.2% of LEN's float.
Be careful out there!
Disclosure: I have no positions in any stocks mentioned, but may initiate a long position in LEN over the next 72 hours. I wrote this article myself, and it expresses my own opinions. I am not receiving compensation for it (other than from Seeking Alpha). I have no business relationship with any company whose stock is mentioned in this article.